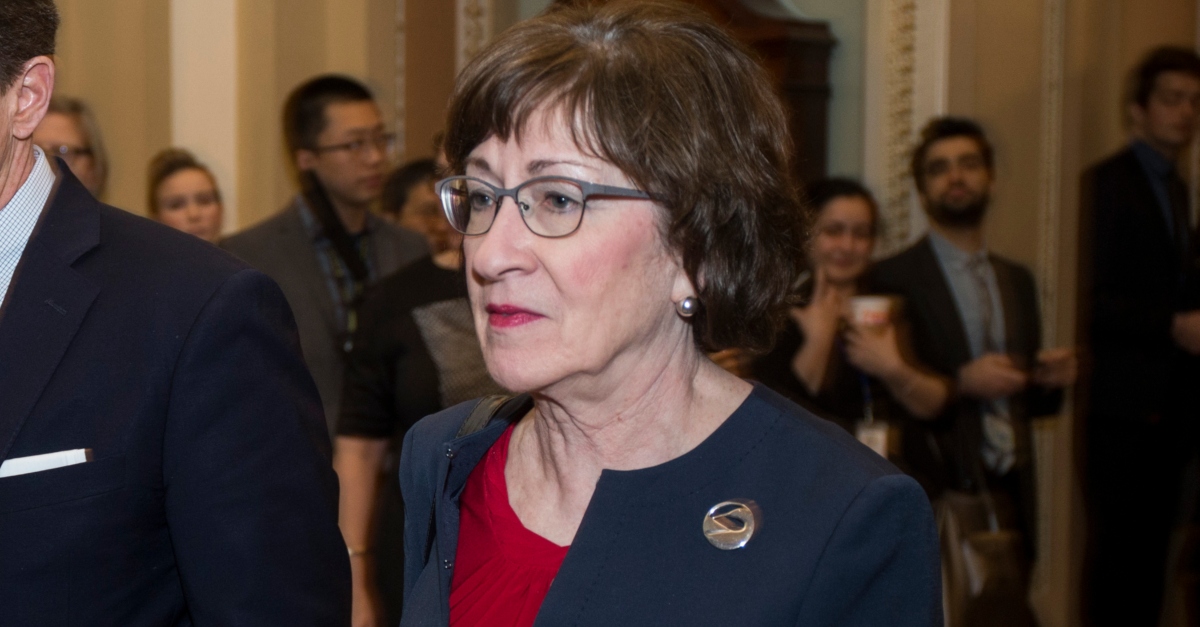 Sen. Susan Collins' (R-Maine) response to obstruction-related items detailed in Special Counsel Robert Mueller's report is not being received particularly well online. Although Collins said in an interview that Russia's efforts to interfere in the 2016 election are a "serious threat to our democratic institution," everyone is focusing on how she responded to details of President Donald Trump's conduct, including that he tried to have Mueller fired and took steps to thwart the investigation.
Collins concluded that this was an "unflattering portrayal of the President."
"[Trump] was not only very upset by the special counsel's investigations, but tried several times through intermediaries to end it, and it is an unflattering portrayal of the President," Collins said. She then said that she "found the report to be a very thorough undertaking" and that it seems to have "changed very few minds in Washington."
Mueller said near the beginning of the report Trump "reacted negatively to the Special Counsel's appointment," that he "told advisors that it was the end of his presidency, sought to have Attorney General Jefferson (Jeff) Sessions unrecuse from the Russia investigation and to have the Special Counsel removed, and engaged in efforts to curtail the Special Counsel's investigation and prevent the disclosure of evidence to it, including through public and private contacts with potential witnesses."
This, plus lines from Mueller indicating that Department of Justice policy of not indicting a sitting president very much played a role in his decision making, have led many to conclude that Mueller was making an impeachment referral.
Thus, Collins' "unflattering portrayal" take was instantly panned on social media.
It seems some have not forgotten either about how Collins responded to the allegations against now-Supreme Court Justice Brett Kavanaugh.
After making no promises as to how she would vote given the sexual assault allegations against Kavanaugh, plus questions about his abortion stance, Collins eventually decided to vote in favor of Kavanaugh's confirmation. The vote was 50-48.
[Image via Zach Gibson/Getty Images]
Have a tip we should know? [email protected]