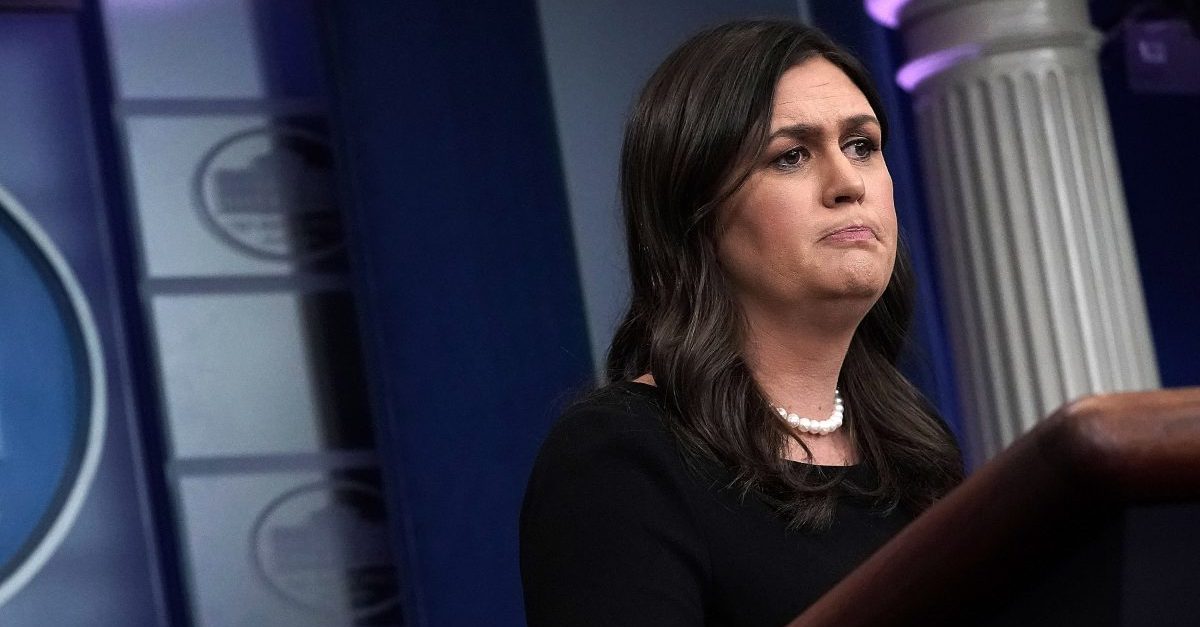 That White House Press Secretary Sarah Huckabee Sanders has been interviewed by special counsel Robert Mueller does not really come as surprise, but what does it mean?
Sanders told CNN on Friday that at President Donald Trump's urging, she "fully" cooperated with the special counsel and was "happy to voluntarily sit down with them." The interview reportedly took place around the time former White House employees John Kelly, Hope Hicks and Sean Spicer were interviewed.
This is all well and good, but does it actually mean anything? We know that Trump and his attorney Rudy Giuliani have resisted Mueller's questions about obstruction. Sanders is a person who would know a thing or two about Trump's statements, how they are composed and what messages the president wants conveyed. At this time, early speculation about the Sanders interview seizes on whether Sanders was aware of witness tampering or directing of White House employees to make false public statements about matters related to the Russia investigation.
If you look back at somewhat recent history, a sitting U.S. Senator and attorney, Sheldon Whitehouse (D-Rhode Island), publicly suggested that Sanders may have obstructed justice through comments she made about fired FBI director James Comey, whose name, conveniently enough, is back in the public discourse as fired deputy FBI director Andrew McCabe embarks on a book tour. McCabe said that he was the one who ordered the obstruction probe after Comey was fired.
Whitehouse said as far back as Sept. 2017, months after the Mueller appointment, that Sanders may have gotten herself into trouble by suggesting that the Department of Justice "look at" any possible crimes Comey may have committed when he provided the New York Times with his infamous Trump memo.
Whitehouse specifically mentioned that the questions that Sanders might be asked might have less to do with what was said and more to do with why she said it.
"The three torpedoes that Sarah Huckabee's Sanders shot at James Comey, which open up an entirely new avenue in the case for Mueller," Whitehouse said. "There's a statute, 1504 in the obstruction of justice statutes, that talks about attempts to influence grand jurors. So the question for Sarah Huckabee Sanders is, 'Who asked you to do that? Who told you to do that?'"
Mueller has up to now (that we know of) not gotten an individual to confess that Trump "directed" them to do something illegal. The Southern District of New York did get former Trump lawyer Michael Cohen to say that Trump "directed" him to commit campaign finance violations.
In the Mueller probe, however, Cohen only admitted that he lied to Congress about the Moscow Project to be loyal to Trump and to be consistent with his political messaging. BuzzFeed certainly made news when it reported that Trump directed Cohen to lie to Congress, but the special counsel responded that the report was "inaccurate" and didn't get any more specific than that. There have not been developments on this front since, but the news about the Sanders interview raises questions about what the special counsel might have been trying to establish through her and why.
Former federal prosecutor Renato Mariotti speculated that this is "likely part of Mueller's investigation of Trump's obstruction of justice."
"If Trump directed Sanders to lie to the public, that would show consciousness of guilty even though lying to the public in and of itself is usually not a crime," he added.
The basic point here is that Trump ordering/directing Sanders to say false things about matters under investigation would be the kind of thing prosecutors would use to help establish that Trump's "actions prove he knew he was guilty (at least of something)":
This is sometimes referred to as "consciousness of guilt". For example, such evidence may include actions the defendant took to "cover up" his alleged crime. Flight, when unexplained, may indicate consciousness of guilt if the facts and the circumstances support it. A person's false statements as to (his/her) whereabouts at the time of the offense may tend to show a consciousness of guilt.
18 U.S.C. § 1503 defines obstruction of justice as: "an act that 'corruptly or by threats or force, or by any threatening letter or communication, influences, obstructs, or impedes, or endeavors to influence, obstruct, or impede, the due administration of justice.'"
Prosecutors could use evidence of "consciousness of guilt" — theoretically, Trump telling Sanders to lie about something — to help prove corrupt intent, which is necessary to implicate the obstruction statute. As Sen. Whitehouse put it, "Who asked you to do that? Who told you to do that?" From there, you can get to the why.
[Image via Alex Wong/Getty Images]
Have a tip we should know? [email protected]