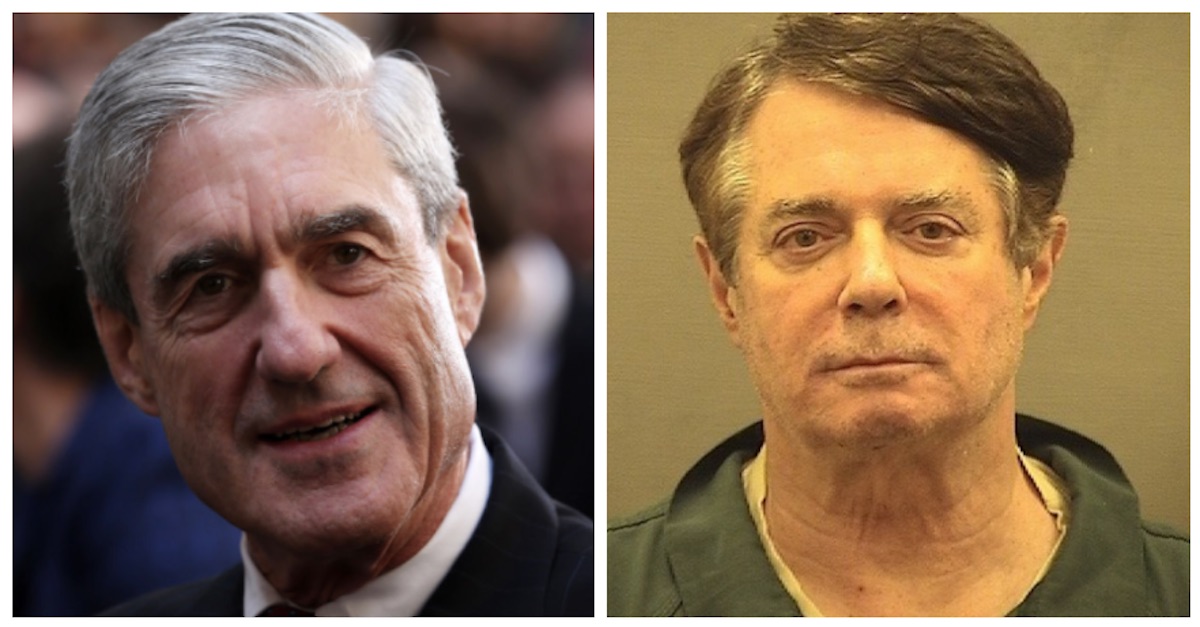 The special counsel's office told a federal judge last week that President Donald Trump's former campaign chair Paul Manafort may have lied to them during the course of his plea agreement in order to obtain a presidential pardon.
In a heavily-redacted section of testimony from Robert Mueller's deputy Andrew Weissmann during a sealed hearing early last week, the prosecutor argues that an unknown something "would have, I think, negative consequences in terms of the other motive that Mr. Manafort could have, which is to at least augment his chances for a pardon."
This is the first public instance in which Mueller's team has raised the idea that the short-lived guilty plea and cooperation agreement unraveled due to Manafort's efforts to secure a pardon from the 45th president.
Again, while the copious amount of blacked-out text preclude absolute knowledge as to what exact issue was being discussed, the special counsel's office appears to have made the suggestion that Manafort's lies were a concerted effort to keep certain information–about the unknown issue–from seeing the light of day. Per the special counsel's logic, it follows that Manafort believed if this unknown unknown was made public, his potential for a pardon might have been severely diminished.
In other words: the special counsel seems to be saying that Manafort lied in order to protect a secret–that could at least be viewed as–extremely damaging to President Trump.
One possible interpretation of what this big secret has to do with is provided through the benefit of context and the clues it often provides. To wit, whether Manafort lied about sharing Trump 2016 campaign polling data with–purportedly Russian intel-connected–political operative Konstantin Kilimnik.
As Law&Crime previously reported, a birds-eye review of the hearing suggests that Manafort's lie not only had to do with exactly the Kilimnik allegation–but includes cinematic levels of intrigue as well. Enter: the Midtown Manhattan members-only club, the Grand Havana Room.
Kilimnik, in mid-2016, offered to meet with Manafort and the meeting that occurred was the one at the Grand Havana Room. Apparently, former Trump campaign deputy chair Rick Gates and Manafort printed something for the meeting, but Mueller's redactions ensure that we don't know what was printed. The operating theory is that the alleged poll data exchange happened at the Grand Havana Room on August 2, 2016 for a purpose Manafort would later "lie" about.
Manafort, by way of his attorneys, repeatedly argued that he did not intentionally lie. A last-ditch effort from the defense on Wednesday went so far as to accuse Mueller's attorneys of dishonesty and of failing to understand federal law regarding false statements. That filing didn't work out so well for them.
Mueller's prosecutors were vindicated–at least in part–on Wednesday night when U.S. District Judge Amy Berman Jackson announced that she agreed with three out of five allegations that Manafort had attempted to intentionally mislead the special counsel's office. Judge Jackson is scheduled to issue her sentencing decision in early March. This turn of events finally sets the stage for U.S. District Judge T.S. Ellis III to sentence Manafort as well.
Matt Naham contributed to this report.
[image via Alex Wong/Getty Images, Alexandria Detention Center]
Have a tip we should know? [email protected]