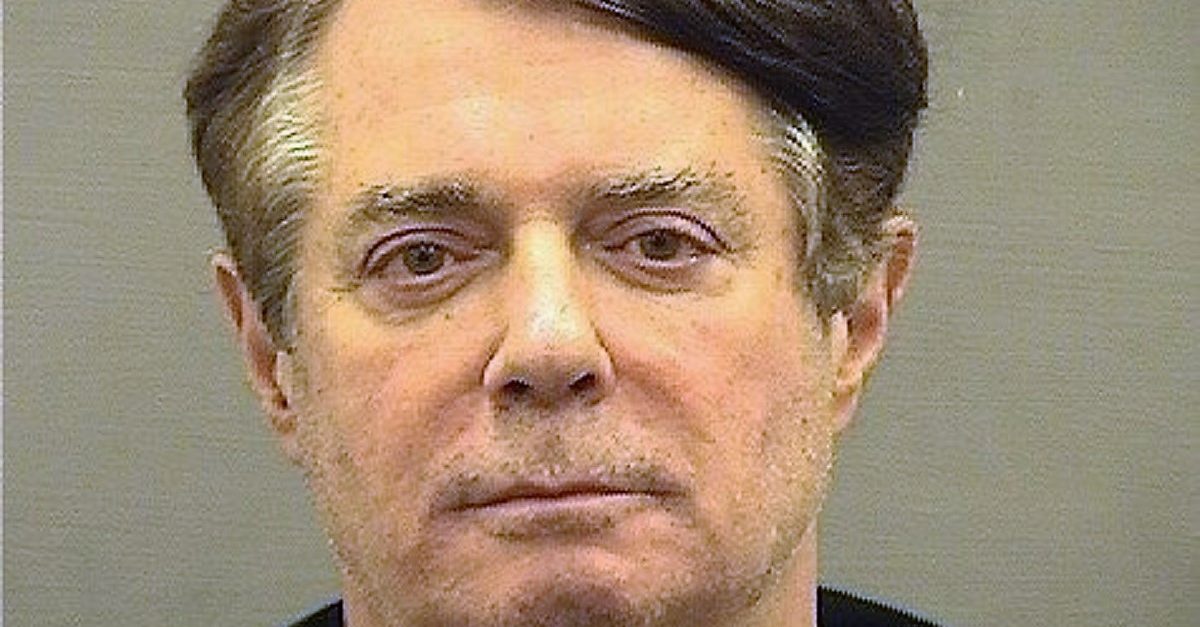 Former Trump 2016 campaign chair Paul Manafort has been found in violation of his plea agreement with special counsel Robert Mueller.
The special counsel's office, largely via deputy Andrew Weissmann, made waves when they accused Manafort of five separate "crimes and lies" in a filing submitted to the U.S. District Court for the District of Columbia on November 26, 2018.
Chief among the special counsel's various allegations of dissembling a la Manafort is the idea that the defendant lied about sharing polling data with Russian political operative Konstantin Kilimnik during the 2016 presidential campaign. Manafort admittedly conspired with Kilimnik to tamper with witnesses. And Kilimnik is alleged to have substantial ties to intelligence agencies affiliated with the Russian Federation.
Mueller's office, during last week's hearing, noted that their source for the specific polling data accusation is former Trump campaign deputy chairman Rick Gates. Manafort's attorneys unsuccessfully argued that Gates' recollection of this incident was not trustworthy for various reasons.
On Wednesday, U.S. District Court Judge Amy Berman Jackson held her second sealed hearing in as many weeks' time regarding Mueller's allegations against Manafort. Judge Jackson earlier indicated that she was likely to issue a ruling on the hotly contested claims soon after the second hearing's conclusion.
That's exactly what happened late Wednesday night.
In a brief four-page ruling, Judge Jackson determined that Manafort "intentionally made multiple false statements to the FBI, the [special counsel] and the grand jury concerning matters that were material to the [ongoing Russia] investigation."
Manafort's intentional lies, per Judge Jackson, concerned three out of the five distinct issues outlined by Mueller's team.
The court outlined those five issues:
It is a matter of public record that the Office of Special Counsel has alleged that the defendant made intentionally false statements to the FBI, the OSC, and/or the grand jury in connection with five matters: a payment made by Firm A to a law firm to pay a debt owed to the law firm by defendant Manafort; co-defendant Konstantin Kilimnik's role in the obstruction of justice conspiracy; the defendant's interactions and communications with Kilimnik; another Department of Justice investigation; and the defendant's contacts with the current administration after the election.
Issues one, three and four were decided in favor of the special counsel's office. Issues two and five were failures for Mueller and his army of attorneys. In sum, however, it's clear the court viewed Manafort's answers as intentional attempts to mislead.
The decision will factor into Manafort's sentencing, scheduled for March 13. Another judge might also have something to say about Manafort soon, too.
Judge T.S. Ellis III, who presided over Manafort's Eastern District of Virginia trial, recently put sentencing on hold in that case because of the plea breach dispute.
"Because it appears that resolution of the current dispute in defendant's prosecution in DC may have some effect on the sentencing decision in this case, it is prudent and appropriate to delay sentencing," Ellis said.
Judge rules Manafort breach… by on Scribd
[Image via the Alexandria Detention Center]
Have a tip we should know? [email protected]