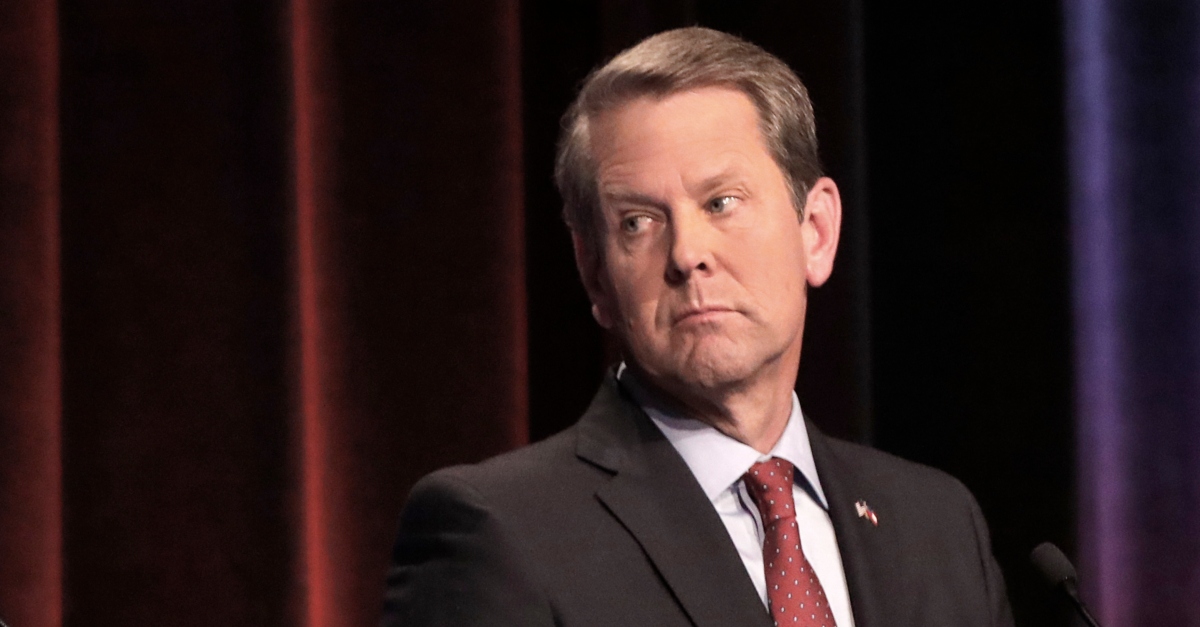 Voters have filed a lawsuit against Georgia Secretary of State Brian Kemp on election night that will determine whether he or Democratic opponent Stacey Abrams will become the Peach State's next governor.
The plaintiffs, registered Georgia voters, have been identified as LaTosha Brown, Jennifer N. Ide, Katharine Wilkinson, Candace Fowler and Chalis Montgomery. They are being represented by the "nonpartisan nonprofit" Protect Democracy, former U.S. Attorney Michael J. Moore and former Department of Justice Voting Rights Section attorney Bryan L. Sells.
The plaintiffs seek to "bar" Kemp from "presiding over his own election." That includes barring him from certifying results or presiding over "any runoff or recount procedures that would normally be exercised by the Secretary of State's Office or the Board of Elections, on which he also sits."
Kemp has previously dismissed voter suppression as a "farce," and has also said he wouldn't recuse himself if the race between him and Abrams ended in a recount. He has also faced multiple claims of voter suppression that disproportionately affects immigrants, black voters, and people filing absentee ballots.
The plaintiffs cited Kemp's recent press release accusing Democrats of hacking the state's voter registration system as evidence of his "bias." They claim that Kemp has "violated the constitutional right to due process" as enshrined in the Fourteenth Amendment, violated the Right to Vote and Right of Free Association in Violation of 42 U.S.C. § 1983 and violated the First Amendment. They are seeking an emergency temporary restraining order.
"Defendant Brian P. Kemp is a candidate for Governor in Georgia. He is also the Secretary of State of Georgia, charged with fairly administering the state's elections. This violates a basic notion of fairness – that a man should not be a judge in his own matter – and it has had predictable results," the lawsuit, which was filed at 5 p.m., reads. "In recent days, Defendant Kemp has used the official powers of his office to interfere in the election to benefit himself and his political party and disadvantage his opponents. In doing so, he has violated the Constitutional rights of Plaintiffs and other Georgia voters."
In particular, the plaintiffs said the "political nature" of Kemp's "baseless accusations" in the press release "Democrats Under Investigation for Failed Hacking Attempt, Cyber Crimes" are why the lawsuit is necessary.
"Upon information and belief, there is not and never was any basis for Defendant Kemp to accuse the Democratic Party of Georgia of seeking to hack into the state's election systems," the lawsuit says. "Rather, Defendant Kemp used the resources of his office and the official Secretary of State website to make these accusations to deflect blame for his own failures to address flaws in the election system and to falsely harm his opponents."
Kemp is accused of using his office of Secretary of State to "advance his campaign" in an extreme way.
"Acting as chief election administration official in an election in which one is running for office poses a risk of bias under the best of circumstances. But Defendant Kemp's efforts to use the authority of his office to advance his campaign have been extreme," the lawsuit concluded.
Law&Crime reached out to the Secretary of State's Office and the Kemp Campaign for comment.
Candice Broce, press secretary and staff attorney at the Secretary of State's Office, said in a statement that this a "twelfth-hour stunt."
"We have notified Secretary Kemp of this lawsuit. This twelfth-hour stunt will not distract us from fulfilling our responsibilities and working with county officials to ensure a secure, accessible, and fair election for all eligible Georgians." She would add that counties count and re-count votes, not the Secretary of State's Office.
Editor's note: This article was updated after publication with a statement from the Secretary of State's Office
[Image via John Bazemore/Pool,Getty Images]
Have a tip we should know? [email protected]