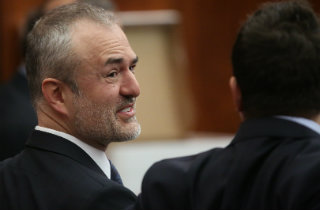 UPDATE: Denton has filed his Chapter 11 bankruptcy petition in United States Bankruptcy Court for the Southern District of New York (PDF).
---
On Monday morning at about 11:00 a.m. Eastern Time, Gawker Media founder Nick Denton tweeted out a slightly cryptic message in two parts:
A source familiar with the matter has told LawNewz that the tweets refer to Denton's plan to  file  personal bankruptcy at some point later in the day. This is the latest fallout from Denton, Gawker Media, and A.J. Daulerio, the former editor-in-chief of their Gawker flagship blog, losing a $140.1 million civil judgment to retired  professional wrestler Hulk Hogan (real name Terry Bollea) in Florida's Pinellas County Court. Denton does still have an emergency motion to delay execution of the judgment pending in Florida's 2nd District Court of Appeals.
While Denton has always been optimistic about their chances on appeal, Florida law requires a bond in the amount of the judgment (plus two years' worth of interest), which is capped at $50 million. Since the defendants haven't been able to get the bond lifted or reduced, and they've largely exhausted their options for delaying execution of the judgment, Gawker Media itself filed Chapter 11 bankruptcy on June 10th. Denton and Daulerio briefly got some extra time from the bankruptcy court, but that clock ran out about two weeks ago and Hogan convinced the judge not to give Denton the extra six weeks he was asking for.
In bankruptcy court, Denton's argument was that he knew that his personal filing was inevitable, but that it was best for all involved, including Hogan as Gawker's largest creditor, to limit distractions while courting buyers for the company assets in its upcoming bankruptcy court auction. Hogan successfully argued it wouldn't cause irreparable harm to Gawker, but in the process, he conspicuously was not acting like a creditor would.
By not going with what would get more money for the sale, it became clear Hogan's interest is in bankrupting his rivals, not getting as much of the the money he won in civil court as possible. At this point, this comes as no surprise being that billionaire Peter Thiel is paying his legal bills with the goal of taking down Gawker. David Houston, the personal attorney for Hogan, told the New York Post that "Mr. Denton and Mr. Daulerio's legal maneuvering is nearing an end. It is time for them to take responsibility for what they've done."
UPDATE: Denton sent this memo to Gawker Media staff today:
Sent:August 1, 2016 2:59 PM

Subject:Before the dawn

You may have seen the news that I have, as expected, had to join the company in bankruptcy. Peter Thiel's legal campaign has targeted individual writers like Sam Biddle, editors such as John Cook, and me as publisher. It is a personal vendetta. And yes, it's a disturbing to live in a world in which a billionaire can bully journalists because he didn't like the coverage.

Still, I'm in a positive frame of mind, because our influential brands will soon be free to thrive under new ownership, and our very existence as an independent entity has been a triumph. For once, the journalistic cliché is appropriate: We've spoken truth to power. Sometimes uncomfortable truths. Sometimes gossipy truths. But truths. There is a price to pay for that, and I am paying it now. But we never gave up our souls in the pursuit of an easy life.

What really lifts my spirits is the way in which we have stood together and just kept on writing, coding, and selling. Our stories reached 12 million more people around the world in July (104m) than they did in April (92m), before the bankruptcy. We were all over the political conventions and Pokémon Go, among other stories.

Eyal just sent round a note saying that last week brought in a million dollars in direct advertising bookings, positioning us well for a further rebound once the future direction of the business is clear. Amazon Prime Day was 63 percent up on last year, with $7m in sales for merchant partners, underlining the unique credibility that brands such as Gizmodo have with consumers.

Every department has kept focus and momentum. The pace of product development is sure and rapid. Our writers are the most productive and effective in digital media. The sales materials are more coherent and professional than they have ever been. Our sites dominate news in categories like technology, cars, and video games.

The brands and the business, which we have built together, are in amazingly robust shape. We'll go into the final stage of the sale with confidence in our continued momentum, and the knowledge that we've all been witnesses to a media miracle.

This is a company founded by a journalist, built around a journalistic mission, beholden only to readers. We can be proud that we survived and prospered as an independent company for more than a decade, and have a second act ahead of us, under the shelter finally of a larger media company.

Gawker endures.

Nick
[Photo: Pool Photo]
Have a tip we should know? [email protected]