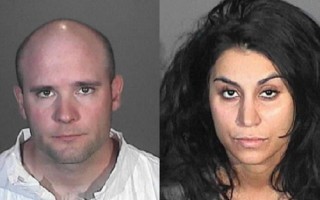 "I want you to kill him … We need to get rid of the body." That's what Sparkle Soojian, heiress to the Armenian cracker company Ak-Mak, allegedly texted to Ernest Johnson the night her former roommate's ex-boyfriend choked to death, the Los Angeles Times reported. Johnson testified at a hearing last week, shedding light on the mysterious circumstances surrounding the death of John Michael King-Smith.
According to Johnson, on a night in September 2015, Soojian sent him and at least one other person a text message saying, "My stalker broke into my house," and, "Please come over. I can't talk on the phone. I'm begging you to come over now. I'm scared." Johnson showed up and entered the house, where he said he found King-Smith banging on Soojian's bedroom door. The two men got into a physical altercation with King-Smith, who he said attacked him with a tennis racquet. Johnson said more people eventually showed up and joined the fray, including Soojian's then-boyfriend, Jared Kasiewicz. Johnson testified that Kasiewicz, a former Marine, put King-Smith in a choke hold, and told Johnson, "We need to handle this." Johnson said that's when he left the house.
King-Smith was declared dead that night, but prosecutors alleged that what happened after Johnson's exit was the result of Kasiewicz "staging a scene."
According to the Times, there was video of Kasiewicz asking other people in the house for ropes or cords to tie up King-Smith, after he had placed the man in the choke hold. His lawyer tried to use this as evidence that Kasiewicz didn't intend to kill the man, because "You don't need to tie up dead people." But testimony at the hearing indicated that when Kasiewicz was binding King-Smith's wrists and feet, he told the other people present, "I wasn't here." His lawyer claims he was trying to hide his presence to protect Soojian. She was supposed to stay away from him in accordance with a court order during a domestic violence case between them that was going on at the time, and Kasiewicz didn't want to get her in trouble.
Prosecutors said that thirty minutes after she texted Kasiewicz to come to the house, Soojian first reported a break-in to local police. Authorities arrived, and King-Smith was taken to a hospital, where he was pronounced dead. Soojian's story seemed to contradict evidence at the scene, the Times reported. Soojian had claimed that King-Smith had broken into her home through a window screen that she found sliced open. She said she came home to find him in the bathroom, wearing a towel, giving himself a haircut. At the time, she had a restraining order against him. But a Glendale detective said that a chair with dusty beer bottles was right under the window in question, seemingly undisturbed.
The relationship between Soojian and King-Smith appears to have been business-related at one time. The Houston Chronicle reported in September that Soojian was an aspiring pop singer, and that King-Smith was the CEO of Blacksmith Records.
Both Soojian and Kasiewicz are charged with murder and are scheduled to appear next at the Pasadena Courthouse on August 11. The Chronicle reported that a third individual, Courtney Argue, had been charged in the killing as well. Court records indicate that she is scheduled to appear at the Pasadena Courthouse for a preliminary hearing on August 15.
Have a tip we should know? [email protected]