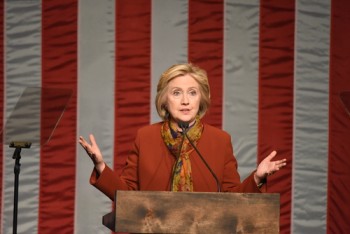 The Long Island Chapter of the Society of Former Agents of the FBI penned a letter to FBI Director James Comey last month to caution that the public's trust in the Bureau is at stake for years to come as agents continue their work on the investigation into Hillary Clinton's e-mail server. In the letter, dated March 16, 2016, the former agents also express their support for Director Comey and the agents working the case.
According to Fox News, many of the former agents in the Long Island Chapter of the Society of Former Agents of the FBI spent time working on the ABSCAM investigation in the late 1970s. That probe targeted dozens of political officials and resulted in the conviction of six sitting members of the House of Representatives and one United States Senator.  The movie American Hustle was based on that investigation. The former agents write in the letter that the challenges surrounding the ABSCAM investigation are a far cry from what the agents involved in the Clinton investigation must going through today.
"Yours and the Bureau's challenge is a far cry from what existed 38 years ago," the letter states.
ABSCAM FBI Agents Letter to FBI Director Warns Public's Trust in FBI at Stake in Clinton Investigation by LawNewz
The letter continues:
Decisions must be made on facts alone. Much is at stake here — people's trust in the Bureau for years to come, as well as the Bureau's reputation among our allies, partners, and friends as the greatest law enforcement agency in the world.
In an interview with Fox News, John F. Good, President of the Long Island Chapter of the Society of Former FBI Agents, said the former ABSCAM agents, himself included, felt it was important to write a letter of support to the Director and agents working on the Clinton case because they understand the intense pressure that comes with investigating powerful political figures.
Good also said he is concerned that Director Comey does not have the same level of support from the Attorney General and Department of Justice that then-FBI Director William Webster had during the ABSCAM case.
"It does not appear that the same relationship between the FBI and DOJ exists today on the case," Good told Fox News.
At the beginning of the ABSCAM investigation, Good said Director Webster told the agents, "The future of the FBI rests on this case."
Good said he believes that is true to an even greater degree with the Clinton investigation, telling Fox News that the Clinton case is important to show the country that we are a nation of laws and the powerful, politically connected do not get to live by a different set of standards.
[image via shutterstock]
Have a tip we should know? [email protected]