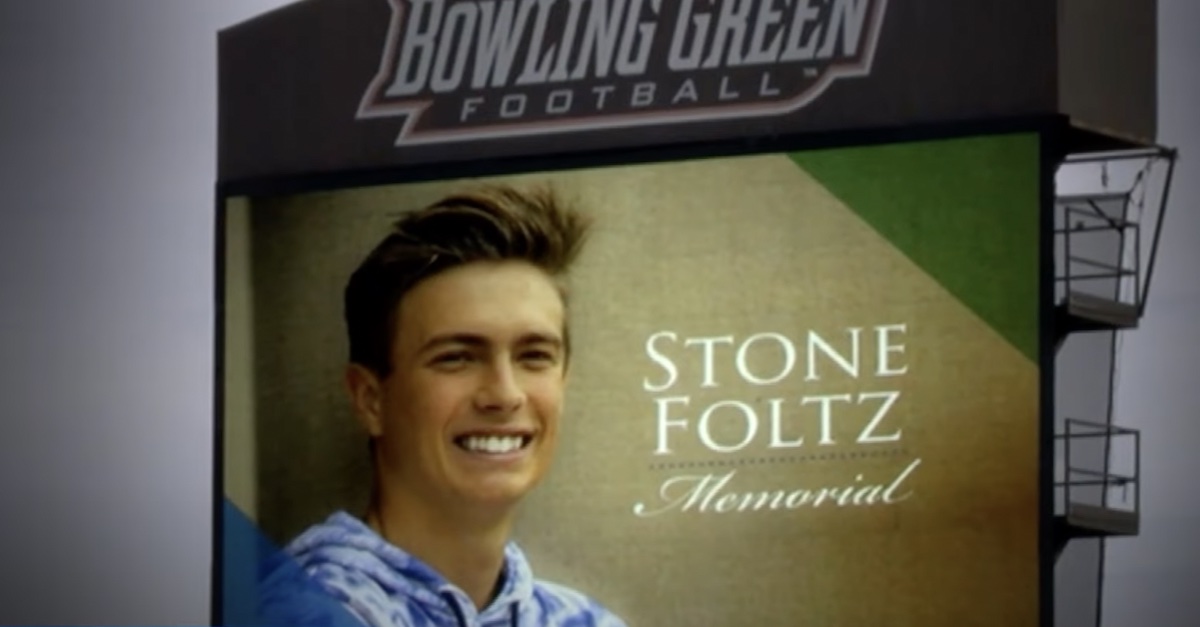 The family of an Ohio college student who died of alcohol poisoning in a fraternity hazing scandal has reached a multi-million dollar settlement agreement with the school, in what their attorney said was the "largest payout by a public university" for a hazing case in state history.
Shari and Cory Foltz, the parents of Stone Foltz, a 20-year-old sophomore student who died of alcohol poisoning after a fraternity pledging event at Bowling Green State University in 2021, settled their wrongful death lawsuit with the school for $2.9 million, the Foltzs and university announced in a joint press conference on Monday.
In the lawsuit, the Foltz family accused the school of being negligent in failing to provide any oversight or prevent hazing while Foltz was pledging the Pi Kappa Alpha fraternity. Foltz's parents said the money will be put towards the iamstonefoltz Foundation, which focuses on putting an end to hazing at schools nationwide.
"This resolution keeps the Foltz family and BGSU community from reliving the tragedy for years to come in the courtroom and allows us to focus on furthering our shared mission of eradicating hazing in Ohio and across the nation," a joint statement from the two sides said. "Leading these efforts in our communities is the real work that honors Stone."
The settlement agreement also included a commitment from the university to continue working with the Foltz's foundation to stop further hazing on the campus.
"From day one we've always wanted the same thing as Bowling Green: to eradicate hazing across the country," Cory Foltz said Monday. "I strongly believe that today, moving forward, we can work with Bowling Green, and Bowling Green will be one of the first universities to take the big step towards eliminating hazing across this country."
As previously reported by Law&Crime, the event which led to Foltz's death was a "new member initiation process" for Pi Kappa Alpha's Bowling Green chapter in which the fraternity hopefuls, also called "little brothers," were introduced to mentors known as "big brothers." Authorities said the new members, almost all of whom were under 21, were given a 750 ml bottle of "high alcohol content liquor" and told to finish it by the end of the night.
Six members of the fraternity later pleaded guilty to charges in connection with Foles' death. They were each sentenced to between one and four weeks in jail.
Daylen Dunson, 22, of Cleveland, Jarrett Prizel, 20, of Olean, New York, and Benjamin Boyers, 21, of Sylvania, Ohio, all previously pleaded guilty to one count each of reckless homicide and hazing. Additionally, Boyers pleaded guilty to one count of obstruction of justice, while Dunson pleaded guilty to obstruction of justice and tampering with evidence.
Dunson was the fraternity chapter president, Prizel was the fraternity's assistant educator for new members, and Boyers was the sergeant-at-arms.
Canyon Caldwell, 22, of Dublin, Ohio, pleaded guilty to one count of obstructing justice and eight counts of misdemeanor hazing.
Niall Sweeney, 21, of Erie, Pennsylvania, and Aaron Lehane, 21, of Loveland, Ohio, both pleaded guilty to one count each of tampering with evidence and hazing. Sweeney, the fraternity's vice president, Lehane, and Boyers all lived at the house where the initiation event took place.
Two others fraternity brothers, Jacob Krinn and Troy Hendricksen, did not take plea deals. They were acquitted on charges of involuntary manslaughter and reckless homicide but found guilty on lesser charges and sentenced to 42 days in jail, according to a report from The Associated Press.
Watch the press conference below.
Have a tip we should know? [email protected]