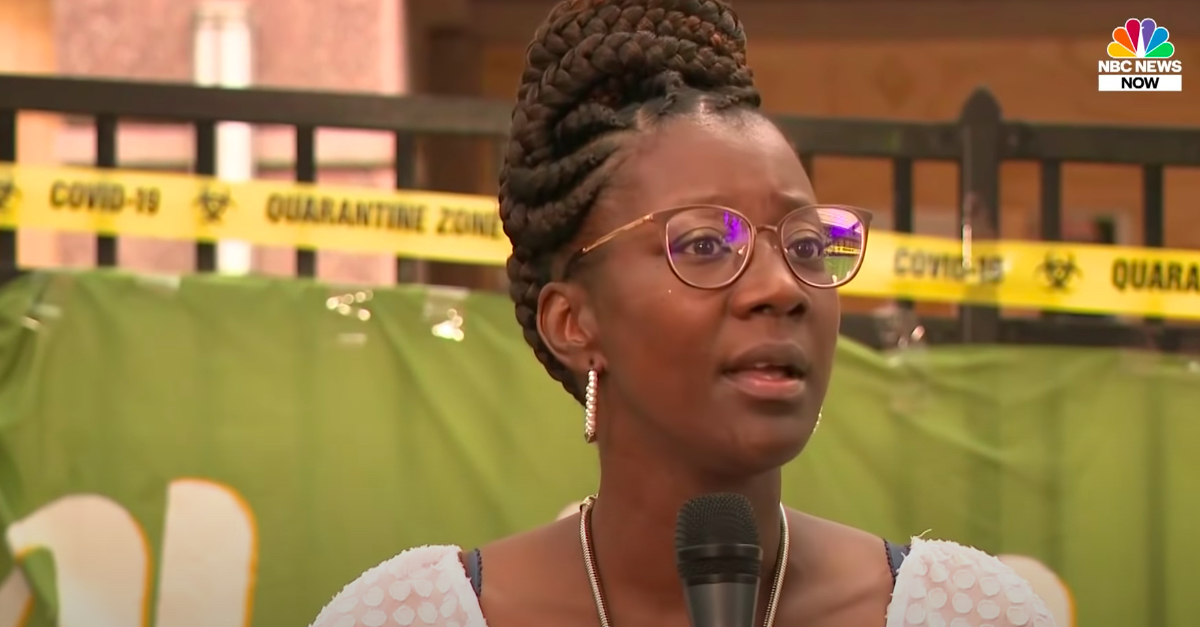 The Department of Homeland Security's Office of Inspector General confirmed on Tuesday that it will be interviewing a nurse who filed an alarming whistleblower complaint alleging that gynecological procedures, including mass hysterectomies, were performed on ICE detainees without the women's informed consent.
A DHS OIG spokesperson confirmed to Law&Crime on Tuesday that the office will be interviewing Dawn Wooten and that it has initiated a review of the Irwin County Detention Center (ICDC) in Georgia. The facility is privately operated by LaSalle Corrections.
"DHS OIG takes these allegations very seriously. We will be interviewing Dawn Wooten, who initiated this complaint, to hear her allegations first-hand," the statement said. "We have also initiated an evaluation of the Irwin County Detention Center, to include records reviews, interviews with detainees and staff, evaluation of medical care and services, and related matters."
The DHS IG is Joseph V. Cuffari.
Law&Crime has learned that the interview is scheduled for Thursday afternoon.
Irvin McCullough, the Deputy Director of Legislation at the Government Accountability Project and a member of Wooten's legal team, said in a statement that the group was pleased DHS OIG moved quickly to investigate Wooten's whistleblower complaint.
"Whistleblowers spotlight misconduct to seek investigations and stop abuses," McCullough said. "We're glad the Inspector General is giving these disclosures the immediate investigation they deserve. The next step is ensuring that the investigation is a full one, where the watchdog interviews all the relevant witnesses, reviews all the relevant records, and gets to the very bottom of what's happened at this facility."
Members of Congress and groups representing Wooten have demanded an investigation of Wooten's claims about a "high rate" of hysterectomies on ICDC detainees. Those allegations in the whistleblower complaint were first noticed and reported by Law&Crime. Wooten is a nurse who formerly worked full-time at ICDC. She was demoted in July, she believes, out of retaliation for raising concerns about the facility's "unsafe work practices" and life-threatening neglect of detainees amid the COVID-19 pandemic.
According to Wooten, ICDC consistently used a particular gynecologist outside of the facility who almost always opted to remove all or part of the uterus of his female detainee patients.
"Everybody he sees has a hysterectomy—just about everybody," Wooten said, adding that, "everybody's uterus cannot be that bad."
"We've questioned among ourselves like goodness he's taking everybody's stuff out…That's his specialty, he's the uterus collector. I know that's ugly…is he collecting these things or something…Everybody he sees, he's taking all their uteruses out or he's taken their tubes out. What in the world," she said, according to the complaint.
The Associated Press reported last Friday that more migrant women had come forward and alleged that they did not agree to or fully understand gynecological surgical procedures. But the AP also said that its review of the matter "did not find evidence of mass hysterectomies as alleged in a widely shared complaint filed" by Wooten.
Priyanka Bhatt, a Project South lawyer involved in filing the complaint, said she included the mass hysterectomy allegations in the complaint to trigger an investigation of the claims [ensuing emphasis ours]:
But a lawyer who helped file the complaint said she never spoke to any women who had hysterectomies. Priyanka Bhatt, staff attorney at the advocacy group Project South, told The Washington Post that she included the hysterectomy allegations because she wanted to trigger an investigation to determine if they were true.

"I have a responsibility to listen to the women I've spoken with," Bhatt told the AP Friday. She said one woman alleged that she was repeatedly pressured to have a hysterectomy and that authorities said they would not pay for her to get a second opinion.
Project South is a social justice organization that says its legal and advocacy work "builds movement legal infrastructure with a current focus on immigrants' rights and defending Muslim communities against state repression."
Andrew Free, an immigration lawyer involved in the investigation of procedures performed on ICDC detainees, told the AP last week that doctors were reviewing new records and claims by more women that were, so far, indicative of "a systemic lack of truly informed and legally valid consent to perform procedures that could ultimately result — intentionally or unintentionally — in sterilization."
ICE has urged skepticism about the claims, but has also welcomed a DHS OIG investigation.
Acting ICE Director Tony Pham said last Friday that Wooten had raised "very serious concerns" that "deserve to be investigated quickly and thoroughly."
"ICE welcomes the efforts of both the Office of Inspector General as well as the Department of Homeland Security's parallel review. As a former prosecutor, individuals found to have violated our policies and procedures should be held accountable," Pham said. "If there is any truth to these allegations, it is my commitment to make the corrections necessary to ensure we continue to prioritize the health, welfare and safety of ICE detainees."
The doctor referred to in the complaint, since identified as OB/GYN Mahendra Amin, told The Intercept he only performed "one or two hysterectomies in the past two [or] three years." He also denied performing surgeries without patients' consent.
"Everything is wrong, and if you want to talk, talk to the hospital administrator," Amin said. Female ICE detainees have also alleged "rough" treatment by Amin.
Scott Grubman, a lawyer for Amin, has "vigorously" denied the allegations in the complaint.
"Dr. Amin is a highly respected physician who has dedicated his adult life to treating a high-risk, underserved population in rural Georgia," Grubman said. "We look forward to all of the facts coming out and are confident that, once they do, Dr. Amin will be cleared of any wrongdoing."
Editor's note: added a statement from Irvin McCullough post-publication. 
[Image via NBC screengrab]
Have a tip we should know? [email protected]