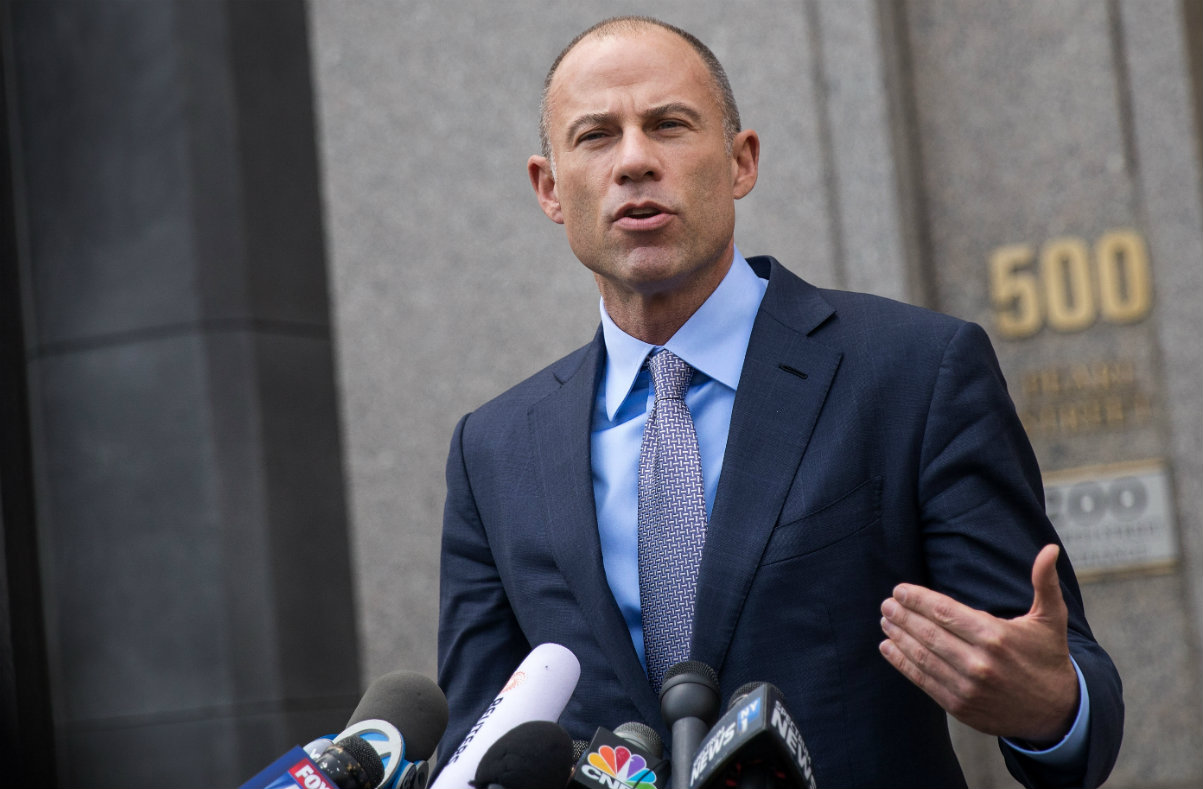 Michael Avenatti kicked off his Black Friday by continuing to sell a story that the domestic violence allegations against him are a hoax concocted by right-wing blogger Jacob Wohl. In an early morning tweet, Avenatti called Wohl "a complete fraud," predicting that the former Gateway Pundit writer will face charges for coming up with false allegations against him and Special Counsel Robert Mueller.
Jacob Wohl is a complete fraud who will ultimately be prosecuted for fabricating allegations against me and Mueller. He deserves to be incarcerated to the fullest extent of the law. And he will be. #Basta

— Michael Avenatti (@MichaelAvenatti) November 23, 2018
Wohl and his research firm Surefire Intelligence were previously linked to reports that false allegations of sexual assault against Mueller were planned to tarnish the Special Counsel's reputation. After Avenatti was arrested on suspicion of domestic violence, Surefire appeared to take credit for it.
Surefire Intelligence strikes again. https://t.co/hdbWEjN38h

— Surefire Intelligence (@SurefireIntel) November 14, 2018
Avenatti has responded to this by accusing Wohl of being behind what he claims are false allegations. This, despite the woman accusing him, Marelli Miniutti, having recently acquired a restraining order against Avenatti after detailed allegations were included in court documents. It's not like Avenatti can claim that Miniutti is some random woman Wohl hired to file a false report, as the two were known to be together in the past and have been seen together at events.  Wohl has since denied being behind any report against Avenatti. If he did make a false police report, he could indeed face criminal charges.
Avenatti, who became a household name during his ongoing representation of Stormy Daniels, maintains his innocence, citing his history of supporting women's rights in a tweet earlier on Friday.
"I am innocent and will not be intimidated into stopping speaking truth to power," Avenatti said.
I have been successfully advocating for women and women's rights my entire career (nearly 20 yrs). I have repeatedly agreed to represent women in their causes when nobody else would touch their case. I am innocent and will not be intimidated into stopping speaking truth to power.

— Michael Avenatti (@MichaelAvenatti) November 23, 2018
To date, rather than accusing Miniutti of making anything up, Avenatti has focused on Wohl and inaccurate reporting by TMZ.
There have been inconsistencies between the original TMZ report about Avenatti's arrest and information that came out later. The gossip site first reported that Avenatti was arrested for allegedly assaulting his estranged wife, which turned out not to be the case (this part of the report was later corrected). That report also said that the woman involved suffered bruising on her face. Their subsequent report based on court documents when Minuitti got the restraining order only mentioned scratches on her side and leg, with no reported facial injuries.
Additionally, the original report said Avenatti was arrested on a felony charge, while Los Angeles prosecutors recently indicated that any charges that might be filed against him would be misdemeanors. While that is less serious, that's not necessarily proof of bad reporting. It could simply be a matter of police deciding to list one charge for the purpose of the arrest, while prosecutors assessing the case differently.
[Image via Drew Angerer/Getty Images]
Have a tip we should know? [email protected]