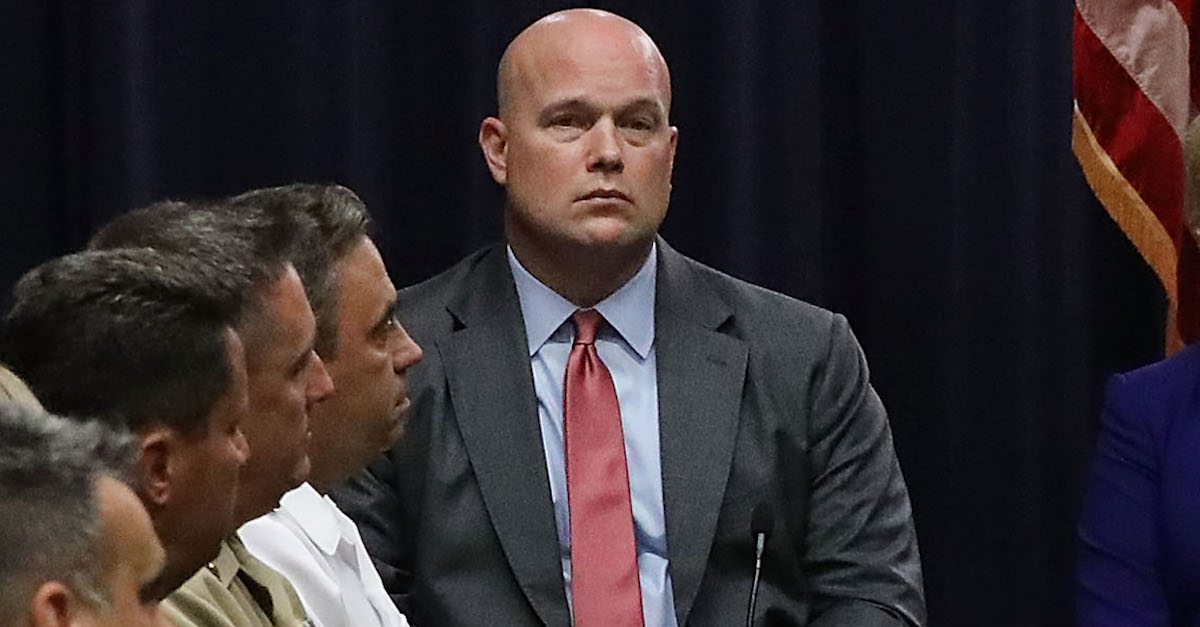 Acting Attorney General Matthew Whitaker has an easy way to frustrate ongoing federal investigations into President Donald Trump and his business empire–simply telling by his underlings to back off.
The Southern District of New York (SDNY) has long been considered one of special counsel Robert Mueller's parachutes, so to speak, because of their traditional independence from the Department of Justice and relevant jurisdictional authority over several Trump properties, business and associates. Essentially, many of the SDNY's investigations as of late have effectively functioned as a form of ancillary or parallel authority to Mueller's own Russia probe.
Pace Law's Mimi Rocah, herself a former federal prosecutor with the SDNY, explained the potential danger inherent in Whitaker's ascension on Twitter.
"This is potentially as bad firing Mueller," she wrote. "[Trump is] accomplishing what he wants in a more stealth way (so gives him & his allies cover). AND he has put someone in place who has oversight of all investigations not just Russia – including SDNY & [Eastern District of Virginia] investigations."
Recall: it was the U.S. Attorney's Office for the SDNY that originally put the screws to Trump's former personal attorney Michael Cohen. That investigation is ongoing and all indications are that Cohen has been singing like a bird in a Merry Melodies cartoon.
Additional Trump-affiliated marks have been made into juridical hay by the SDNY through grants of immunity.
At the top of the list is Allen Weisselberg, the Trump Organization's chief financial officer and the treasurer of the Trump Foundation. Just further down is David Pecker, the CEO of American Media, the company that controls the National Enquirer–as well as Dylan Howard, American Media's chief content officer.
In sum, several shoes have fallen and a probably exponential number of secrets have been spilled related to the Trump family's business dealings because of the work done by the SDNY's investigators.
Now that Whitaker will be in charge of the U.S. Department of Justice (DOJ), however, the SDNY's investigations–and all they've uncovered over the past two years–hang in the easily-ruptured balance of whether the dogged Trump loyalist considers them prudent at all. Could it really be that easy?
According to the rules governing the DOJ, absolutely.
Georgetown University Law Professor Marty Lederman penned a "quick" 6,000-word run-down on Whitaker's destructive potential for Just Security. In theory, Lederman said, Whitaker could go after Mueller directly–but that would require some excessively heavy-lifting. Much more simple is sabotaging Mueller's parachute.
As for the SDNY investigations, although there's an historical norm that the U.S. Attorney in Manhattan has considerable "independence" from Main Justice micromanagement, there's little doubt that Whitaker will now have the legal authority to direct the U.S. Attorney in SDNY what to do and what not to do.
As Natasha Bertrand at The Atlantic noted in August, the norm-based independence of the Southern District's historically intrepid investigative unit once spawned the moniker "Sovereign District of New York." The office that went after the mafia and other RICO-handled criminal organizations truly made a name–and carved out a distinct place–for itself with their work and time-honored distance from the DOJ's daily operations.
But any tradition built on respect for the past means comparatively little with an emboldened conservative movement buoyed by the White House's willingness to exercise power whenever and wherever they can get it.
[image via Chip Somodevilla/Getty Images]
Follow Colin Kalmbacher on Twitter: @colinkalmbacher
Have a tip we should know? [email protected]