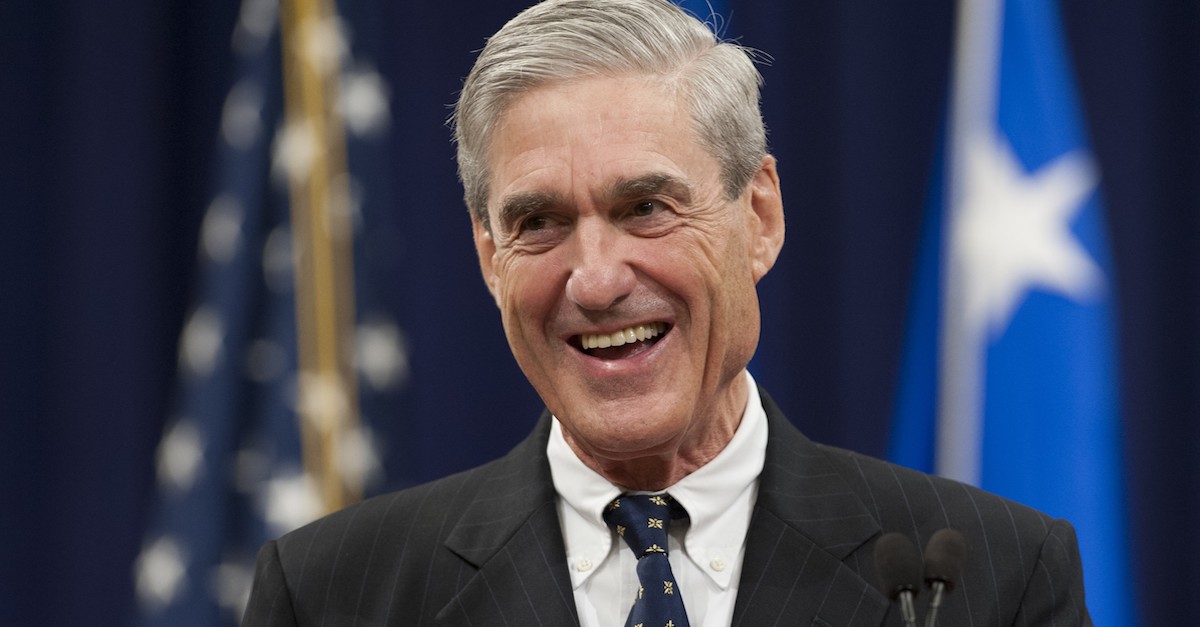 A former counterintelligence expert with the Federal Bureau of Investigation (FBI) believes special counsel Robert Mueller has a plan in place to continue his wide-ranging Russiagate inquiry even if President Donald Trump goes on a firing spree in the near future.
Former assistant director for counterintelligence Frank Figliuzzi spoke with MSNBC's Nicole Wallace on Wednesday afternoon to outline the contours of this purported emergency plan–which the guest described as a "prosecutorial parachute."
While discussing the ever-shrinking slate of attorneys surrounding the president in the context of White House Counsel Don McGahn's imminent departure, Figliuzzi said:
Mr. McGahn was unsuccessful and the president erupted in anger in front of numerous White House officials. So, we're looking increasingly now at an unchecked president and no one left to even try to balance his actions out. If that happens, the domino effect may start. So he's talking increasingly about getting rid of [Attorney General Jeff] Sessions. And we're hearing prominent Republican senators kind of giving the blessing for that.
And if those dominoes were to start their collective plunge? Figliuzzi argued that was only half the battle.
The guest continued, noting, "The danger signal to me is we're hearing people say, 'well, as long as he picks an attorney general who lets Mueller finish…' Letting Mueller finish is only half the equation. How do you properly deal with Mueller and his potential request to subpoena the president for an interview and his potential request to indict a sitting president? If a new attorney general is there and he's a lackey for this president, look out."
So, what would Mueller's ace in the (loop)hole be here? Figliuzzi thinks it's the possibility of sealed state court cases. The former domestic spy said:
I think there are plans being put in place. What I call prosecutorial parachute with maybe sealed cases tied up in those for certain state, U.S. state district attorney's offices and various U.S. attorneys around the states. The clock is ticking.
Recall: the special counsel has already referred at least one case to a state U.S. Attorney's Office–the president's one-time friend and fixer, Michael Cohen. This decision has reaped a hefty amount of dividends for Mueller's broader investigation into Trump and his associates.
It should also be noted that the special counsel's investigation is operating on a federal mandate from the Department of Justice so the direct cases brought by his office would, by necessity, have to be held in federal courts. So, as we've already seen, transferring cases from one federally-mandated investigative body to another isn't beyond the realm of Mueller's myriad possibilities.
But could Mueller also secretly be conferring with friendly state attorneys general in case of a Trump-initiated bloodbath? As the '90s McDonald's commercials used to say, "Hey, it could happen."
Mueller's office previously requested scores of blank subpoenas in the case against former Trump 2016 campaign chair Paul Manafort. Wild speculation immediately ensued after these subpoenas were issued. But, in the end, nowhere near as many witnesses were noticed for Manafort's trial in the Eastern District of Virginia–and fewer still were actually called.
That's a lot of unused ammunition.
[image SAUL LOEB/AFP/Getty Images]
Follow Colin Kalmbacher on Twitter: @colinkalmbacher
Have a tip we should know? [email protected]