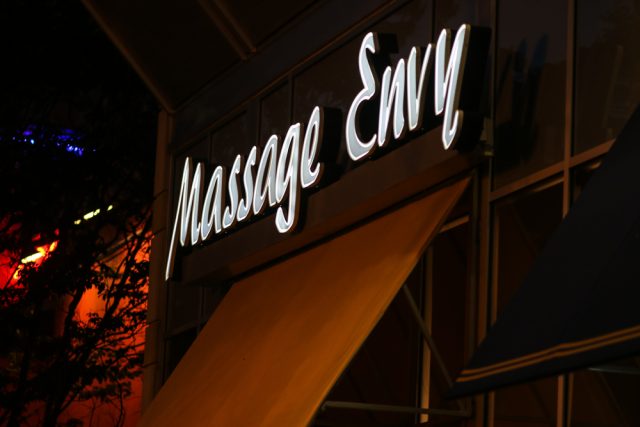 Know what's totally the opposite of relaxing? Going to get a massage and being sexually assaulted during your 50-minute hour. According to yesterday's BuzzFeed report, over 180 women have now reported being victimized at the hands of their Massage Envy massage therapists.
One woman, who has sued Massage Envy, reportedly had an especially harrowing experience; Susan Ingram says she was repeatedly assaulted by James Deiter during a massage. Deiter later pleaded guilty to criminal sexual assault, and is now serving a 6 ½ to 13 stretch in a Pennsylvania prison for multiple assaults on nine women. While it's gratifying that Deiter found his way into a prison cell, that's only the prelude to what promises to be a painful, lurid, and ultimately, expensive story. Things are just about to get really bad for Massage Envy, really fast.
The problem here is that Massage Envy seems to have been less about #MeToo and more about #NotUs. There's a transcript from Ingram's courtroom testimony, and it's about as bad as these things get. Ingram recounted her attempt at reporting her sexual assault to a Massage Envy employee:
"I asked to talk to the manager, Nicole. I told her I was just sexually assaulted by the defendant. I asked if he was giving another woman a massage and she said yes. I begged her to stop the massage room and get him away from the woman. She said she could not do that, and she invited me in to talk about my services…

By this point I was desperate. I asked her to have the owner… call me. Nicole said she couldn't do that. I then became frantic with worry for that poor woman alone with him. And I said to her, 'Nicole, he stuck his fingers in my vagina less than an hour ago. You must do the right thing. Get her out of the room and get the owner to call me.'"
In many instances, it's difficult to hold an employer civilly liable for criminal-level misconduct of an employee. Most of the time, criminal behavior would be deemed an unforeseeable "superseding" event, for which the individual actor would be the only person legally responsible. That changes, though, if the criminal behavior is somehow predictable, or if a business had insufficient safety, reporting, or monitoring systems in place.
Law & Crime spoke today with attorney and sexual harassment expert Misty Marris, who explained:
"The 'superseding criminal act' defense is a total loser if the employer knew or should have known about that employee's propensity for engaging in the conduct.  So if complaints were made but never properly addressed, or if the company had been aware of the conduct but continued to let that person work, the company will not have a strong defense.  Under those circumstances, an employer might even be facing gross negligence liability and be subject to punitive damages.  The employer could also face Title VII liability, under which a customer could sue the employer for gender-based discrimination in an area of public accommodation."
If what Susan Ingram said is true, Massage Envy is going to have a tough time disclaiming responsibility; it's tough to think of any set of facts more egregious than a customer hysterically calling a business to report a sexual assault, and that business refusing to take any steps to protect another woman who was vulnerable at that very instant. Let's not forget, too, that Susan Ingram is one of almost two hundred women who also claim to have been assaulted during massages at this chain; if her experience with management proves to be emblematic, this retailer is going to file for bankruptcy before anyone can say "class action."
That leaves the [likely multi-] million dollar question: who exactly is "Massage Envy"? There are the individual franchisees, who own and operate independent locations, and there is the parent franchisor corporation, with the really deep pockets. When it comes to tort lawsuits, it's not always clear when a parent franchisor is liable and when that liability ends at the franchisee level. Typically, things all come down to the level of control a franchisor exercises over its franchisee. The tighter the control, the more likely the liability. The more the parent company is checked out, the less likely it'll be on the hook for the torts of its franchisee.
Misty Marris explained:
"Courts have found under agency theories that in some cases franchisors are liable.  Generally, the analysis hinges on how much day-to-day control the franchisor has over the franchisee. In any case, if the franchisor knew about the alleged conduct and failed to take action, they would be on the hook in addition to the franchisee."
Franchisors tend to be held liable for aspects of the business in which they are involved—like setting company-wide policies, creating systems of business, and setting operating standards. And that's precisely why Massage Envy's parent company should be freaking out right about now. It might not have been directly responsible for James Deiter's crimes, but it sure sounds like, in my opinion, it created an environment fertile for Deiter to abuse his victims.
You don't have to be a franchise expert to know that any business that anticipates that naked people will be in private rooms with employees runs the risk of sexual misconduct. Common sense dictates that some kind of serious plan be in place for monitoring, reporting, and investigating any and all complaints. In other words, if your business is hands-on, your policies can't be hands-off.
Yesterday's Buzzfeed article may serve to make Massage Envy the Harvey Weinstein of retail spas. Word is already spreading that since the story broke, two people have filed complaints with the NYPD for sexual assault at New York City locations of the massage chain.
This is an opinion piece. The views expressed in this article are those of just the author.
Elura Nanos - Columnist & Trial Analyst, Law & Crime; CEO Lawyer Up