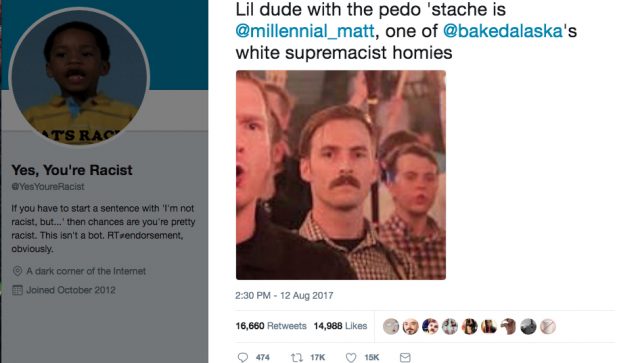 An alt-right activist who took part in the Charlottesville rallies has decided to flee the United States for someplace a bit more "homogenous."
In a series of direct messages via Twitter with MassLive, Matt Colligan said he initially scarpered off to Japan and then found his way to Mexico. In those messages, speaking of Japan, he wrote:
This is what America needs…a people who look talk and act similar…diversity is our weakness.
Colligan apparently fled the country after his image was plastered all over the internet following the violent "Unite the Right" rallies in Charlottesville, Virginia last month.
In one image, Colligan can be seen smiling, wearing a button-down checkered shirt and some kind of straps while embracing noted anti-Semitic commentator Tim Gionet as a few tiki torches blaze in the background.
Once Colligan's smile went viral, he was personally identified by information vigilantes on the internet. After that, his phone number and those of family members became public knowledge. He apparently received some death threats. The famous Twitter account @YesYoureRacist, made Colligan one of its targets, referring to him as a "white supremacist" with a pedophile mustache.
During his interview with MassLive, he said, "I decided to distance myself from them, distance myself from everything that's going on right now. And sort of hide out in a place that might not have seen my photo. I might stay out here for maybe a year or so."
Colligan, for his part, says he is not a neo-Nazi or a member of the Ku Klux Klan. His Twitter account identifies him as a "troll" and is littered with tweets about 9/11 being an "inside job." One tweet says the Holocaust was an "inside joke." Another tweet appears to blame Israel for the September 11, 2001 attacks.
[image via screengrab]
Follow Colin Kalmbacher on Twitter: @colinkalmbacher
Have a tip we should know? [email protected]