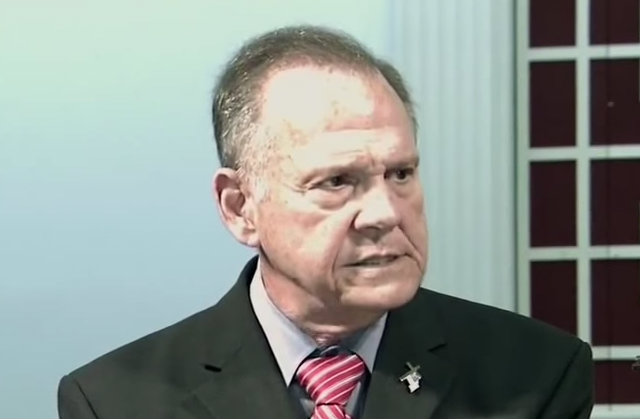 Leigh Corfman today filed a defamation lawsuit against Roy Moore and his losing Senate campaign.
Filed in the Montgomery Circuit Court, Corfman's suit is based on a series of vicious personal attacks leveled at her by then-candidate Moore and campaign surrogates.
Corfman is not seeking any money with the lawsuit aside from attorney's fees. Rather, Corfman is simply requesting that Moore make a public apology and that he and his campaign be court-ordered to never publicly disparaging Corfman in public ever again.
In a statement provided to various media outlets, Corfman said:
The decision to sue Mr. Moore and his campaign committee was difficult, but they need to be held responsible for their actions. Mr. Moore sexually abused me when I was only 14 years old. Then he and his campaign called me a liar and immoral when I publicly disclosed his misconduct. They ignored my requests to stop attacking me and to acknowledge the truth. Just last week, after the election, they filed a lawsuit in which they once again called me a liar. By this lawsuit, I seek to do what I could not do as a 14-year-old–hold Mr. Moore and those who enable him accountable.
So far, Moore campaign representatives have declined to comment on the allegations.
In November of last year, Corfman told The Washington Post that in 1979, when she was 14-years-old and Moore was a 32-year-old district attorney, he took her to his residence where he undressed her and sexually assaulted her by touching her over her bra and panties and by directing her hand to his crotch.
Moore denied the allegations and referred to them as "politically motivated," "completely false," and "malicious."
Ultimately, the accused pedophile and GOP standard-bearer was defeated by Democrat Doug Jones in a December 12 special election for the Senate seat that once belonged to Attorney General Jeff Sessions.
[image via screengrab/ABC]
Follow Colin Kalmbacher on Twitter: @colinkalmbacher
Have a tip we should know? [email protected]