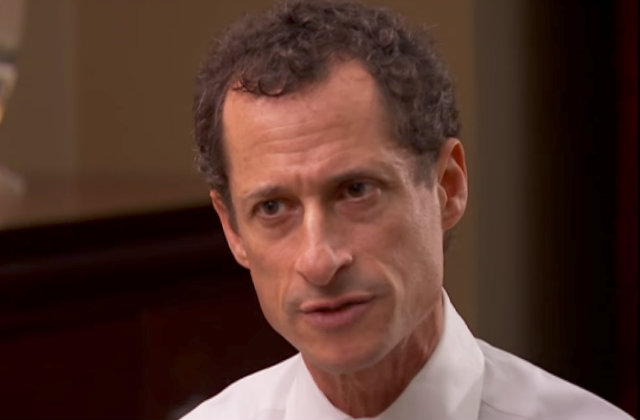 At least 18 classified emails have been found on Anthony Weiner's laptop, according to a review of 798 documents recently released by the State Department.
According to conservative-leaning transparency group Judicial Watch, those 798 documents–and the 18 classified emails–were released as part of the FBI's on-again-off-again-on-again investigation into Hillary Clinton's private email server.
Weiner, the disgraced former New York congressman, was served divorce papers by former Clinton confidante Huma Abedin in May of last year.
The new tranche of emails on Weiner's computer appear to emanate from Abedin's use of a non-State Department email address located on Clinton's private server as well as from Abedin's personal Blackberry.
According to the press release issued by Judicial Watch earlier this afternoon, the 18 classified emails are broken down as follows:
There are five new classified emails among 147 new Abedin work-related documents released by the State Department on Friday, December 29, 2017.

Thirteen emails containing classified information were also found on the Weiner laptop computer that had already been released to the public. This classified material includes discussions about Saudi Arabia, The Hague, Egypt, South Africa, Zimbabwe, the identity of a CIA official, Malawi, the war in Syria, Lebanon, Hamas, and the PLO.
The release also notes that Abedin sent classified material from her clintonemail.com address to Weiner's personal laptop on at least two occasions.
Once, on November 25, 2010, Abedin apparently penned an email discussing an upcoming phone call with Prince Saud–of the Kingdom of Saudi Arabia–anticipating "expected Wikileaks leaks."
The next day, on November 26, 2010, Abedin sent an email to Weiner referencing a phone call between one "Jeff" and the Prime Minister of the United Arab Emirates, Abdullah bin Zayed. The "Jeff" in question is likely a reference to former U.S. Assistant Secretary of State for Near Eastern Affairs Jeffrey Feltman.
"The classified information on Weiner's laptop is part of a pattern of the mishandling national security by Clinton and her aides. The Weiner emails emphasize the need for the Justice Department to conduct a fresh, serious investigation of Hillary Clinton's and Huma Abedin's obvious violations of law," Judicial Watch President Tom Fitton said.
Law&Crime's Elura Nanos addressed Fitton's point in an article published earlier this week. She wrote:
Trump has demanded that Abedin be punished for the crime of putting "classified passwords into the hands of foreign agents," in ostensibly the same way Petty Officer First Class Kristian Saucier was after he pleaded guilty to mishandling classified information…Look, I appreciate that Trump believes that everything on Fox & Friends is hard news, but this Abedin "story" is the epitome of yesterday's news. The FBI looked into Clinton, Abedin, Weiner, their emails, their servers, their computers, etc. The FBI did find carelessness and wrongdoing; it did not find criminal misconduct. And sometimes, that's just how it goes. Not every bad action is a crime. Not every mistake is grounds for prosecution. This week revealed exactly zero new information about Huma Abedin or security breaches.  Trump's failure to accept the outcome of the FBI's investigation is a colossal slap in the face of law enforcement at every echelon.
[image via screengrab/BBC]
Follow Colin Kalmbacher on Twitter: @colinkalmbacher
Have a tip we should know? [email protected]