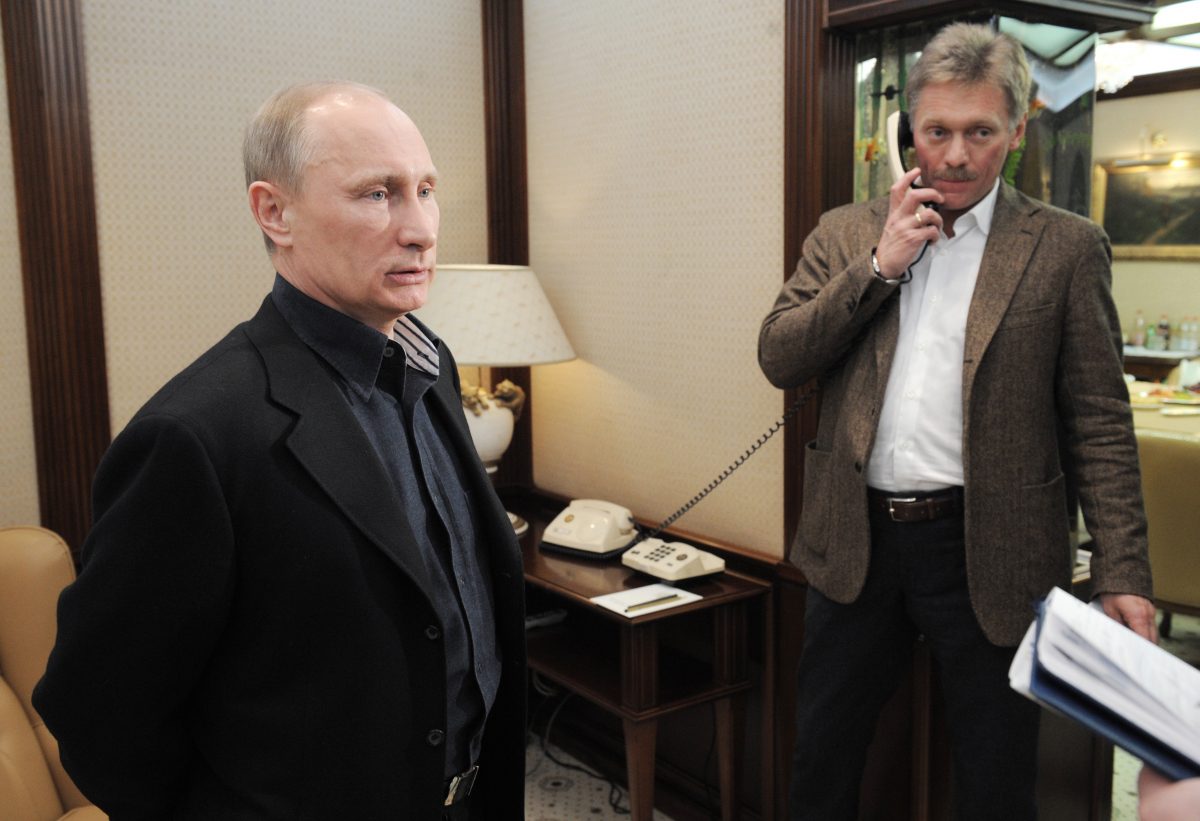 A spokesman for Russian President Vladimir Putin seems to think Robert Mueller's Russia investigation is pointless.
Dmitry Peskov told reporters that "there's hope that it will wind up one day," and said Mueller's investigation was like "passing water through a sieve." Reuters says he also used a Russian expression that means "flogging a dead horse."
Several weeks ago, Peskov said a little bit more on the topic, according to Russian news agency TASS:
"The investigation [conducted by Special Counsel Robert] Mueller is not an issue for Russia's agenda. It is a domestic American process, and we, naturally, are not going to interfere with it. The investigation has rather abstract goals, and we are unaware of any substantial conclusions that have been drawn. Still, this is an American problem and it's up to the Americans to solve it."
Back in March, Putin himself said "I do not care" when asked about a group of thirteen Russians and three Russian organizations accused by Mueller of messing with the American presidential election of 2016. Putin said the individuals and organizations "do not represent the interests of the Russian state" as his reason for ambivalence. However, Putin did say he would not be adverse to an official communication about the individuals. "Should it turn out that they really violated Russian laws, then we will bring them to justice. If they did not violate Russian laws, then there is no reason for indicting them . . . people in Russia live in accordance with Russian laws and not US laws, and it will remain so," he told a NBC's Megyn Kelly, TASS reported.
The process of prosecuting the individuals and/or organizations in Russia through Russian law could occur, Putin said, but that process "takes an official request to the General Prosecutor of the Russian Federation. Give us a document, give us an official request. This has to go through official channels, not through the press or yelling in the US Congress," Putin told Kelly.
The Russian government and Putin himself have denied accusations that the Russian state interfered with the 2016 American election. In other words, Putin says that if interference occurred, it wasn't official or through the government. Putin has said that if Russians are indicted in the United States, they won't be extradited to face American courts.
Peskov, meanwhile, has his own reputation for stirring up controversy. He has previously deflected complaints about a Russian politician accused of forcing himself on female journalists by pointing to Harvey Weinstein, whose own accusers he called "prostitutes" who traded sex for Hollywood fame and money, according to ABC News.
[Image of Putin and Peskov via ALEXEY DRUZHININ/AFP/Getty Images.]
Have a tip we should know? [email protected]
Aaron Keller - Deputy Editor-in-Chief