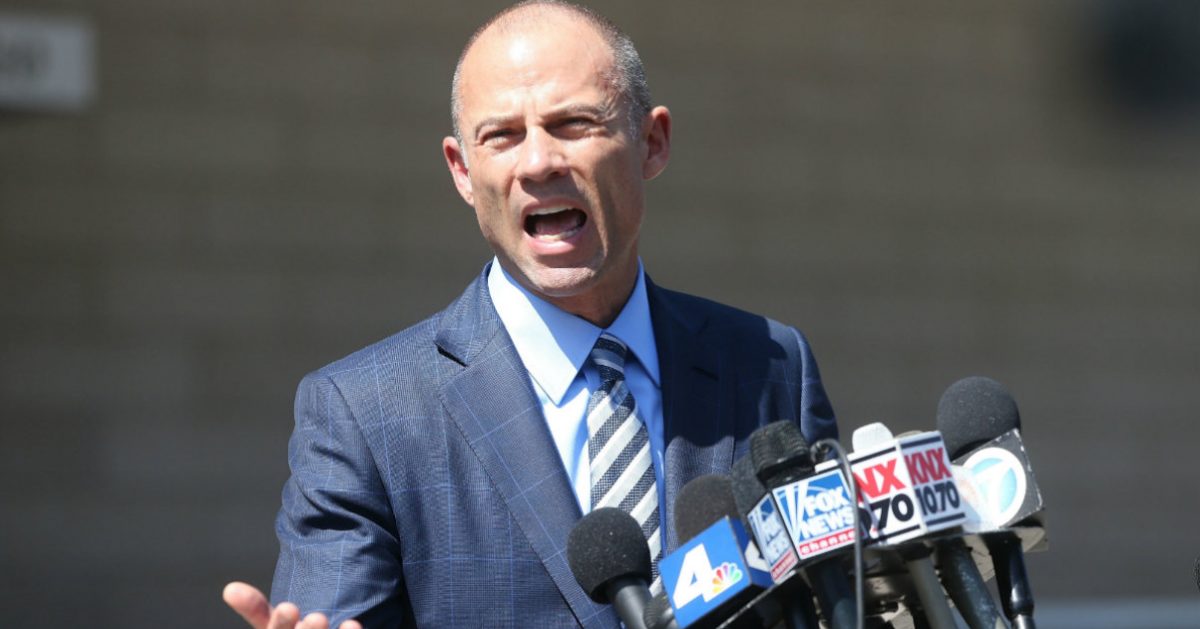 Stormy Daniels' attorney Michael Avenatti, as he as often done lately, dropped documents for the public's viewing on social media. This batch shows the Wall Street Journal was asking attorney Keith Davidson questions about "women from Trump's past" before the election. Davidson used to represent both Karen McDougal and Daniels. Both women have said they had a sexual relationship with Trump well before he was president.
Avenatti's records of emails show that Davidson sent a lengthy message to Journal reporter Joe Palazzolo, which Davidson then forwarded as an "FYI" to Trump's attorney Michael Cohen, who facilitated the Daniels nondisclosure agreement.
The email was forwarded on Nov. 3, 2016. The election happened five days later.
"I understand that you are attempting to report that I am 'representing women from Trump's past' and that I am 'presumably seeking settlements,'" Davidson wrote. "I have never sought, nor obtained a settlement from him."
Davidson then threatened to sue Palazzolo and the Journal and said they were threatening his client relationships and causing financial harm to him. He said any suggestion that he ever represented anyone "adverse to Donald Trump" is "false, defamatory and otherwise actionable."
Davidson demanded that they refrain from publishing "factually untrue" and "unsubstantiated information" about him or his firm.
The documents also includes a response from the Journal's publisher, Dow Jones & Company. Counsel Craig Linder said that Journal had no intent to disseminate false information or harm his contractual relationships.
Linder particularly challenged Davidson's claim that Palazzolo said he had no sources for his reporting. He said that was "not correct." Linder also said Palazzolo would continue asking questions about Stephanie Clifford (Stormy Daniels' real name) and McDougal.
Avenatti's initial tweet was slightly different from the one he put up in its place.
The new one says "1) the WSJ had the story in the closing days of the campaign but sat on it and 2) Mr. Davidson lied to them and conspired with Mr. Cohen in 2016. This is why we have demanded to see all of Davidson's docs for mos and will sue if need be. #Basta"
The first one began the same way, but then he criticized the Journal for using Davidson as an "unnamed source" in a "hit piece" they wrote.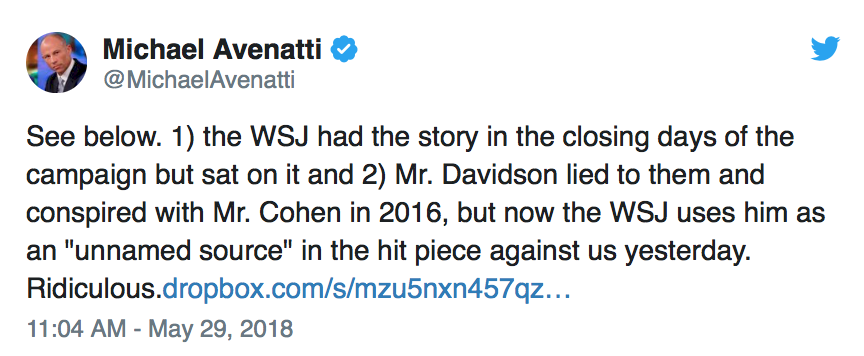 It appears Avenatti is referring to this story: "Stormy Daniels's Lawyer Michael Avenatti Complicates Michael Cohen Probe."
Notably, one of the bylines on this story is Joe Palazzolo.
Avenatti reacted to the report even earlier in the day.
Editor's note: this story was updated after publication with additional information. 
[Image via Mario Tama/Getty Images]
Have a tip we should know? [email protected]