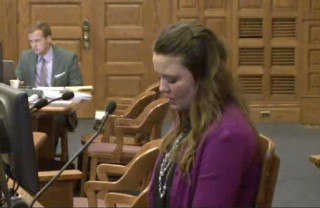 It was an emotional day in Stark County, Ohio, as Colleen McKernan took the stand in her murder trial. McKernan is accused of killing her husband Rob in their home on New Year's Eve 2014. She doesn't deny shooting him, but she claims it was self defense. Monday's testimony centered on Colleen's accounts of Rob's violent behavior towards her, both that night and beforehand, and the effect it may have had on her.
The morning began with a forensic psychologist discussing battered woman's syndrome, and ended with another expert testifying as to how Colleen may have suffered from the condition. A forensic psychiatrist also told the court that Colleen may have been in a dissociative state at the time she shot her husband, which is why her memories of the shooting may be hazy.
In between the experts was the testimony of Colleen McKernan herself. It began with an emotional direct examination conducted by the defense. McKernan described past instances where her husband was violent towards her, and then she addressed the night of the shooting. McKernan talked about how she got mad at Rob for possibly using drugs at a friend's New Year's party, and that the host asked them to quiet down or leave, so she opted to go. She told the court that instead of driving to their neighbor's house as planned, Rob sped home, and violently brought her out of the car and into their home. The jury listened as McKernan described how Rob grabbed her phone as she tried to call the police, so she picked up a gun and told him to back off. When he kept coming towards her, she said while sobbing that she fired.
As tough as it was to watch McKernan tell her story, it was arguably more difficult to sit through the prosecution's cross-examination. In a questionable tactic, the State decided to go with a male prosecutor to try and poke holes in a woman's story of ongoing domestic abuse. Attorney Dennis Barr grilled McKernan on her story, casting doubt on her version of events, and trying to point out inconsistencies in her statements. At one point, Barr questioned the genuineness of McKernan's emotional responses. "Are you able to cry?" he asked. "I see a lot of sniffling but I don't see any tears."
Barr tried to point out flaws in McKernan's testimony, in some instances more successfully than others. McKernan had said that when she tried to call 911, she didn't finish entering her phone's security code before Rob took the phone from her. Barr noted that the phone allowed her to place an emergency call without entering the code, but McKernan said she was not aware of that at the time, and that the last time she called 911 due to her husband's abuse, she entered the code first. Barr also asked if it was true that Rob often got up and left when they had arguments, and McKernan acknowledged that he had. Defense attorney Laura Mills responded on re-direct by asking if Rob had just walked out of arguments during the times he attacked her in the past, singling out each case in separate questions. McKernan's answer each time, of course, was no.
LawNewz.com has learned that the defense is expected to rest their case Tuesday morning, but the prosecution may have additional evidence to present before closing arguments. Stay with us throughout the trial, as we provide live streaming video and legal analysis of the case.
Have a tip we should know? [email protected]