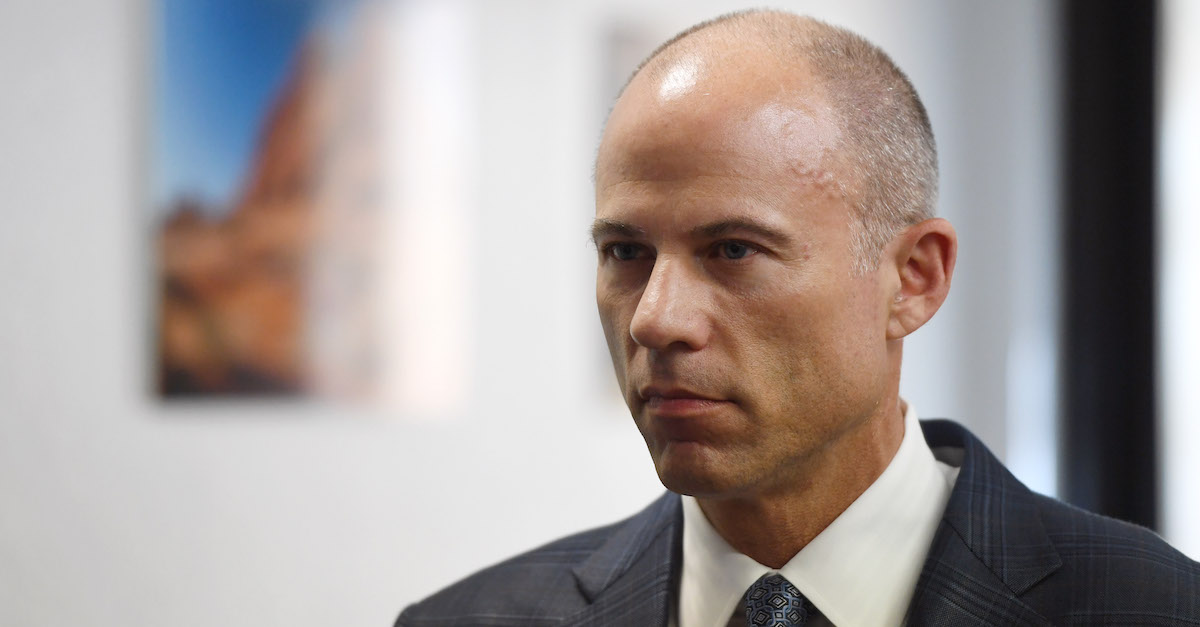 The New York Times, fresh off of a week of steering the news cycle by publishing an anonymous op-ed, is likely to face some pushback for its decision to publish a Michael Avenatti op-ed, calling for President Donald Trump to be indicted.
Avenatti, the attorney for Stormy Daniels, proposed to no one's surprise that now is the time to test the untested: It's time to indict a sitting president.
"No grand jury has ever indicted a president, and consequently no court, let alone the Supreme Court, has ruled on the critical question of whether the Constitution allows a president to be indicted while in office," he began. "Legal scholars have opined on both sides of the issue, and Department of Justice attorneys have drafted memorandums arguing against indicting a sitting a president. But none of these analyses establish definitive rules of law. It is time to clarify the issue."
Avenatti was laser-focused on Trump's Supreme Court nominee Brett Kavanaugh, whose Minnesota Law Review article has been come up more than a few times during confirmation hearings.
Kavanaugh, you may recall, wrote that his experience working in the White House, which he did for George W. Bush, and his experience investigating Bill Clinton on special prosecutor Kenneth Starr's staff in the '90s changed his views on what can be done to a sitting president.
"Having seen first-hand how complex and difficult that job [of president] is, I believe it vital that the President be able to focus on his never-ending tasks with as few distractions as possible. The country wants the President to be 'one of us' who bears the same responsibilities of citizenship that all share," he said. "But I believe that the President should be excused from some of the burdens of ordinary citizenship while serving in office."
Kavanaugh anticipated two possible critiques of this viewpoint and answered them on his own at the time.
"The first is that no one is above the law in our system of government. I strongly agree with that principle. But it is not ultimately a persuasive criticism of these suggestions," he said. "The point is not to put the President above the law or to eliminate checks on the President, but simply to defer litigation and investigations until the President is out of office."
"A second possible concern is that the country needs a check against a bad-behaving or law-breaking President. But the Constitution already provides that check. If the President does something dastardly, the impeachment process is available," he said.
As Law&Crime's Ronn Blitzer noted before, this is not a "radical" view. It's actually been the Department of Justice's view for 45 years.
Avenatti alluded to this debate in his op-ed when he said, "Some also argue that indicting the president would critically impair his ability to lead the country."
His answer? The White House is already chaotic and impeachment would also impair Trump's ability to lead the country.
"But this is a White House already engulfed in chaos and daily distractions," he said. "And if the House were to initiate impeachment proceedings, it is hard to see how that process would be any less distracting than a criminal indictment."
From there, Avenatti suggested that the difference between Trump and Bill Clinton is that the active investigations (special counsel Robert Mueller) "relate to how Mr. Trump won the election."
"Our democracy and our belief in the rule of law for all, including presidents, should not rest on such a soft foundation," he said. "Instead, if the facts and evidence are adequate for indictment, then prosecutors must be blind to the officeholder's position."
That's when Avenatti fired a parting shot at Kavanaugh, saying that if Trump is indicted and if the case goes to the Supreme Court, Kavanaugh's "recusal should be mandatory."
[Image via Ethan Miller/Getty Images]
Have a tip we should know? [email protected]