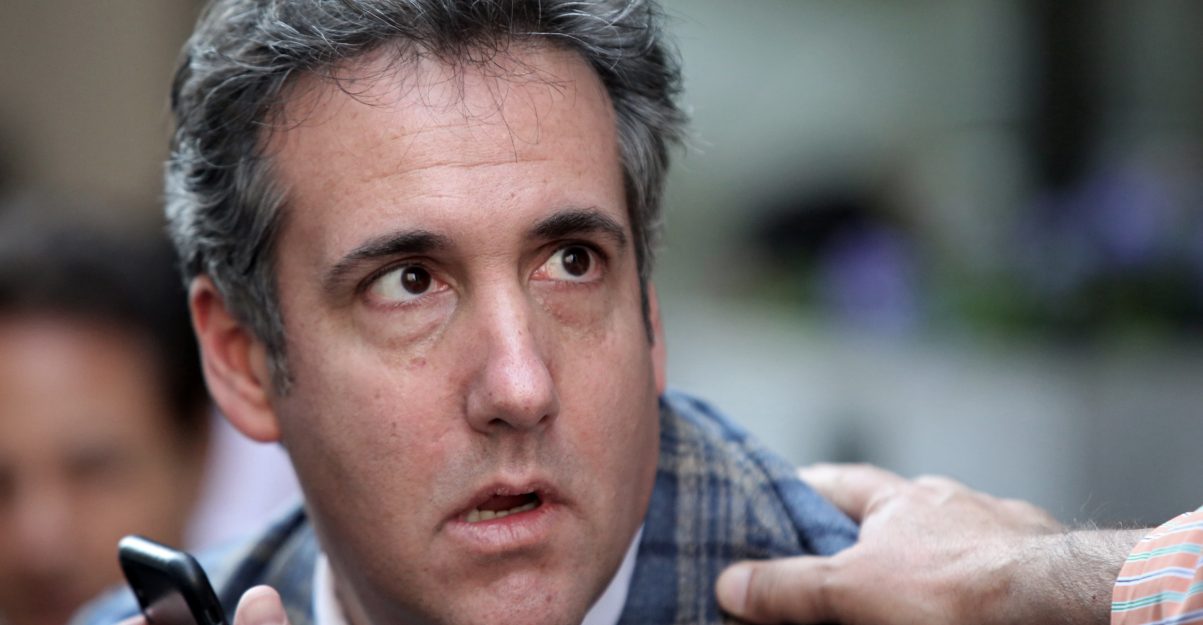 The narrative surrounding the former personal attorney to President Donald Trump is changing, as Michael Cohen hints more and more that he is leaning towards cooperating with federal investigators and is expressing concerns about his family. But where is Trump in all of this? It's radio silence at the White House. Is the president not concerned?
Former federal prosecutor Renato Mariotti asked a question about Cohen, pardons, and Trump, and raised the possibility — brace yourselves — that maybe Trump doesn't care what Cohen has to say to the feds.
Mariotti said that the expressed belief that Trump will not grant Cohen a pardon "explains why Cohen is thinking about flipping" or telling investigators what he knows. After that, we are left to wonder why the president hasn't countered this threat with a signal that such cooperation with authorities is unnecessary, given the possibility of a pardon.
"Is he worried about the questions it would raise, or is he not concerned about Cohen's potential testimony?" Mariotti asked.
It's been said before that a "fuming"  Trump has remained silent on the issue because he is "afraid" of Cohen. If Trump is not concerned (i.e., there is no threat), this narrative is false, and it explains why he has cut all ties with Cohen and left him to fend for himself.
The alternative offered in this scenario is that Trump may be concerned about questions a Cohen pardon would raise. Up to now, that hasn't been the case, as various pardons Trump has handed out have been viewed as winks and nods to Cohen. Nonetheless, Trump has continued to pardon and float pardons, no matter how much overlap there might be with ongoing criminal investigations of his former associates.
Context 
Cohen once again, through friends, signaled Friday in a CNN story that he is convinced Trump has "dismissed" him and that no pardon may not be in the cards. Cohen is under federal criminal investigation, but he has not been charged with a crime.
CNN reported that unnamed "friends" of Cohen's said over the phone that when it comes to a presidential pardon, the former Trump attorney isn't "counting on it."
"I brought up the pardon, and he said, 'I don't think so. I just don't think so,'" the friend said. "He's certain in his mind that he has been dismissed."
Cohen was also quoted by this friend as saying, "I don't know what to think any more." This friend said that Cohen has been "chomping at the bit to speak out" and tell his side of the story. The FBI raid on Cohen's home, office and hotel room happened in April.
"Being quiet is just not in his nature," the source said. "This is the one time in life you better just shut up and listen to his lawyers." The person said that Cohen also expressed concerns about his family over the phone. Cohen was interviewed by George Stephanopoulos Monday for "Good Morning America."
Cohen said that he is putting his "family and country first," that he will not be "a punching bag as part of anyone's defense strategy," and that "I am not a villain of this story, and I will not allow others to try to depict me that way."
A second friend would add that Cohen isn't counting on a pardon and that he's been "operating under the assumption that he is not getting that."
[Image via Yana Paskova/Getty Images]
Have a tip we should know? [email protected]