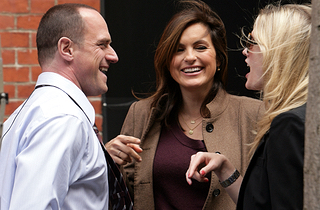 "Law & Order: Special Victims Unit" is the longest running drama currently on television, with its 18th season set to premiere on Wednesday. As it approaches that milestone, the show colloquially known as "SVU" has become a central issue in one of the most contentious lawsuits in the country: The defamation case stemming from Rolling Stone's now retracted article about an alleged gang rape in a fraternity house at the University of Virginia.
Associate Dean of Students Nicole P. Eramo filed the suit against Rolling Stone, its parent company, and reporter Sabrina Rubin Erdely. The case is set to go to trial on October 17th. With just four weeks to go, both sides are working overtime trying to get evidence unfavorable to them excluded from trial, filing numerous motions over the weekend. For the defense, this includes an attempt to strike all references to the plaintiff's theory that "Jackie," the subject of the article, made up her allegations after seeing an SVU episode about a fraternity gang rape.
In a July filing, Eramo's lawyers, referring to Erdely's notes, wrote that the reporter knew "that Jackie claimed that her rape was just like a rape that occurred on an episode of Law & Order SVU" titled "Girl Dishonored" where, to quote "Jackie," "this girl who is at a fraternity party, and one guy takse her up to a room and calls his friends in, and like four of them gang rape her."
Eramo's attorney's points to how, in the episode, "one of the attackers yells 'Grab her leg!' just as Jackie claimed to Erdely that one of her attackers yelled during her alleged attack, 'Grab its motherf–king leg.'" The defense, however, rebuts this, pointing out that on cop shows "depicting a gang-rape scene where one of the assailants says 'grab her leg' while trying to hold the victim down is so common as to be ubiquitous."
Even setting that aside, the defense pointed out that this doesn't really fit the timeline of events. Besides being speculation about the truth of the story Jackie gave Erdely, which is not technically at issue, Erdely's notes show that "Jackie" clearly said that she saw the episode as a rerun a year after she first reported her rape to UVA. The defense argues that it's "irrelevant to her subjective state of mind at the time of publication" and can't be used to show she believed the article to be untrue.
The defense also has another concern: If the judge lets this into the trial, it will open the door to a lot of minutiae about SVU:
One could demonstrate that the information contained in the specific episode Eramo has chosen was hardly unique, which would require introducing and playing episode after episode of the show. Given the lack of foundation for Plaintiff's speculation that Jackie made up her assault based on Law & Order, subjecting the jury to this sideshow would unnecessarily prolong the trial and make it impossible to conclude in two weeks.
If nothing else, that sure sounds like a waste of time and money.
[Photo: Shutterstock]
Have a tip we should know? [email protected]