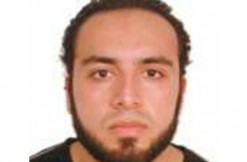 Ahmad Khan Rahami, a suspect linked to bombings in New York City and New Jersey, had already been investigated by the FBI, ABC News reports.
Sources told the outlet that the feds first learned about Rahami in 2014 after local New Jersey officials told them about him. They started a "guardian" file on him in order to see whether he has links to illegal activities, including terrorism. But this was just a preliminary investigation.
Who was law enforcement's original source? Reportedly, a person told authorities that Rahami's father voiced worries his son was linked to people overseas gathering explosives. According to ABC's sources, father Mohommad Rahami told the FBI his son was dealing with "bad people."
"I told them you got a connection with this guy," the elder Rahami told reporters on Tuesday.
Ahmad Rahami is linked to a Saturday bombings in Manhattan and Seaside Park, New Jersey. He was captured alive on Monday in Linden, New Jersey after a shootout with police.
[image via FBI]
–
Follow Alberto Luperon on Twitter (@Alberto Luperon)
Have a tip we should know? [email protected]