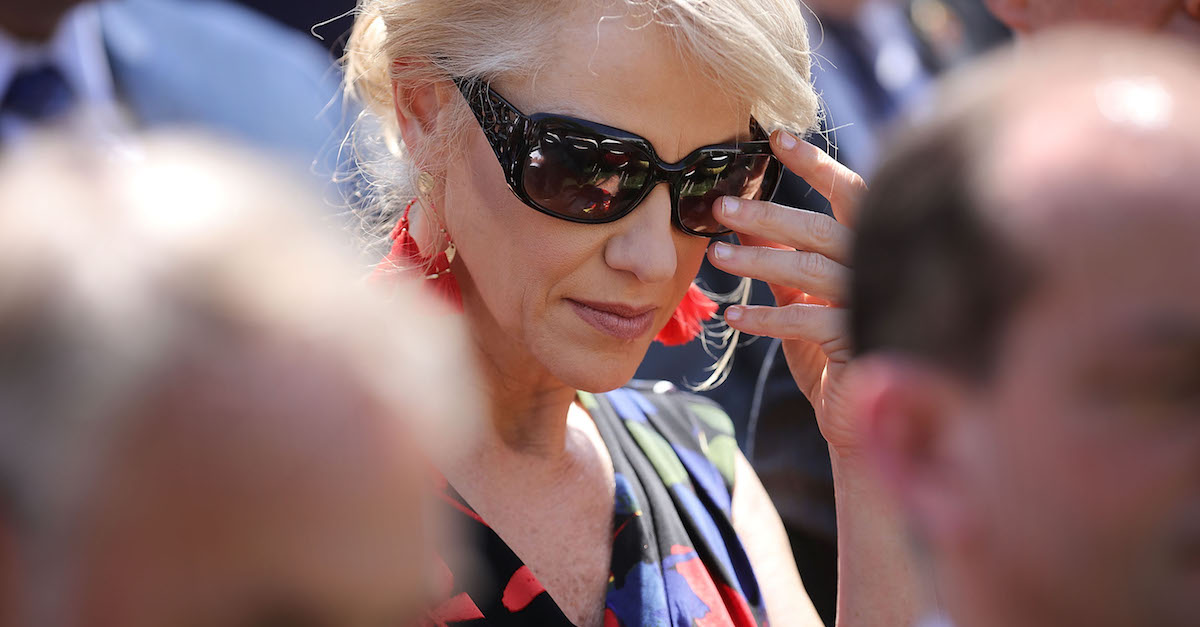 White House counselor Kellyanne Conway's attorney husband George was quick to respond on Monday to President Donald Trump's latest anti-Robert Mueller Twitter tirade.
Trump rattled off a series of tweets in the morning, lamenting the latest news about Michael Cohen, praising Roger Stone for having "guts" (i.e. saying that he will "never testify against Trump"), and calling Mueller "a much different man than people think."
George Conway singled out tweet number three and offered a pithy response.
"File under '18 U.S.C. §§ 1503, 1512,'" he said. That's another way of saying: obstruction of justice.
18 U.S.C. § 1503 is the law on the books against corrupt or forceful attempts to "influence,  intimidate, or impede any grand or petit juror, or officer in or of any court of the United States, or officer who may be serving at any examination or other proceeding before any United States magistrate judge or other committing magistrate, in the discharge of his duty."
18 U.S.C. § 1512 is, plain and simple, witness tampering.
Conway is suggesting that Mueller might be looking at this tweet, as Mueller has apparently looked at other statements made on the president's social medium of choice.
As some started to regard the implications of Conway's tweet as "a Big Deal,'" Conway responded:
Conway's retweets have a theme to them as well.
The president also caused a stir recently when he said that a pardon of Paul Manafort, for instance, is not off the table. Some have argued this would be a presidency ending move. Manafort was recently accused of lying repeatedly to FBI investigators after cutting a cooperation deal with Mueller to avoid a second trial.
Trump's Twitter outbursts of late have come in advance of developments in the Mueller probe.
Most recently, Conway took President Trump to task for replacing Jeff Sessions with acting Attorney Attorney General Matthew Whitaker, calling the move "illegal." He did so in an op-ed for the New York Times.
Conway's also a founding member of the new conservative lawyers group "Checks and Balances," which was started to "protect constitutional principles that are being undermined by the statements and actions of this president."
Editor's note: this story was updated after publication with additional reactions from George Conway, and context.
[Image via Chip Somodevilla/Getty Images]
Have a tip we should know? [email protected]