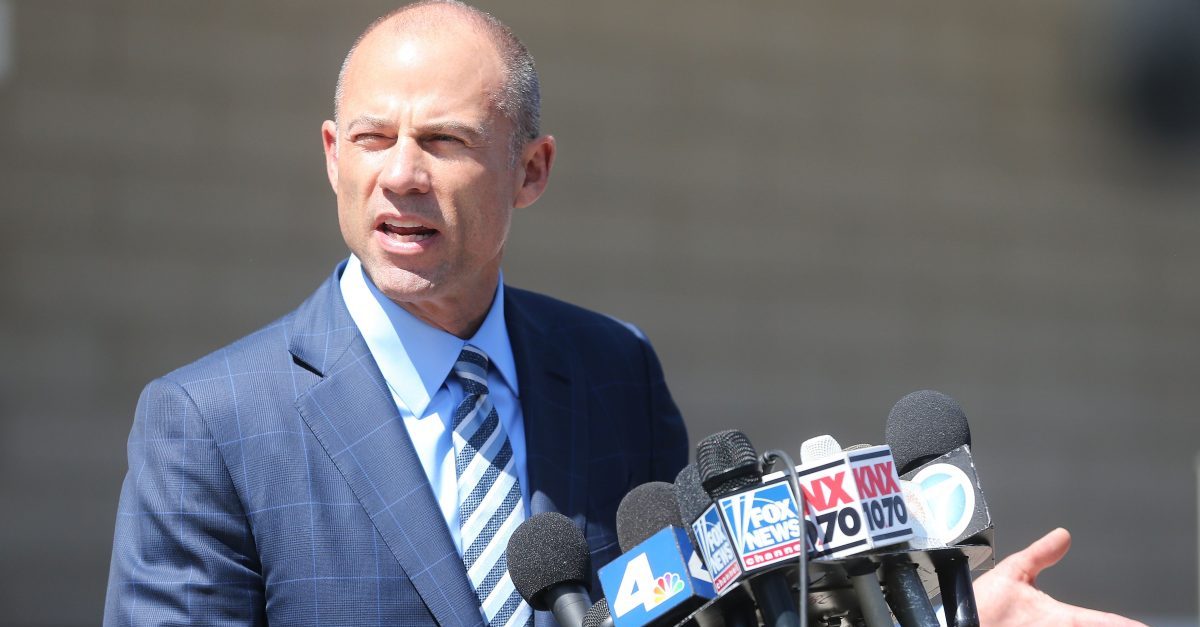 Stormy Daniels' attorney Michael Avenatti and his case against Donald Trump and Michael Cohen in California were dealt a little bit of a blow on Tuesday when Judge S. James Otero upheld his decision to put the case on hold.
Avenatti told Law&Crime, "We are filing for review by the Ninth Circuit."
Judge Otero denied Avenatti's motion to reconsider a stay (temporary halt of the case) by saying he fell short of meeting the legal standard for earning one, which is apparently extraordinary. The decision was made after Otero read pleadings from both parties — that is, without hearing oral arguments in court.
Earlier in June, Avenatti motioned for the Court to reconsider the decision in part because the landscape had changed since Judge Otero ruled on April 27 that a 90-day stay was necessary. The ruling came after the FBI raided Cohen's home, office and, hotel room and before Rudy Giuliani went on television and said President Trump "did know about the general arrangement" the $130,000 payment to Stormy Daniels that Trump had previously denied knowing anything about.
Avenatti argued that the hold on the trial shouldn't be a blanket stay but a stay in part. He said there were no plans of deposing Cohen in the "coming weeks" (not during the remaining days of the 90-day stay) and thus the matter should be allowed to go on in other respects.
Otero on Tuesday called Avenatti's argument "creative" before pointing to the sole reason he needed to deny the motion.
"Plaintiff does not adequately explain why this argument or concession could not have been put forth earlier in the litigation, asserting only that 'we now know that Mr. Trump is also capable of testifying authoritatively and with personal knowledge about the Settlement Agreement and payment,'" Otero said. "While this attempt to defeat the requirements for reconsideration is creative, Mr. Trump's knowledge of the payment and agreement has always been at issue in this action, and his ability to testify on these topics was not an element of the Court's decision."
"The Court held that while it 'is undeniable that Plaintiff has a valid interest in the prompt resolution of her claims,' Plaintiff 'has not established that she has actually been deterred from speaking, or that a delay in proceedings would cause undue prejudice," the judge concluded. "This evidence does not substantially change this analysis, and the Court declines to reconsider its decision based on this evidence alone."
The judge also said Aventatti's arguments over utterances by Rudy Giuliani or Trump about Cohen have "no bearing" on Cohen's Fifth Amendment right against self-incrimination,
"As an initial matter, Mr. Trump or Mr. Giuliani's belief in Mr. Cohen's innocence has absolutely no bearing (his bold, not ours) on Mr. Cohen's Fifth Amendment Privilege," he said. "Plaintiff has provided no evidence demonstrating that Mr. Cohen's innovation of the privilege was disingenuous or or unreasonable, as Mr. Cohen has refrained from making any statements on these topics."
Avenatti previously claimed Giuliani's comments that Trump knew about the $130,000 payment to Stormy Daniels was a relevant fact because the court assumed when it ruled that Cohen "acted on his own without his client Donald J. Trump's knowledge in negotiating the Agreement underlying this action and paid the $130,000 consideration to Plaintiff out of his own pocket."
Giuliani said on May 2 that the money to Daniels was "funneled […] through the law firm and the president repaid" Cohen for it. He said Trump "didn't know about the specifics of it," as far as he knew, but "he did know about the general arrangement, that Michael would take care of things like this, like I take care of things like this for my clients." He said t this would "turn out to be perfectly legal" and that the money wasn't campaign money.
The next morning, Giuliani said "Imagine if [the Daniels story] came out on October 15, 2016 in the middle of the last debate with Hillary Clinton."
"Cohen didn't even ask. Cohen made it go away. He did his job," he added. Trump then made Giuliani walk back his statements, saying his lawyer would "get his facts straight." Avenatti mentioned Giuliani's words a couple of weeks ago in a push to depose Trump under oath.
But Cohen has more pressing legal troubles in the Southern District of New York. The judge recognized these "unique circumstances" before and has done so again.
It's worth noting that the same judge scolded Cohen's attorneys last week for trying to stop Avenatti from talking about the case publicly, which he said would "throw the system out of whack."
[Image via Mario Tama/Getty Images]
Have a tip we should know? [email protected]