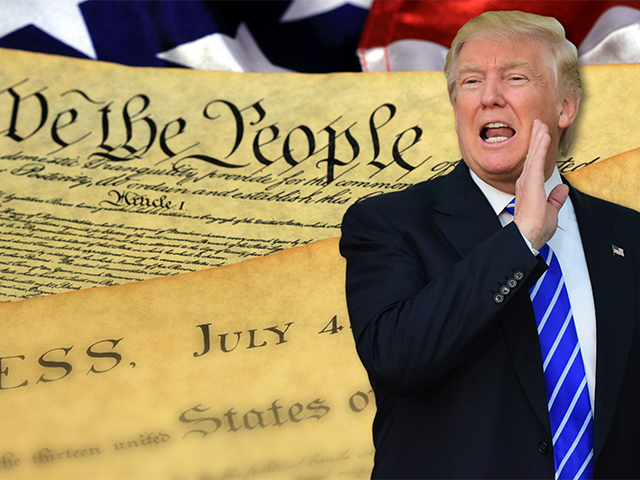 Since President Donald Trump signed his 'extreme vetting' executive order on Friday, there has been a flurry of legal action, including at least a half a dozen lawsuits filed against Trump and his administration across the country. So far, several judges have ordered stays, putting a temporary stop to very limited portions of the law to prevent approved visa holders and green card holders from being deported from the United States. As of this writing, however, no federal judge has weighed in on the actual constitutionality of the executive order. In other words, is it legal?  Can President Trump just do something like this? Will the courts ultimately be on his side when it comes down to the heart of Trump's executive action?
Oh, if only the answer was easy.  This is a very complicated issue, and we found that immigration experts, all of whom have spent their careers studying this field, are deeply divided as well. Without oversimplifying, there are some who contend that federal law simply forbids what Trump is doing. Others believe Trump is in the clear legally because the "plenary power doctrine" allows the legislative and executive branches to have sole power to regulate all aspects of immigration. Still, there are other experts who believe that even despite the plenary power doctrine, the Constitution does not allow discrimination on the basis of religion or race/ethnicity/national origin even for immigration policy.  We will be updating this article with more responses from experts as we get them.
What does the Executive Order say?
Here is the full text of the order which was signed Friday afternoon.
The order suspends the Refugee Admissions Program for 120 days
Indefinitely blocks all refugees from Syria
The order bans people from mostly Muslim countries, with suspected terrorism links, including Iran, Iraq, Libya, Somalia, Sudan, Syria and Yemen from entering the United States for 90 days.
The order specifically carves out an exception and directs the Secretaries of State and Homeland Security to prioritize refugee claims made by persecuted members of religious minorities.
Despite Trump's campaign rhetoric, the immigration order was very careful not to single out Muslims in particular
Illegal/Unconstitutional 
David Cole, National Legal Director of the ACLU and professor at Georgetown University, said that the Executive Order violates the "clearest command of the Establishment Clause" of the U.S. Constitution. The Establishment Clause of the First Amendment says "Congress shall make no law respecting an establishment of religion, or prohibiting the free exercise thereof…." Cole believes one of the critical questions on whether this EO is legal under the Establishment Clause is its intent and effect. In other words, if  Trump's order intended to disfavor a particular religion, then there is no doubt that he violated the Establishment Clause. Cole then goes on to list examples which he says prove that the order was intended to do just that. And in fact, one of Trump's campaign advisors, Rudy Guiliani even said on a Sunday talk show that Trump had previously asked him about how to do a Muslim ban "legally."
Adam Cox, the Robert A. Kindler Professor of Law at NYU, and immigration expert, believes that the law is unconstitutional. He believes that even though the Supreme Court has traditionally given Congress and the President broad authority over immigration policy, this doesn't given Trump the license to discriminate. Cox writes:
In short: the Supreme Court has never upheld an immigration policy that openly discriminated on the basis of race or religion during a period of constitutional history when such a policy would have been clearly unconstitutional in the domestic context.

The upshot is that there is a very good chance that the Supreme Court–and even more certainly many lower court judges–would strike down an immigration policy (even an admissions policy for people who have never entered the United States) if they see it as amounting to open discrimination on the basis of race or religion. And such a holding would not mean that courts were "abandoning" or walking back the plenary power.
David J. Bier, an immigration policy analyst at the Cato Institute's Center for Global Liberty and Prosperity recently wrote for The New York Times that the Immigration and Nationality Act of 1965 banned all discrimination against immigrants on the basis of national origin, and therefore Trump's order is illegal. Bier writes:
Even if courts do find wiggle room here, discretion can be taken too far. If Mr. Trump can legally ban an entire region of the world, he would render Congress's vision of unbiased legal immigration a dead letter. An appeals court stopped President Barack Obama's executive actions to spare millions of undocumented immigrants from deportations for the similar reason that he was circumventing Congress. Some discretion? Sure. Discretion to rewrite the law? Not in America's constitutional system.
Quasi- Constitutional 
Jonathan Adler, a law professor at Case Western Reserve University School of Law, writes that normally the policy laid out in the Executive Order would survive judicial review.  "That is, I believe the executive branch may decide to identify specific countries from which immigrants and others seeking entry into the country must receive "extreme vetting" and that the President may order a suspension of refugees from particular places (as Obama did with Iraq in 2011). Despite some of the President's comments during the campaign about wanting a 'Muslim ban,' this EO does not come anywhere close to effectuating such a ban, as it largely focuses on countries that were previously identified as sources of potential terror threats," Adler wrote in The Washington Post's Volokh Conspiracy. However, he believes that the EO could give judges pause because of the "the cavalier and reckless manner in which this specific EO was developed and implemented will likely give judges pause — and with good reason."
Legal/ Constitutional 
Nolan Rappaport served on House Judiciary Committee as an Executive Branch Immigration Law Expert for three years. He contends that while the executive order was clumsily written, it is still perfectly legal. He wrote for The Hill  that the President has authority to suspend immigration which can be found in section 212(f) of the INA:
"(f) Whenever the President finds that the entry of any aliens or of any class of aliens into the United States would be detrimental to the interests of the United States, he may by proclamation, and for such period as he shall deem necessary, suspend the entry of all aliens or any class of aliens as immigrants or nonimmigrants, or impose on the entry of aliens any restrictions he may deem to be appropriate."
Peter Spiro, professor of immigration and constitutional law at Temple University says the executive order is constitutional (even though he says it is awful) and points to the doctrine known as plenary power which gives the political branches an effective blank check to regulate immigration policy.  In a New York Times piece he wrote:
The court has given the political branches the judicial equivalent of a blank check to regulate immigration as they see fit. This posture of extreme deference is known as the "plenary power" doctrine. It dates back to the 1889 decision in the Chinese Exclusion case, in which the court upheld the exclusion of Chinese laborers based on their nationality.

Unlike other bygone constitutional curiosities that offend our contemporary sensibilities, the Chinese Exclusion case has never been overturned. More recent decisions have upheld discrimination against immigrants based on gender and illegitimacy that would never have survived equal protection scrutiny in the domestic context. Likewise, courts have rejected the assertion of First Amendment free speech protections by noncitizens.
Have a tip we should know? [email protected]
Rachel Stockman - President / On Air Host