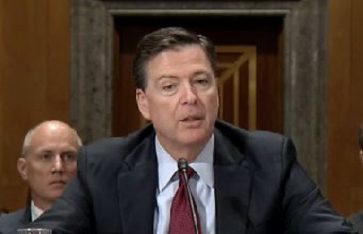 An individual at the center of the more than year long DOJ and FBI investigation into Hillary Clinton's private email server is speaking out, and that person has a lot to say, according to Fox News.  Much of it directly at odds with remarks by FBI Director James Comey.
Speaking with Fox News on the condition of anonymity, the individual reportedly says career FBI agents and attorneys involved in the Clinton investigation were left feeling demoralized after Director Comey announced charges would not be recommended in the case.
"No trial level attorney agreed, no agent working the case agreed, with the decision not to prosecute — it was a top-down decision," the source told Fox News.
Throughout the remainder of the article the source continued to unload, on both Comey and Attorney General Loretta Lynch, about all aspects of the case. The source criticized everything from Comey's ultimate recommendation to the DOJ, to the immunity agreements and the failure to empanel a grand jury.  The source even accused Lynch and Comey of putting their own career ambitions ahead of all else, including justice.
The person concluded by saying, "Every agent and attorney I have spoken to is embarrassed and has lost total respect for James Comey and Loretta Lynch.  The bar for DOJ is whether the evidence supports a case for charges — it did here. It should have been taken to the grand jury."
The news outlet said they also reached out to a "high-ranking FBI official" to speak about the source's remarks.  That high ranking official who spoke to Fox News, was not as certain that there was unanimous approval to prosecute Clinton, but agreed that it "was safe to say the vast majority felt she should be prosecuted . . .   [and] . . .  we all wanted her [Clinton's] security clearance yanked."
The same high ranking official also said the investigative team was "floored while listening to the FBI briefing because Comey laid it all out, and then said 'but we are doing nothing,' which made no sense to us."
Have a tip we should know? [email protected]