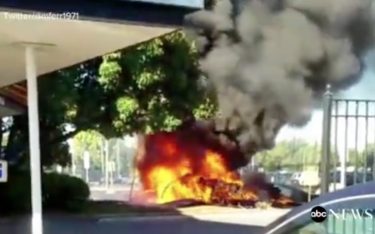 The survivor of a deadly small plane crash in Connecticut is telling federal investigators that the pilot intentionally brought the plane down, and the National Transportation Safety Board has now turned over the investigation over to the FBI.
A twin-engine Piper Seneca PA-34 aircraft crashed near Hartford on Tuesday afternoon, killing the student pilot identified by Fox News as a 28-year-old Jordanian national named Feras Freitekh.  Freitekh reportedly entered the U.S. in 2012 in order to attend flight school and was issued his license for single-engine aircraft in 2015.
According to ABC News, the plane was on final approach to Hartford-Brainard Airport when it struck a utility pole and burst into flames.  Freitekh died in the crash, but the instructor, Arian Prevalla, miraculously survived the fiery crash.  He is currently hospitalized with serious burns but is expected to survive his injuries.
During interviews with federal investigators, Prevella apparently expressed his belief that the crash was no accident.  The NTSB seemingly now agrees, announcing on Wednesday that its preliminary investigation "indicates the crash is the result of an intentional act."  The investigation is currently in the process of being transferred to the FBI.
Have a tip we should know? [email protected]dcrime.com