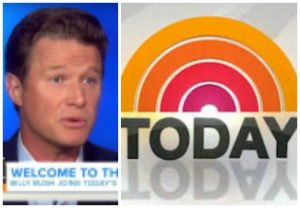 If there's one thing we know about Pussygate, it's that it'll eventually inspire a lawsuit. The most likely contender is Billy Bush v. NBC, which should find its way to a docket be shortly after "the Bushy" gets his official walking papers from The Today Show. Bush has apparently already started proactively whining that his impending termination will be illegal under the terms of his contract with NBC. The key question in such a lawsuit will be, "when exactly did NBC learn that Billy Bush said all of these, um, questionable things?"
Here's how it'll play out. NBC will argue that Bush's conduct captured on the Trump tape constituted a violation of the "morality clause" in his contract. Morality clauses are standard fare in entertainment contracts; the entertainment machine is fueled by advertising sponsors. When the misbehavior of on-air talent affects ratings or public perception, sponsors pull their ads, and networks lose money. Networks partially mitigate those losses by cutting loose high-dollar talent when a scandal hits.
The standard NBC morality clause (as reported after the Brian Williams fiasco) reads as follows:
"If artist commits any act or becomes involved in any situation, or occurrence, which brings artist into public disrepute, contempt, scandal or ridicule, or which justifiably shocks, insults or offends a significant portion of the community, or if publicity is given to any such conduct … company shall have the right to terminate."
I can't imagine any world in which the Trump tape would not count as something that "justifiably shocks, insults, or offends a significant portion of the community." I mean if Bush and Trump yucking it up over sexual assault was enough to get the GOP to turn its back on its own presidential nominee, I think it's fair to say that it might be enough to get viewers to flip the channel to Good Morning America.
Bush, though, may well have success with the go-to argument for entitled celebrity: "I can't be held accountable, because my employer always knew I would talk a little dirty." He'll probably also throw in some juicy stories illustrating that plenty of NBC executives are also sexist, and that lewd, misogynistic comments are the workplace norm. So that'll be pleasant.
I spoke today with William Healey, an employment law expert and a partner at the Kluger Healey employment law firm. Mr. Healey shared with me his thoughts on Bush's potential lawsuit against NBC:
"Mr. Bush may have a good basis for a lawsuit.  If he can establish that NBC has tolerated, and perhaps condoned, a culture of allegedly misogynistic conduct, then he may be able to demonstrate that his conduct is not covered by his contract's "morality clause."  While that does not necessary translate into success at trial, he would appear to be able to assert sufficient issues of fact to defeat a motion by NBC to dismiss his lawsuit."
If Bush is really smart (okay, if his lawyer is really smart), he'll argue that he openly discussed the Trump tape back before he was even hired to be on The Today Show, and that NBC gave up any right to slam him with repercussions by failing to investigate the tape back then.
William Healey thought so too:
"If Mr. Bush can adduce sufficient evidence that NBC knew or should have known about the Access Hollywood video before it entered into his employment agreement, NBC may have difficulty enforcing the "morality clause" (based on waiver or acquiescence)."
An argument that NBC waived its right to complain about the tape, because it knew or should have known of the tape's existence prior to hiring Bush is a solid one. And, in fact, according to reports, Bush "brazenly bragged" to NBC staff about the disturbing tape while covering the Olympics in Rio.  In August, Bush reportedly told NBC staff at a party  about a tape "of Trump being a real dog."
Still, the outcome of and employment lawsuit relating to a morality clause is never a sure thing. The unprecedented fallout stemming from a video tape of a presidential candidate bragging about sexual assault has created a climate in which people are pushing each other out of the way to be first to distance themselves from what was captured on film.
William Healey provided the following analysis:
"Overall, because of the broad discretion that trial courts typically afford "moral clauses," often permitting employers to enforce such provisions in reaction to a wide variety of distasteful and other conduct, it is difficult to know whether Mr. Bush's lawsuit would be successful.  However, it is easy to see how divisive and disruptive the lawsuit could be  to NBC's (soon-to-be heavily scrutinized) corporate culture.  For that reason, I would expect Mr. Bush's lawsuit — for NBC's and also Mr. Bush's own purposes – to be expeditiously resolved."
Most likely, Bush v. NBC will end in a settlement, whereby NBC will pay its ex-anchor to simply go away quietly. Bush's lousy relationship with The Today Show cast was well known even before America heard the Today Show anchor ask, "how about a little hug for the Bushy?" NBC was probably looking for a reason to cut Bush loose ever since Al Roker slammed him over his infantile take on #Lochtemess, and the Trump tape is as good an excuse as any.
—
This is an opinion piece. The views expressed here are just those of the author.
Follow Elura on Twitter @elurananos
This is an opinion piece. The views expressed in this article are those of just the author.
Elura Nanos - Columnist & Trial Analyst, Law & Crime; CEO Lawyer Up