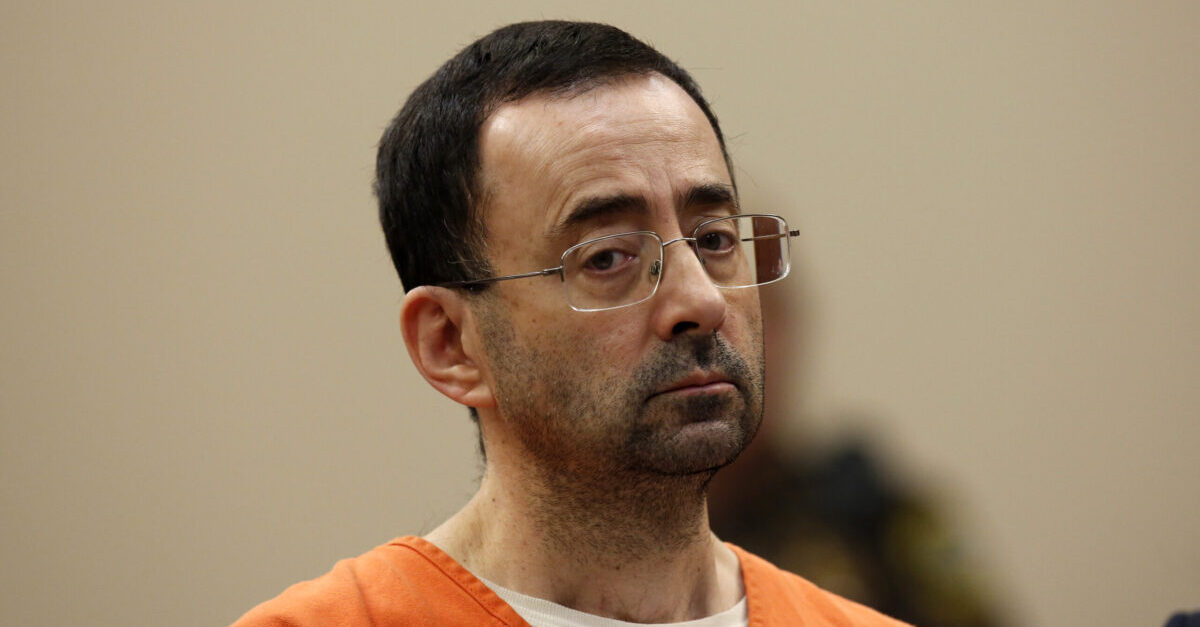 Americans have been talking a lot recently about the bravery of more than 150 people, mostly young women, who gave and who are continuing to give victim impact statements at former gymnastics doctor Larry Nassar's sentencing hearings in Michigan. Nassar, who once worked with athletes and Olympians through U.S.A. Gymnastics and Michigan State University, was sentenced to prison last week in Ingham County, Michigan, for a term of 40 to 175 years after admitting to child sex abuse charges. This week, dozens of victims addressed the judge at a similar sentencing in neighboring Eaton County, Michigan, where Nassar admitted committing additional acts of sexual abuse.
Nassar's abuse continued unchecked for years, many victims have said, despite complaints from at least some of them. The legal environment which allowed the abuse to go on without intervention deserves critical examination and, as some have argued, reform. A Law&Crime analysis of Michigan law, where the abuse unfolded, previously revealed loopholes. However, Michigan is not alone. The following Law&Crime analysis of laws in all fifty states and in the District of Columbia reveals similar loopholes in a number of states. The gaps in the law could likely mean either no criminal penalty or, at a minimum, a weak case against any enablers of Larry Nassar-like abuse.
SCROLL DOWN TO READ ABOUT THE LAWS IN YOUR STATE.
All states have so-called "mandatory reporter" or "mandatory reporting" laws on the books. Those laws require certain individuals to report suspected child abuse to the authorities for investigation. The failure to make a mandatory report in almost all states carries a criminal penalty. In Michigan, where Larry Nassar faced two state-level criminal prosecutions, state law does not explicitly require coaches or college employees to report abuse brought to their attention. As such, any coaches or college employees who knew of Nassar's conduct, as the victims allege was the case, were under no clear duty to call outside authorities. Because Michigan law is vague, any attempt to criminally prosecute the alleged enablers for failing to report the abuse would be risky. If the events had hypothetically unfolded in most other states, however, the alleged enablers would have been required to report the abuse within a narrow window of time after discovering it or face personal jail time, personal fines, or both.
Among our findings:
(1) About a quarter of the states, 12 in total, have laws on the books which could likely mean no criminal penalties (or a frustratingly weak or troublesome prosecution) for enablers of the type of abuse alleged in the Larry Nassar case. Those states are Alaska, Iowa, Michigan, Montana, New York, North Dakota, Ohio, South Carolina, South Dakota, Vermont, Washington, and Wisconsin.
(2) In a few other states, laws probably allow Nassar-like enablers to be prosecuted, but the laws could be clearer. Examples include Arkansas and Kansas.
(3) Other states clearly allow enablers to be prosecuted for failing to act.
Eighteen states have laws which require anyone who has reason to believe a child has been abused to report it to authorities. Those states are Delaware, Florida, Idaho, Indiana, Kentucky, Maryland, Mississippi, Nebraska, New Hampshire, New Jersey, New Mexico, North Carolina, Oklahoma, Rhode Island, Tennessee, Texas, Utah, and Wyoming. These states clearly allow enablers to be prosecuted for failing to act.
Another four states (Arizona, Maine, Nevada, and Pennsylvania) have broad statutes which require almost everyone to report suspected abuse.
The remaining states have clear laws on the books which require coaches and college staff members to report abuse.
(4) Criminal penalties for enablers vary wildly.
Florida has the most severe penalties on the books. Failing to report abuse in Florida is a felony with a possible five-year prison sentence and a hefty fine.
Most states with criminal penalties for enablers allow a jail term of three or six months and an average fine of $500.
A few states don't even allow judges to sentence people to jail for failing to report child abuse. Those states are Delaware, Maine, New Hampshire, Oregon, and Wyoming. A few other states (North Carolina, Vermont, and Virginia) allow jail time as a punishment option only in more severe cases.
(5) Only one state, Florida, appears to explicitly require fines against higher education institutions for covering up abuse. The penalty is a hefty $1 million fine for each cover-up.
(6) A few states, including Illinois, have explicit "pass the trash" statutes. Such laws prevent schools from covering up abuse charges by allowing accused staff members to slip to other districts. These laws could be passed and expanded to clearly include coaching staff or university employees in other states.
There are wide discrepancies among the states as to who is required to be a mandatory reporter of child abuse. Those discrepancies are the reasons for the most significant gaps in the various state laws. Most, if not all, states have so-called "permissive" laws which allow anyone to report abuse, but in many states, the list of mandatory reporters — those who must report abuse — is limited. Though Nassar's alleged enablers could have reported what they were told, in states where they didn't have to, they could have remained silent and faced no criminal penalty for doing so.
There is also a wide disparity in the definitions of who is and is not a "child." A number of states protect children as late as age 18; others cut off the duty to report at a much younger age. In Iowa, a mandatory duty to report stops after a child reaches age 12. Further compounding the confusion is a scattered sense of who is and is not a "teacher" or what is or is not a "school." While almost all states require teachers to report abuse, many states do not explicitly state that a higher education employee, who is generally not licensed or monitored in the same fashion as a traditional primary or secondary school teacher, must report abuse. Therefore, it is unclear whether the term "teacher" in some state laws is broad enough to cover college employees. Plus, in many states, there is no clear requirement that coaches are mandatory reporters. The vague standards surrounding coaches are especially noticeable if coaches are volunteers, working outside traditional schools, or are working at colleges or universities. Absent a clear requirement, college employees, professors, and coaches arguably do not have to report abuse and arguably cannot be criminally punished for failing to report in a number of states.
Faced with the possibility of jail time for failing to report Nassar's conduct, it is possible any alleged enablers would have come forward to the authorities in an act of self-preservation, at a minimum, had Michigan law been tighter. Requiring more people to be mandatory reporters, including college staff and coaches, would have served as a legal prod toward action. It would have likely stopped Nassar's abuse much sooner and would have limited the number of victims, since Nassar would presumably have been caught and stopped sooner by those who surrounded him and who heard the complaints of the victims.
Nassar admitted guilt in a select number of state abuse cases in return for an agreed-upon minimum state prison sentence, though it appears unlikely he will ever live outside prison walls. Michigan lawmakers have already begun a bipartisan discussion about sealing the loopholes in their state's law, as Law&Crime first reported last week.
What follows is a Law&Crime analysis of mandatory reporting laws in many of the 50 states. In analyzing each state's laws, Law&Crime questioned (1) whether the law requires literally everyone to report suspected cases of child abuse, including sex abuse; (2) whether the law requires coaches to report child abuse; (3) whether the law requires college staff, including professors and support staff, from reporting child abuse; and (4) what penalties are in place for those who fail to report. The questions are based on accusations from Larry Nassar's victims that others at Michigan State knew about the abuse but did nothing to stop it.
State laws are complex. While we have examined the most recent relevant sections of every state law below and have endeavored for accuracy in our analysis, corrections, if necessary, are welcome.
CLICK the links below to read our state-specific analyses:
Alabama
Alaska
Arizona
Arkansas
California
Colorado
Connecticut
Delaware
District of Columbia
Florida
Georgia
Hawaii
Idaho
Illinois
Indiana
Iowa
Kansas
Kentucky
Louisiana
Maine
Maryland
Massachusetts
Michigan
Minnesota
Mississippi
Missouri
Montana
Nebraska
Nevada
New Hampshire
New Jersey
New Mexico
New York
North Carolina
North Dakota
Ohio
Oklahoma
Oregon
Pennsylvania
Rhode Island
South Carolina
South Dakota
Tennessee
Texas
Utah
Vermont
Virginia
Washington
West Virginia
Wisconsin
Wyoming
[image via Jeff Kowalsky/AFP via Getty Images]
Have a tip we should know? [email protected]
Aaron Keller - Deputy Editor-in-Chief