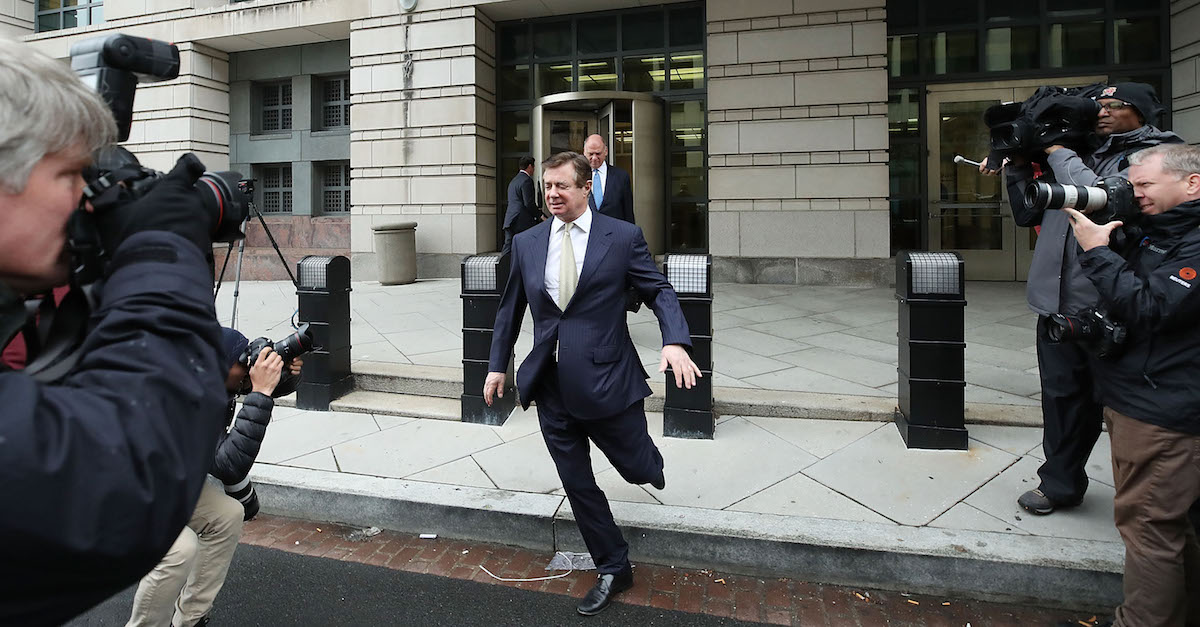 Former Trump campaign chairman Paul Manafort, recently accused by special counsel Robert Mueller of lying to FBI investigators, did not appear Tuesday in court, citing the travel burden. Nonetheless, some housekeeping in this case was taken care of in Manafort's absence.
Federal judge Amy Berman Jackson noted that the scheduling conference was "well-attended," but said she needs to see more from Mueller before she finds that Manafort lied.
In case you missed it, days after Mueller filed a sentencing memo for fired national security advisor Michael Flynn, Mueller filed a detailed account on Friday of the lies Manafort allegedly told investigators after Manafort reached a cooperation agreement with the special counsel.
Mueller previously promised to detail the "nature" of the lies that Manafort told.
Mueller said "lied in multiple ways and on multiple occasions" and that Manafort's lawyers did not make "any factual or legal argument made as to why the government's assessment of Manafort's credibility was erroneous or made without good faith." The special counsel also said one of Manafort's "principal lies" related to his lobbying associate, Konstantin Kilimnik. Back in June, Mueller issued a superseding indictment, adding obstruction of justice and conspiracy charges to a litany of lobbying and fraud offenses to Manafort's charges. It was then that Kilimnik was slapped for lobbying violations.
Manafort referred to Kilimnik as his "Russian brain" in the past. Kilimnik apparently "earn[ed] the title 'Manafort's Manafort.'" Mueller said that Manafort lied about "interactions with Kilimnik" and lied about Kilimnik's "participation in court two of the superseding information [referred to above]" Mueller also said that Manafort lied about a "wire-transfer to a firm that was working for Manafort," lied about "information pertinent to another Department of Justice investigation" and lied about "his contact with [Trump] Administration officials." A lot of the document was redacted, however.
Manafort attorney Richard Westling said that the defense is going to need more information and some more time to consult on said information being given by the government, information that's reportedly "beyond" the aforementioned Mueller filing.
It was suggested that Manafort's defense attorneys may not contest allegations, given that they are not sure a hearing detailing why the government thinks Manafort lied is necessary.
Manafort lawyer says they're not completely sure a hearing is necessary, and that it depends on what the government's position is on whether that will impact sentencing. Suggests there's a possibility they won't contest allegations Manafort lied after plea deal.

— Ryan J. Reilly (@ryanjreilly) December 11, 2018
It remains unclear how Manfort's defense plans to combat the special counsel's claims, but they've been given until the new year to configure a strategy.
Berman Jackson said that the Team Manafort needs to respond to the allegations by Jan. 7th, after which the government will respond and a hearing will occur.
What happens now:
– Manafort's lawyers and the govt will continue to talk informally about what the govt is accusing Manafort of
– Manafort's lawyers will file something by Jan. 7 saying what they agree/disagree about in the govt's filing
– Tentative hearing set for Jan. 25

— Zoe Tillman (@ZoeTillman) December 11, 2018
Mueller said Friday that Manafort "told multiple discernible lies" that "were not instances of mere memory lapses." He also said he was ready to prove that.
"If the defendant contends the government has not acted in good faith, the government is available to prove the false statements at a hearing," he said.
As some have noted, this confirms what we already knew: that Mueller probe would drag on into 2019.
Technically, our first glimpse at the new year came when Mueller moved back the next status report date for Manafort's former associate Rick Gates. That update was scheduled for no later than Jan. 15, 2019.
[Image via Mark Wilson/Getty Images]
Have a tip we should know? [email protected]