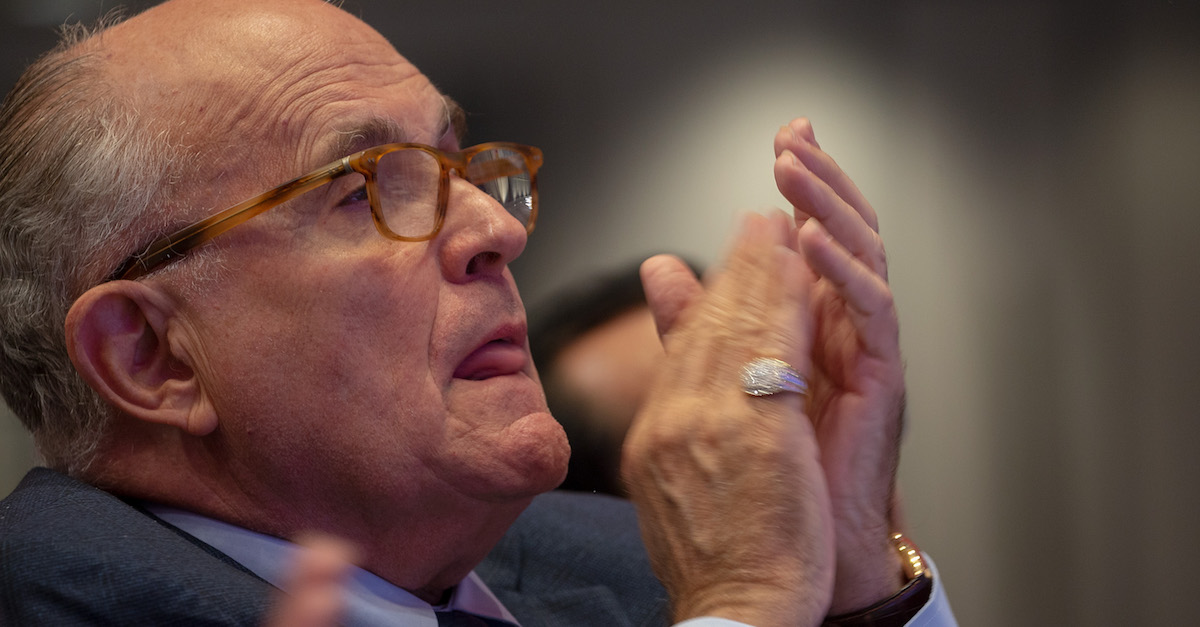 President Donald Trump's attorney Rudy Giuliani says he's been told that The Guardian's report on Paul Manafort meeting with WikiLeaks founder Julian Assange in 2016 is "unequivocally fake news." Meanwhile, the publication is being accused of stealth editing the piece.
. @RudyGiuliani tells me: "Unequivocally fake news I am told" in reference to the report that Manafort met with Assange in 2016.

— Kristen Welker (@kwelkernbc) November 27, 2018
It's not immediately clear who told Giuliani this, though WikiLeaks responded to the report earlier Tuesday by calling the reporter(s) responsible a "serial fabricator."
"Remember this day when the Guardian permitted a serial fabricator to totally destroy the paper's reputation," read a tweet from WikiLeaks' official account. "WikiLeaks is willing to bet the Guardian a million dollars and its editor's head that Manafort never met Assange."
WikiLeaks later asked if editor Katharine Viner would resign, sharing "quiet" edits of the "completely fabricated blockbuster."
Guardian quietly edits itself away from completely fabricated blockbuster "Manafort visited Assange at embassy" story. Expect more changes. Will editor @KathViner resign? https://t.co/JgEXSTXFzg pic.twitter.com/93mdLRtncb

— WikiLeaks (@wikileaks) November 27, 2018
As Law&Crime noted before, the main claims of The Guardian's report were that Manafort met with Assange inside the Ecuadorian embassy in London on a few occasions. The years were 2013, 2015, and the spring of 2016. The lattermost purported meeting raised the most eyebrows since it was around the time Manafort became Donald Trump's campaign chairman and months before the DNC was hacked, allegedly by Russian military intelligence officers posing under the identity of Guccifer 2.0. Those internal emails were then infamously dumped on WikiLeaks.
The Guardian relied upon anonymous sources throughout, including one it described as "well-placed." Manafort, whose cooperation with Special Counsel Robert Mueller has completely fallen apart, denied the story as "100 percent false."
There are a number of journalists and analysts out there pumping the brakes on this story. Many have taken issue with the sourcing of the article and edits that have been made since the story went live.
Some weirdness to that manafort story. Maybe wait for other newspapers to confirm it.

— Pwn All The Things (@pwnallthethings) November 27, 2018
https://twitter.com/NatSecGeek/status/1067449579354828800
I offer some caution about that Guardian report everyone is talking about: https://t.co/lu40ql2VWj

— Jeet Heer (@HeerJeet) November 27, 2018
Guardian hack Luke Harding was caught plagiarizing me, @yashalevine & others—and it had zero effect on his career advancement. If his latest "scoop" on Manafort/Assange is debunked, there will be zero consequences. Most of us still can't fully grasp this https://t.co/8AeD8GRXh0

— Mark Ames (@MarkAmesExiled) November 27, 2018
Some of the edits The Guardian has already made to its supposed Manafort-Assange scoop might look small but are significant:
These weasel words like "would have," "apparent," and "might have" show the story is weak and relies entirely on anonymous sourcinghttps://t.co/6vEK5TQnIw pic.twitter.com/e0mb6iAc7m

— Ben Norton (@BenjaminNorton) November 27, 2018
I'd like to see some corroboration of this. https://t.co/uIi4YUrblm

— Preet Bharara (@PreetBharara) November 27, 2018
Reasons for skepticism:
1) the sources are vague
2) Assange under heavy surveillance, so a Manafort visit would be easy to prove
3) WL denies it (https://t.co/wWPaLKczcf); Manafort calls it "100% false"
4) my 2017 interview w/ the author of this piece: (https://t.co/P52sVRaDsA) https://t.co/RROdsA5EUc

— Aaron Maté (@aaronjmate) November 27, 2018
Because of the way this is sourced, color me a little skeptical. Let's see if other news organizations confirm/match it.

— Benjamin Wittes (@benjaminwittes) November 27, 2018
Having been in the Embassy many times to see Assange, I find it nearly impossible that Manafort went there 3 times and was never registered. Everything in the Embassy was recorded on video 24/7, so there would be a record were it true. Senain has long had a grudge against JA.

— Eva Golinger (@evagolinger) November 27, 2018
Law&Crime has reached out to The Guardian for comment on the accusations that they have stealth edited their story. At the time of this writing, there was no note on the article indicating that changes were made.
We will update this story if or when The Guardian responds.
Update: The Guardian has responded with a statement.
"This story relied on a number of sources. We put these allegations to both Paul Manafort and Julian Assange's representatives prior to publication. Neither responded to deny the visits taking place," a Guardian spokesperson told Law&Crime. "We have since updated the story to reflect their denials."
Editor's note: This story has been updated after publication to reflect that we have reached out to The Guardian for comment. The headline and lede have also been adjusted to point to the burgeoning controversy, namely The Guardian's handling of a story with global impact. The story has also been updated with The Guardian's statement.
[Image via Tasos Katopodis/Getty Images]
Have a tip we should know? [email protected]