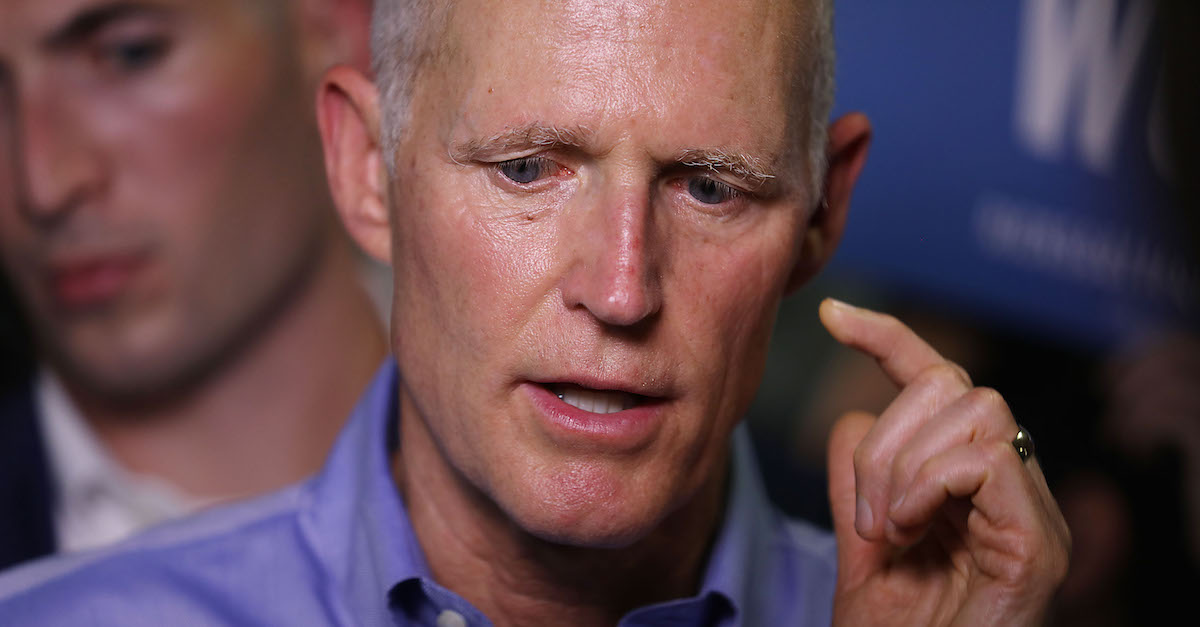 Florida Gov. Rick Scott (R), who just won the U.S. Senate race against Democratic incumbent Sen. Bill Nelson, is apparently exercising what's left of his gubernatorial authority. If you were reading Law&Crime on Election Day, you would have noticed that Florida voters decided to pass Amendment 4, or the Voting Restoration Amendment, restoring voting rights to felons who were not convicted of murder or sex offenses.
This development was an interesting one at the time for a couple of reasons: First, this would mean that roughly 1.5 million more Floridians would be eligible to vote in 2020. Second, Rick Scott may very well have lost his most recent campaign if the convicted felons were allowed to vote.
Ahead of Republican Ron DeSantis' stint as Florida governor, people who report to Scott appear to be pumping the brakes on Amendment 4.
The Tampa Bay Times reported that, in advance of Amendment 4 going into effect in the new year, Scott's Secretary of State Ken Detzner is saying that he has some issues with the rollout of the project. Detzner also suggested that it is concerning that the legislature hasn't weighed in on Amendment 4.
Florida's Secretary of State says that the state lawmakers should be "consulted" about the constitutional amendment that was adopted by 65% of Floridians last month. https://t.co/KEv3jLAJTL pic.twitter.com/uz3mTZDFXr

— Taniel (@Taniel) December 5, 2018
"We need to get some direction from [lawmakers] as far as implementation and definitions — all the kind of things that the supervisors were asking," Detzner said. "It would be inappropriate for us to charge off without direction from them."
The response resulted in some backlash.
You'll be shocked to hear that the Republican-led state government of Florida has decided that re-enfranchising former felons is really complicated and they should weigh in before anyone gets carried away by this "rights" business. https://t.co/rxboqXrst6 pic.twitter.com/8wk5zEsPLQ

— ana marie cox (@anamariecox) December 5, 2018
Florida's Republican SoS is resisting implementation of the restoration of felons voting rights, overwhelmingly approved by voters. And, yeah, this is going to lead to costly litigation for the state, with voters footing the bill https://t.co/1lqPpKQMeX pic.twitter.com/bBi9YvdFfw

— Michael McDonald (@ElectProject) December 5, 2018
Manatee County Supervisor Mike Bennett, for one, said, "It's typical. It's going to hit the fan." Others criticized the state for not giving any direction. One line from the Tampa Bay Times story is particularly inciting ire:
Counties wanted clear direction from the state. But the state's position is that the Legislature should have a voice — the same Legislature that for decades refused to address the issue of felons' voting rights, which prompted advocates to collect enough voters' signatures to force a statewide referendum, bypassing the Legislature.
It's not even clear to some Florida lawmakers if they need to weigh in on Amendment 4. The perception is that Republicans in power are stalling or attempting to subvert the will of voters.
[Image via Joe Raedle/Getty Images]
Have a tip we should know? [email protected]