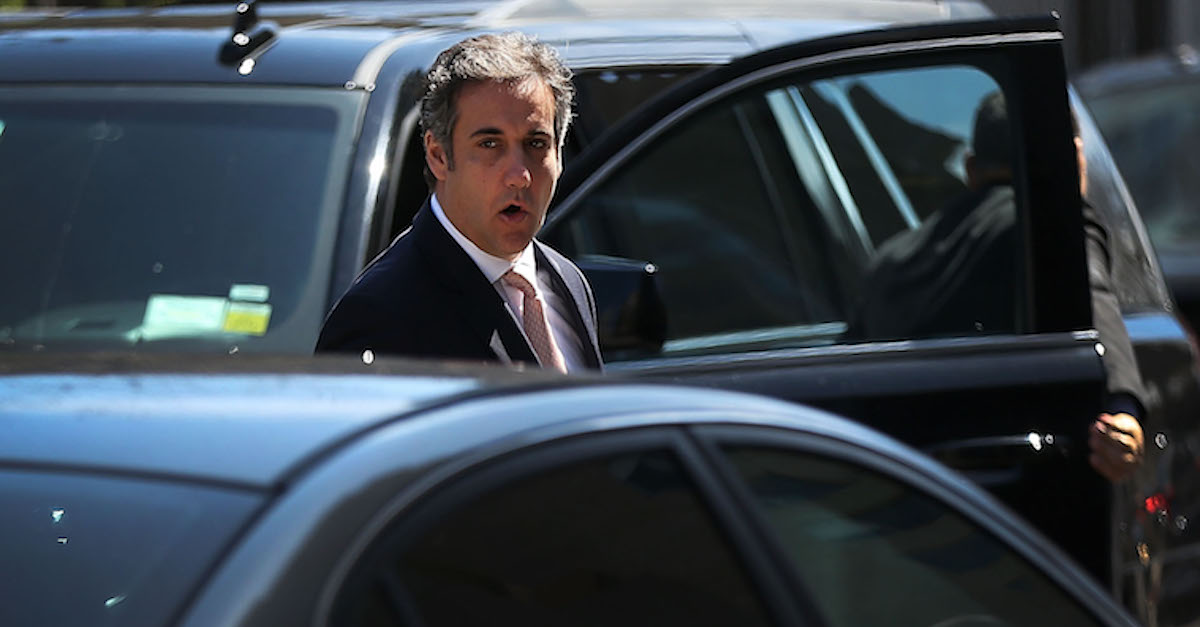 Michael Cohen's attorneys were ordered Wednesday by U.S. District Judge Kimba Wood to make the best legal case they could to prevent Stormy Daniels' California-based lawyer Michael Avenatti from appearing in a New York courtroom pro hac vice ("for this occasion"). They have responded two days later by accusing Avenatti of professional misconduct amongst other charges.
Law&Crime has reached out to both Michael Avenatti and Cohen's attorney Stephen Ryan for comment.
"We have done nothing wrong and any suggestion to the contrary is nonsense," Avenatti replied.
In case you missed it, Judge Wood ordered Cohen's team to "respond to Mr. Avenatti's letter and motion for admission pro hac vice" and told Cohen's attorneys their "response should include citations to any legal authorities" to support the idea that Avenatti should not be allowed to appear. As Law&Crime has previously explained, appearing pro hac vice means "an attorney is allowed participate in a case within a jurisdiction where they're not admitted to practice law."
Cohen attorneys's Stephen M. Ryan, Todd Harrison and Joseph B. Evans have filed what is evidently their best legal answer to the judge.
In a prior May 9 filing, Cohen's attorney Ryan contested Avenatti's motion to be allowed to appear, citing inaccuracies in Avenatti's "executive summary" featuring Cohen's bank records and deals with major companies. The judge consequently asked for legal authority to back that up.
While Cohen's team recognized in their Friday's response that pro hac vice motions were "routinely granted" (Stephen Ryan, for instance, is appearing for Cohen pro hac vice), they're saying Avenatti is an "exceptional" case for the following reasons.
1) Violation of the New York Rules of Professional Conduct (NYRPC).
Cohen's lawyers argued that Avenatti broke local court rules and rules for lawyers practicing in that district when he released his "executive summary" about Cohen and got facts wrong, like identifying the wrong Michael Cohens.
They cited Rule 3.6 of NYRPC, which says, "A lawyer who is participating in or has participated in a criminal or civil matter shall not make an extrajudicial statement that the lawyer knows or reasonably should know will be disseminated by means of public communication and will have a substantial likelihood of materially prejudicing an adjudicative proceeding in the matter."
This is a criminal or civil matter and Avenatti did make out-of-court utterances on Twitter and elsewhere. The question is whether the judge will agree that there is a "substantial likelihood" of material prejudice against Cohen as a result.
Cohen's lawyers also pointed to NYRPC Rule 3.6(a), which adds that "[i]n the course of representing a client, a lawyer shall not knowingly make a false statement."
This one hinges on Avenatti publishing information that he knew was false when he publicized it. That seems like it would be difficult to prove. For his part, Avenatti has said that by his calculation, "[W]e are over 99% accurate."
He has also criticized Cohen's attorneys for focusing on "$25K relating to a different 'Cohen' as opposed to the other $3MM in transactions that are correctly stated in our report."
From here, Cohen's attorneys make four additional arguments.
2) Lack of fitness to practice before the court.
Cohen's attorneys argued that the "fair administration of justice and orderly judicial procedures would be harmed" if Avenatti is allowed to appear in the courtroom.
They open with a quote from United States v. Smith, 985 F. Supp. 2d 506, 540–41 (S.D.N.Y. 2013) to show that the Southern District has previously ruled that the "Court has an independent obligation to avoid the creation of a 'carnival atmosphere' in high-profile cases," where "the risk of prejudice to the fair administration of justice from a public-relations battle is heightened."
By citing this, they are clearly suggesting that Avenatti has been a source of "carnival" antics.
Don't take it from us, take it from them in one of their last paragraphs:
To our knowledge, this Court has never been presented with clearer evidence of the deliberate creation of a carnival atmosphere and inappropriate conduct while an attorney's application for admission was pending. Moreover, this is an unprecedented attack on an individual who has not been charged with any crime.
And here:
Mr. Avenatti's deliberate public dissemination of confidential nonpublic information speaks to his character and lack of fitness to appear before this Court – as well as his craving to create a "carnival atmosphere" in this case.
3) Avenatti has no right to appear in this court.
They took issue with Avenatti "repeatedly" saying that he has a "right" to appear in the court and responded that pro hac vice admission is a "privilege, not a right." They pointed to holdings within the Southern District of New York to support this.
4) Denying Avenatti's motion to appear doesn't deny Stormy Daniels counsel because she doesn't have a right to be represented by an attorney who is not permitted to appear.
Cohen's attorneys argue that while the "Supreme Court has recognized 'a presumption in favor of petitioner's counsel of choice'" this can be "overcome" by other considerations.
One of those considerations is what they already stressed: ensuring the fair administration of justice. Another one is the maintenance of "orderly trial procedures," which couples with the argument against the creation of a "carnival atmosphere." They cite Wheat v. United States, 486 U.S. 153, 164 (1988) and add
that a "defendant may not insist on counsel who is not admitted."
They say it's not that Daniels was denied right to counsel, it's that she's denied the right to this counsel, whose presence is a privilege in a venue where he is not admitted to practice law.
5) Avenatti's role in the "disclosure" of alleged Suspicious Activity Reports (SARs) should be taken into account.
From early on in the memo, Cohen's lawyers hammered away at Avenatti's "inaccuracies." But they're also saying the release of confidential bank records in the first place speaks to his lack of fitness to appear in the SDNY. They suggest it's not only disqualifying but also something that should be looked into:
Mr. Avenatti knew or should have known that those who provided the information were violating the law. Since Mr. Avenatti took it upon himself to publish such information in relation to this matter, the Court should inquire as to Mr. Avenatti's role in the disclosure of the SAR's [suspicious activity reports]. The Court should consider all of this conduct in its evaluation of Mr. Avenatti's application to appear pro hac vice in this matter.
Near the end of the memo, Cohen's lawyers conclude that Avenatti's conduct "does not comport with the 'high standards of the Southern District of New York,'" citing Gianni Versace, S.p.A. v. Versace, No. 01 CIV.9645PKLTHK, 2003 WL 470340, at *3 (S.D.N.Y. Feb. 25, 2003).
While they rightly say that disclosure of SARs is a criminal offense, Avenatti wasn't the one who disclosed them in the first place.
That was allegedly the anonymous law enforcement official who spoke with the New Yorker's Ronan Farrow on Wednesday.
Avenatti has already responded to the letter from Cohen's attorneys with a supplemental affidavit in support of his motion to appear pro hac vice.
In it, Avenatti says: he has been a licensed lawyer since 2000 and has never been formally disciplined; claims that "disciplinary proceedings or charges [are] pending against him in California" are "baseless"; news articles which were cited often in Cohen's response are not admissible evidence (including the aforementioned Ronan Farrow article); no evidence was shown that he received information from the whistleblower in the New Yorker article; no evidence was presented that he had access to Suspicious Access Reports related to Cohen; no evidence was presented that he "ever purposely released any information contained within" SARs related to Cohen.
Editor's note: this story was updated after publication with comment from Michael Avenatti and details of his response to Michael Cohen et al.
[Image via Spencer Platt/Getty Images]
Have a tip we should know? [email protected]