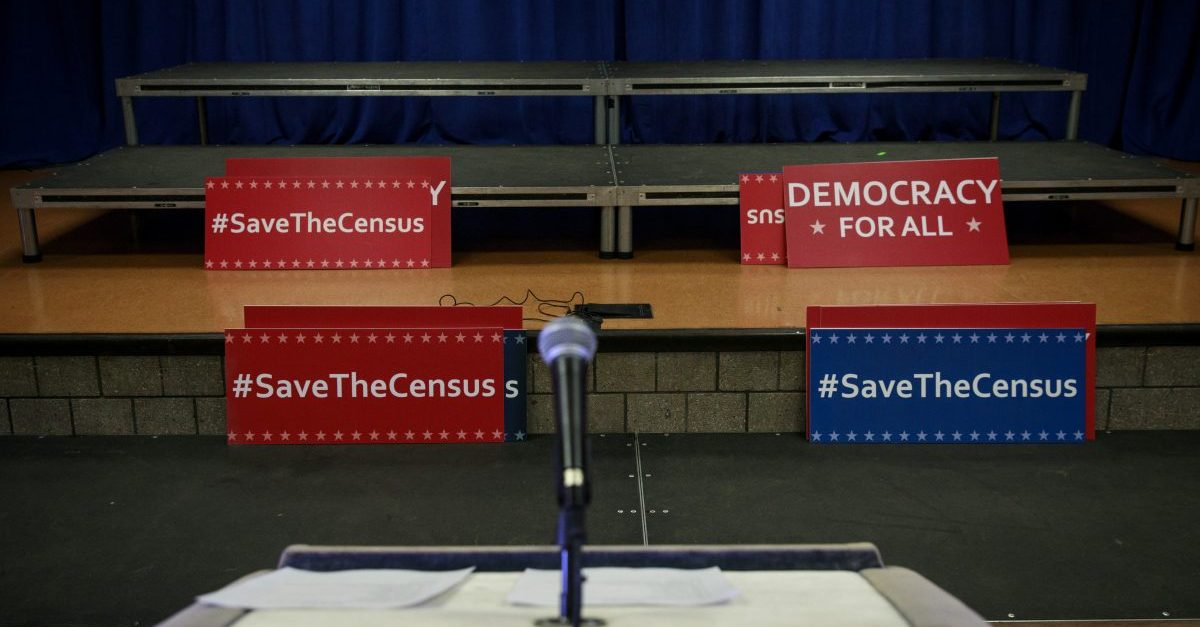 The Trump administration's decision to add a question to the 2020 U.S. asking if individuals are American citizens is at the center of a trial beginning Monday in Manhattan federal court. The State of New York brought the lawsuit, claiming that asking this question would deter immigrants–even legal ones–from responding to the census, thus affecting the accuracy of the census' population count. Commerce Secretary Wilbur Ross and those in favor of Ross' decision have claimed the question is useful in enforcing the Voting Rights Act (VRA). Newly revealed sworn testimony from a Justice Department official, however, contradicts this.
DOJ official John Gore answered questions under oath on Oct. 16, 2018, shedding some light on the the census question. As noted by NPR's Hansi Lo Wang, Gore acknowledged that what is known as Citizen Voting Age Population (CVAP) information is not necessary for enforcing the Voting Rights Act.
BREAKING: @TheJusticeDept official John Gore — drafter of DOJ's request for citizenship question on #2020census — testified that adding the question is "not necessary" for enforcing the Voting Rights Act.

From transcript of Gore's deposition for lawsuits, provided by @ACLU👇 pic.twitter.com/OFj8JhpGA6

— Hansi Lo Wang (@hansilowang) November 4, 2018
"You agree, right, Mr. Gore, that CVAP data collected through the census questionnaire is not necessary for DOJ's VRA enforcement efforts?" he was asked.
"I do agree with that," Gore confirmed, despite being the one who wrote the first draft of a letter the DOJ sent to the Census Bureau asking for the citizenship question to be added.
Gore also confirmed that while he drafted that letter, the one who made the actual decision to request the question in the first place was none other than Attorney General Jeff Sessions. The call to actually add the question was made by Commerce Secretary Ross, who was not deposed before trial despite efforts that reached the U.S. Supreme Court.
The State of New York and others brought the lawsuit with the hopes of keeping the citizenship question out of the 2020 census because of the lasting impact such a question could have on the country. If, as they claim, residents of the United States–citizen or otherwise–would be deterred from responding to the census because of the question, it would alter the results by lowering population counts–particularly in areas with heavy minority populations. As a result, these jurisdictions would receive less government funding than they otherwise might, and they could end up with fewer representatives in Congress and fewer electoral votes for their states.
The trial is scheduled to begin at Monday morning at 9:15 a.m.
[Image via Drew Angerer/Getty Images]
Have a tip we should know? [email protected]