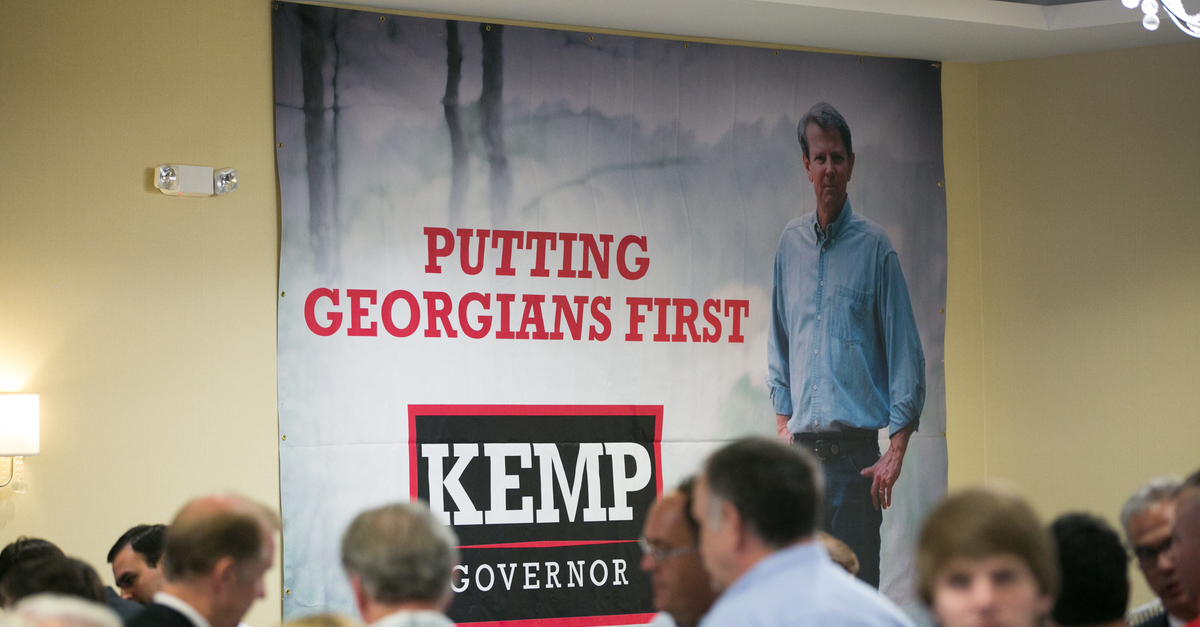 A federal judge in Georgia has granted an emergency motion for a preliminary injunction in a case against Georgia Secretary of State Brian Kemp, days before constituents will decide whether to vote for Republican gubernatorial nominee Kemp or Democratic opponent Stacey Abrams.
The judge ruled that 3,141 individuals who "have been flagged by the State as non-citizens of the United States, and therefore, [were] ineligible to vote in the upcoming November 6, 2018 election" will be able to vote on Tuesday.
Breaking: In defeat for Georgia Secretary of State & Republican gubernatorial candidate Brian Kemp, a federal judge ruled Friday that 3,141 recently naturalized U.S. citizens whose voter registrations were placed on hold, must be allowed to vote Tuesday.

— Jim Sciutto (@jimsciutto) November 2, 2018
The case, Georgia Coalition For the People's Agenda, Inc. v. Brian Kemp, had to do with voter registration applications that didn't match information in Department of Driver Services or Social Security Administration databases. The so-called "Enet" voter registration is designed to automatically flag applications that did not exactly match existing state records and list their status as "pending."
United States District Judge Northern District of Georgia Eleanor L. Ross ruled that it would cause "irreparable harm if they lose the right to vote" and said the "Plaintiffs have shown a substantial likelihood of success on the merits of their claim that Defendant is violating the right to vote, as guaranteed by the First and Fourteenth Amendments to the United States Constitution, for individuals Defendant has flagged and placed into pending status due to citizenship."
"The election scheme here places a severe burden on these individuals," Ross said.
Judge Ross consequently ordered Kemp to do the following five things:
1. Allow county election officials to permit eligible voters who registered to vote, but who are inaccurately flagged as non-citizens to vote a regular ballot by furnishing proof of citizenship to poll managers or deputy registrars.

2. Update the "Information for Pending Voters" on the Secretary of State's website so that it provides (a) clear instructions and guidance to voters in pending status due to citizenship and (b) a contact name and telephone number that individuals may call with questions about the pending status due to citizenship.

3. Direct all county registrars, deputy registrars, and poll managers on how to verify proof of citizenship to ensure that they can properly confirm citizenship status consistent with this order.

4. Issue a press release (a) accurately describing how an individual flagged and placed in pending status due to citizenship may vote in the upcoming election, as set forth herein; and (b) providing a contact name and telephone number that individuals may call with questions about the pending status due to citizenship.

5. Direct the county boards of elections to post a list of acceptable documentation to prove citizenship, which includes a naturalization certificate, birth certificate issued by a state or territory within the United States, U.S. passport, and other documents or affidavits explicitly identified by Georgia law and listed on the Georgia Secretary of State's website, at polling places on Election Day.
Judge's ruling on Brian Kemp case in Ga. by Law&Crime on Scribd
[Image via Jessica McGowan/Getty Images]
Have a tip we should know? [email protected]