A paroled multi-time convicted felon in Oklahoma who murdered a neighbor, cooked her heart, and attempted to feed the organ to relatives he later killed has received a sentence ensuring he will never get out of prison.
Lawrence Paul Anderson, now 44, admitted he murdered 41-year-old mother of two Andrea Lynn Blankenship in her home and cut out her heart to cook it and eat it. The defendant also admitted to murdering his 67-year-old uncle Leon Pye and the victim's 4-year-old granddaughter Kaeos Yates at the Chickasha home where he had been staying in 2021 while out on parole.
"On or about the 9th day of February, 2021, in Grady County, Oklahoma, I, Lawrence Paul Anderson, killed Kaeos Winter Rain Yates, by stabbing her with malice aforethought," read the defendant's signed admission, made official on March 15. "I, also with malice aforethought, killed Leon Tye, by stabbing him to death. I, lastly, killed Andrea Lynn Blankenship, by stabbing her and inflicting mortal wounds with malice aforethought."
According to prosecutors and the defendant's lawyers, Anderson also gouged out the eye of his 66-year-old aunt, Delsie Pye.
"Also, on or about the 9th day of February, 2021, in Grady County Oklahoma, I stabbed Delsie Pye with a knife with felonious intent, and to cause her bodily harm," the court documents continued. "I also committed the crime of Maiming with the Intentional Design to Injure Maim and Commit Maiming on the body of Delsie Pye by gouging out the eye."
Anderson, a.k.a. "Smoke" and "Smoke Link," reportedly "cooked [Blankenship's] heart with potatoes to feed to his family to release the demons."
As part of the agreement, Anderson admitted to three counts of first-degree murder, assault and battery with a deadly weapon, and maiming, resulting in a sentence of life in prison with parole.
Grady County District Attorney Jason Hicks noted in a court filing that Anderson had an "extensive criminal history" that included felony convictions involving the "use or threat of violence": unlawful possession of a controlled drug with intent to distribute, domestic assault and battery, and two counts for feloniously pointing a firearm.
Anderson's repeat incarceration history began in 2006, when he sentenced for possession of crack cocaine and for threatening his girlfriend with a gun. He served less than two years of a four-year sentence, The Oklahoman reported. Six years after he was first sentenced, Anderson was sentenced to 15 years for selling crack near an elementary school. Five years into that sentence in 2017, Anderson was released from prison again, but his sentence also included two decades of probation. Anderson violated that probation by possessing a gun and using PCP and cocaine; he was imprisoned the same year to serve 20 years. Despite this, the Oklahoma Pardon and Parole Board recommended a commutation, and Gov. Kevin Stitt (R) signed off on it in 2020 — with fatal consequences. The commutation occurred just one year after the Parole Board denied Anderson's initial request.
A Law&Crime search of Oklahoma court and prison records shows numerous previous Anderson cases and mugshots spanning from the early 2000s to the late 2010s.
A document filed upon Anderson's sentencing notes that the "rules and conditions of probation" in the state of Oklahoma are "not applicable" to this defendant, who avoided the death penalty with his guilty plea.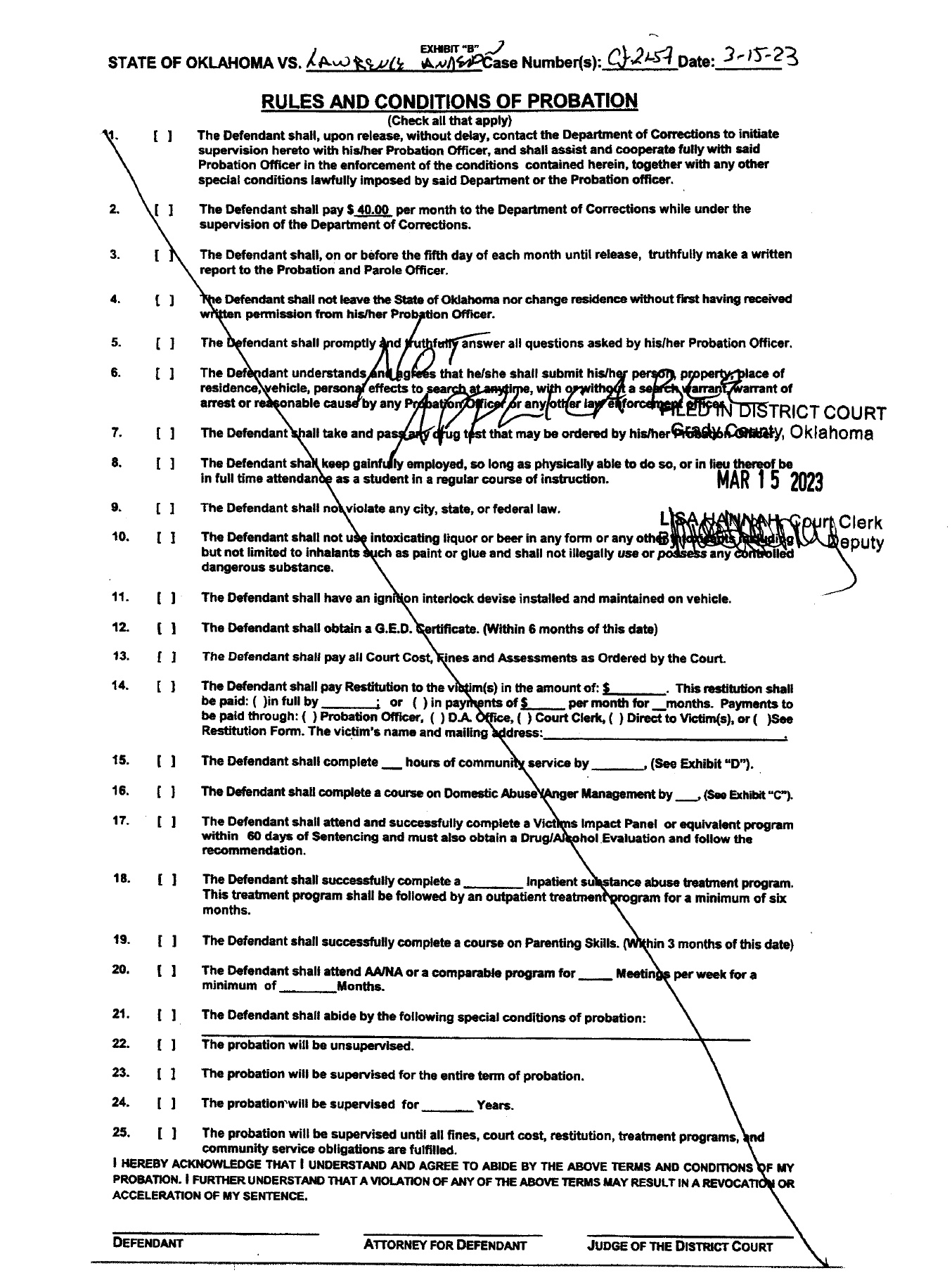 Read the March 15 bill of particulars, the factual basis for Anderson's guilty plea, and the plea agreement here, here, and here.
Have a tip we should know? [email protected]