A bank manager in New York who plotted to murder her brother-in-law on Facebook Messenger and sent thousands of dollars from a Western Union kiosk inside of a Walgreens did herself no favors whatsoever when she texted photo evidence of the wire transfer receipt via WhatsApp, the feds say.
Reshma Massarone, a.k.a. Reshma Bhoopersaud, swore on her kids' lives that she would never betray "Individual-1" if he helped orchestrate the murder of her brother-in-law while he was traveling with his family in Guyana.
Over the years, there have been no shortage of foiled murder-for-hire plots, undone by bitcoin payments, a fake "rent-a-hitman" website, attempted down payments, damning phone messages, or even communications with federal agents.
But a credit union manager apparently not understanding that financial transactions and communications up to and including literal receipts could lead to her arrest is a new one.
According to the U.S. Department of Justice criminal complaint, Massarone really wanted her brother-in-law dead — so much so, that she allegedly chatted up "Individual-1" on Facebook Messenger between July 20 and Aug. 16 and offered up $10,000, believing there was no way the victim or the victim's wife would ever point a finger at him.
"Individual-1" was described as a years-long friend of the victim who "happened to be a law enforcement officer in Guyana."
"Individual-1 told MASSARONE that he could not commit the murder himself but knew someone—the Hitman—who could get the job done" in exchange for money, the feds said.
In the July 20 Facebook Messenger exchange, it appeared the suspect knew that creating written proof of the plot was a bad idea.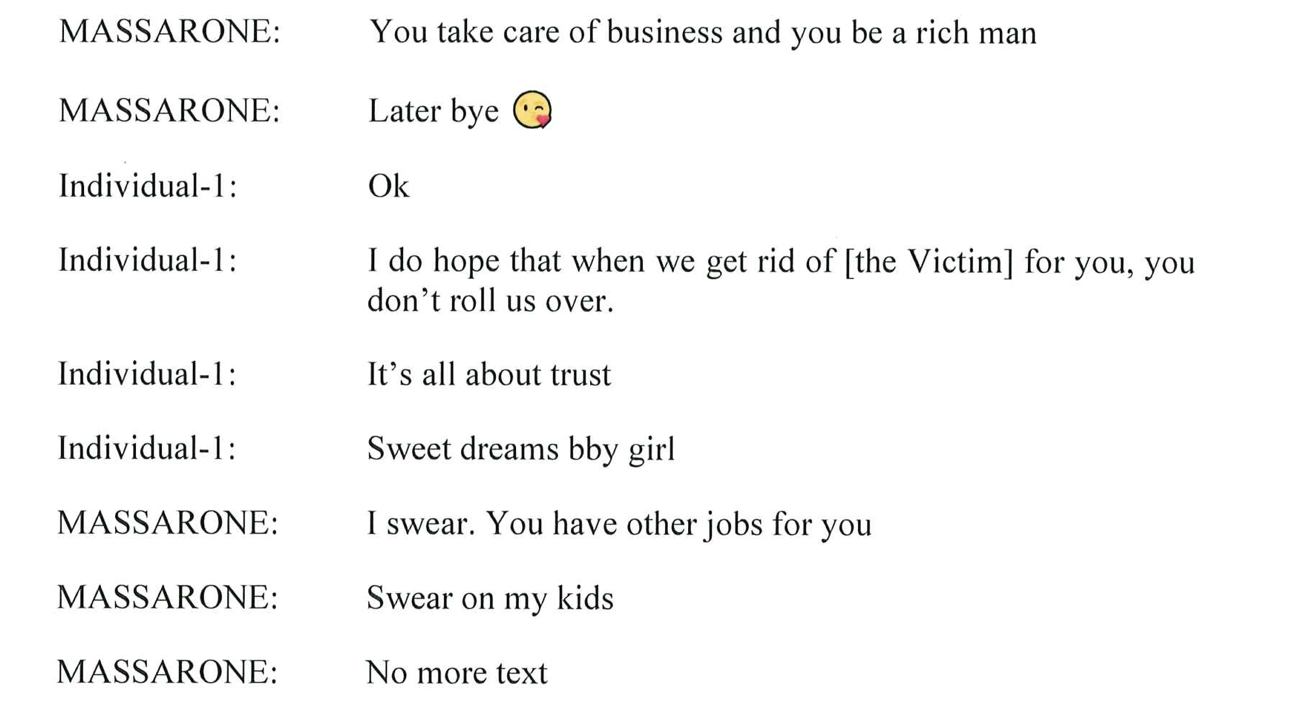 "No more text," she allegedly said.
And yet Massarone allegedly went on to text something much worse through WhatsApp as soon as the next day, July 21.
Prosecutors say there's video proof the banker went to a Walgreens in Orange County, New York, and brought $2,500 in cash with her — to be wired from a Western Union kiosk under the belief that the money would go to a hitman "Individual-1" knew.
After the transfer was completed, the suspect sent a photo of the Western Union receipt that included the address of the Walgreens in Pine Bush, New York.
"Hi," she allegedly said from a WhatsApp account with the name Reshma Bhoopersaud.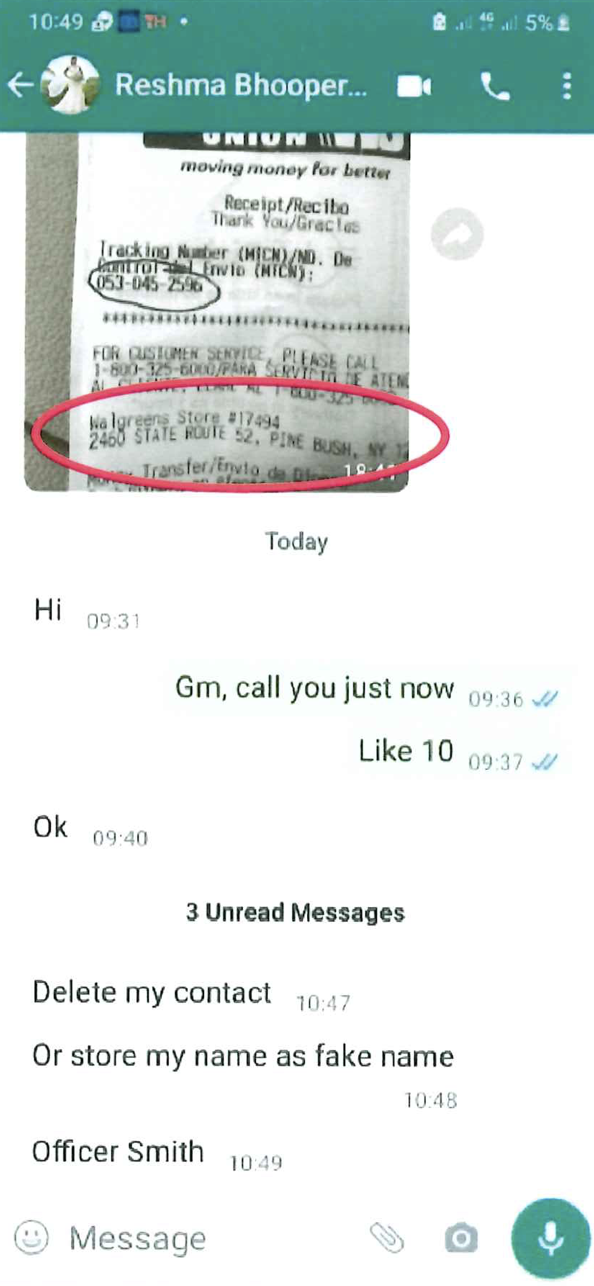 The would-be plot completely unraveled in the ensuing days, as on July 24 both the target of the plot and his wife "went to the United States Embassy in Guyana to report that Massarone, the defendant, had place a hit on the Victim" to take place as soon as July 25 — and the married couple said they learned this information from "Individual-1."
"The Victim also told law enforcement officials that he and Massarone had an ongoing civil litigation matter pending in New York," court documents said.
A day later, the suspect and "Individual-1" allegedly spoke on their cellphones in Guyanese as "Individual-1" recorded the call — unbeknownst to Massarone. A DEA special agent and native Guyanese speaker helped translate the call.
During the call, Massarone allegedly made clear to "Individual-1" that she only wanted her brother-in-law dead, even as she acknowledged there was "[n]o turning back" now.
"Just he, just he," she said, according to the feds.
"Good," the man answered.
At the end of the call, Massarone allegedly said "So delete my number before the man or anybody catch."
On July 27, "Individual-1" and Massarone again had a cellphone conversation in Guyanese, the feds said. On that call, which was also recorded, the suspect allegedly agreed that the solicited murder should look like a robbery. She also expressed hope that the hitman would "get away," the complaint said.
"I have to go back to work. Make sure you delete me," the defendant allegedly told "Individual-1" at the end of the call.
Massarone now faces federal charges of murder-for-hire and solicitation to commit a crime of violence.
Federal court records show that Massarone was ordered held pre-trial on Aug. 21, after her appointed federal defender Mark Gombiner appeared on her behalf in U.S. Magistrate Judge Judith C. McCarthy's courtroom.
At the end of the detention hearing, the judge jailed Massarone "based on [her] danger to the community."
A preliminary hearing is currently scheduled for Sept. 5.
Have a tip we should know? [email protected]