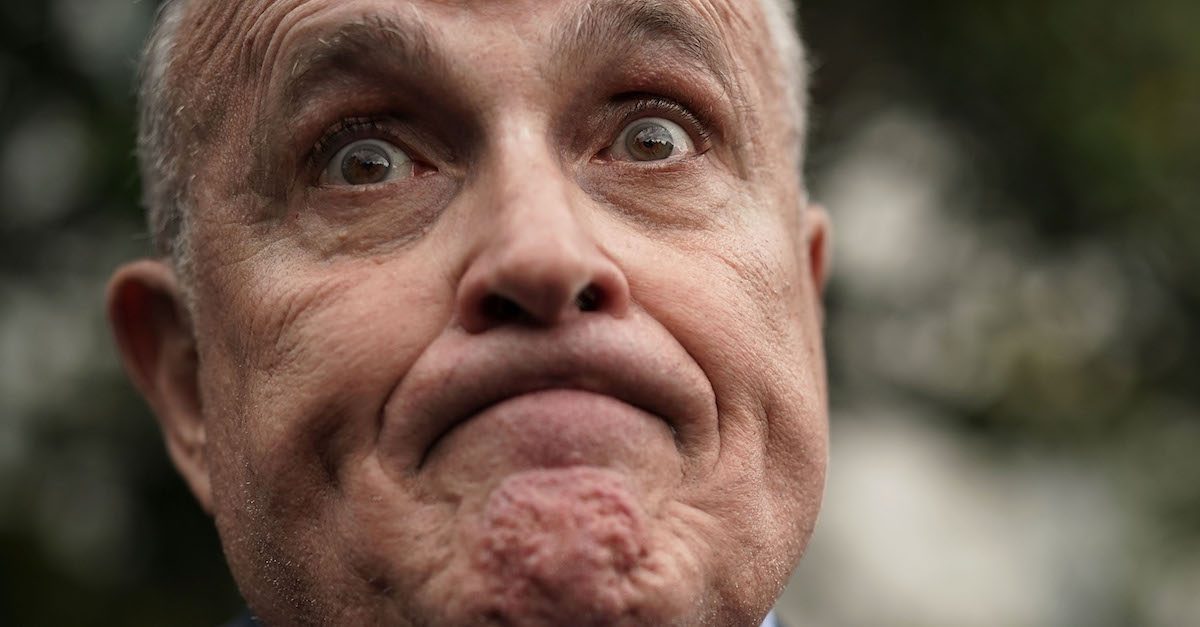 Remember Rudy Giuliani's epic debut as President Donald Trump's lawyer in May? When he went on TV and said, to the surprise of everyone, that Trump knew about the hush money payment to Stormy Daniels and reimbursed his lawyer Michael Cohen for it? Legal experts are abuzz about Giuliani's comments in a Friday story in the New York Times about Cohen's  "secret" recording of a conversation with Trump two months before the election. That conversation was reportedly about a payoff of Playboy model Karen McDougal.
Were Giuliani's remarks another tactical error by Giuliani, in an effort to get out ahead of the Cohen tapes? In case you missed it, Giuliani hailed the secret recording news as "powerful" proof that Trump did nothing wrong.
"Nothing in that conversation suggests that [Trump] had any knowledge of it in advance," he said. "In the big scheme of things, it's powerful exculpatory evidence." Giuliani also claimed that, while no payment was made, Trump said that if a payment was going to be made it would have to be a check rather than cash.
Former Solicitor General of the United States Neal Katyal and former federal prosecutor Renato Mariotti both discussed the potential implications of Giuliani's statement. In Katyal's case, he said the remarks may have "hamstrung" future defense options.
"Really strange that Trump attorney Giuliani is talking about the tape to the media and trying to spin it," Katyal said. "That would hamstring future possible defenses like privilege waiver."
"I'd be worried about all of this if I were Trump," he added.
Renato Mariotti, a former federal prosecutor, on the other hand, said that the conversation between Trump and Cohen does not appear to be privileged because the FBI is in possession of the recording. He noted that the recording would be in the hands of the Feds at the recommendation of special master (and former judge) Barbara S. Jones and that, therefore, a privilege waiver concern may be out the window.
"In any event, it appears Trump is not alleging that the conversation is privileged because his attorney (Rudy Giuliani) discussed the contents of the conversation with @nytimes. That arguably waives privilege, and no attorney would do that if he would later claim privilege," he said.
"No attorney would do that" and Rudy Giuliani are words that have been uttered in the same sentence before.
But there's something a little off about all of this, and it looks like Giuliani might have gotten played here. Hat tip to @emptywheel for highlighting a detail Law&Crime covered Thursday night. 
This has happened the morning after special master Jones said that Cohen objected "to the designation of 'not privileged' as to 22 of these items [seized in the FBI raid], but has advised the Special Master that he will not raise these objections with the Court."
Cohen previously believed 22 of these items were covered by attorney-client privilege, doesn't care to fight about this anymore, and then this story comes out?
In the past, Cohen, Giuliani and Trump, would have argued the same things about this audio recording — that it is protected by attorney-client privilege. A lot has changed from April until now.
For what it's worth, Trump's reported reaction to the news sounded more like disappointment — in Cohen — than worry, though the tone of those words is not immediately clear.
The recent developments all seems to point in a direction that Cohen will cooperate with the Feds. He has hired former Clinton attorney Lanny Davis, former Manhattan prosecutor Guy Petrillo, and sought to rehabilitate his image in the press, even scrubbing references to his employment by Trump from his social media accounts. He's pledged loyalty to his family and his country.
What Giuliani's comments may have done is remove his ability to challenge Jones' privilege recommendation.
[Image via Alex Wong/Getty Images]
Have a tip we should know? [email protected]