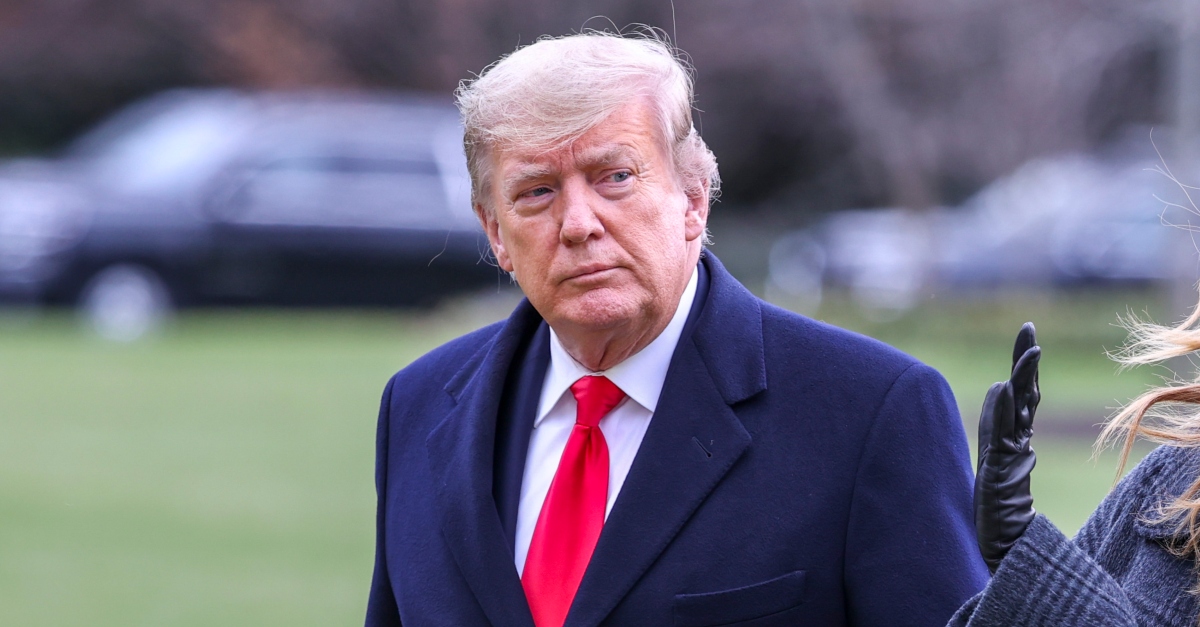 President Donald Trump's controversial speech immediately prior to last week's attack on the U.S. Capitol by his own supporters has repeatedly been likened to the federal crime of seditious conspiracy. Though some have cautioned that such charges are unlikely to be brought, the chorus in favor thereof nonetheless appears to be growing louder by the day.
On Monday, non-partisan government watchdog organization Citizens for Responsibility and Ethics in Washington (CREW) penned an open letter to Acting Attorney General Jeffrey Rosen and FBI Director Christopher Wray styled as "criminal sedition complaint."
That complaint requests an immediate investigation into Trump and others on the theory that the 45th president's fire-breathing rhetoric employed at the "Stop the Steal" rally should be viewed in tandem with with efforts to hinder the U.S. Congress's final count of the 2020 electoral college votes. Taken together, CREW claims, Trump's actions were part-and-parcel of a plan to violently overthrow the U.S. government by preventing the peaceful transition of power.
The law on point is located at 18 U.S.C. § 2384 and reads:
If two or more persons in any State or Territory, or in any place subject to the jurisdiction of the United States, conspire to overthrow, put down, or to destroy by force the Government of the United States, or to levy war against them, or to oppose by force the authority thereof, or by force to prevent, hinder, or delay the execution of any law of the United States, or by force to seize, take, or possess any property of the United States contrary to the authority thereof, they shall each be fined under this title or imprisoned not more than twenty years, or both
"Accusing the president of sedition is not something we do lightly," CREW Executive Director Noah Bookbinder said in a press release. "It is an accusation that should be reserved for only the most extreme circumstances. This is such a circumstance."
The complaint notes, at length:
As part of this scheme, President Trump and his associates appear to have illegally conspired to encourage the president's supporters to travel to Washington, D.C. and incite them to forcefully attack and occupy the United States Capitol. On January 6, 2021, President Trump and numerous co-conspirators spoke at a large rally and demanded that the assembled mob march on the Capitol and stop the electoral count. Less than an hour after President Trump's speech, the mob forcefully stormed the Capitol, successfully hindering and delaying Congress's lawful exercise of its constitutional and statutory duty to affirm the results of the presidential election.
CREW cites the following details to bolster their case:
At approximately noon on January 6, 2021, President Trump spoke to a crowd of supporters near the White House Ellipse at the "Save America March."President Trump told the crowd: "We will never give up. We will never concede . . . We will stop the steal!" He instructed his supporters to "fight much harder," and he admonished Republicans for not being "tougher." He told his supporters: "We're going to walk down to the Capitol . . . you'll never take back our country with weakness. You have to show strength, and you have to be strong."
"President Trump's supporters did exactly what he urged them to do," the complaint goes on. "Shortly after the speech, Vice President Mike Pence and both houses of the United States Congress gathered in the Capitol to count the Electoral College votes. Not long after they began, the United States Capitol Police began evacuating congressional office buildings as thousands of people from the rally who had followed President Trump's instructions descended on the Capitol."
CREW also singles out the president's longtime friend and personal attorney Rudy Giuliani for culpability among other unnamed "associates" by citing "Giuliani's call to a Senator designed to take advantage of the situation by further delaying proceedings."
According to The Dispatch, the once widely-respected attorney and New York City's former mayor called Sen. Tommy Tuberville (R-Ala.) and left a voicemail stating: "I want to discuss with you how they're trying to rush this hearing and how we need you, our Republican friends, to try to just slow it down so we can get these legislatures to get more information to you."
This message, CREW maintains, shows that Giuliani and Trump "contemplated the possibility that their actions would result in some unlawful use of force in support of their goals," an argument intended to meet certain prongs of the federal sedition statute.
"In what will be remembered as a dark day for American democracy, President Trump and his co-conspirators appear to have engaged in nothing less than an attempt to overthrow the government by force," Bookbinder added. "This cannot go unanswered. The FBI and Justice Department must investigate immediately."
[Image via Tasos Katopodis/Getty Images]
Have a tip we should know? [email protected]