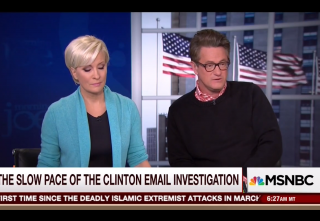 On Morning Joe on Monday, former congressman turned MSNBC host Joe Scarborough questioned the length of time that the FBI has spent investigating Hillary Clinton over her use of a private e-mail server while serving as secretary of state.  Scarborough said what Clinton did is such a clear violation of the law that the investigation should be over, unless there was some sort of political motivation to drag it out.
"Why is FBI investigation taking the FBI so long?" Scarborough asked.   "This is a clear [case of] mishandling of classified information.  Whether you bring an indictment against Hillary Clinton or those around her, it is a clear mishandling of classified information.  It doesn't take this long. Why is the FBI dragging their feet? … What is their political motivation for dragging their feet?
Panelist Mike Barnicle did not really answer the question, but added, "I have not spoken to anyone who believes there is an indictable offense that has occurred."
Scarborough quickly cut him off, saying, "All I can say is you've been talking to a tightly, tightly  focused crowd there."
Barnicle rejected the notion, but in his effort to defend himself he unknowingly admitting that maybe Clinton actually did commit an indictable offense — saying perhaps she deserves a fate similar to Gen. Petraeus.
As you may recall, Gen. Petraeus pleaded guilty to a charge of misdemeanor mishandling of classified information.
WATCH:
Scarborough jumped back in to say that if you talk to anyone who spent time in the intelligence community over the past twenty years, they will tell you that they would be in prison if they did what Clinton allegedly did.
"Come on FBI, wake up," Scarborough pleaded.   "I mean the fact of the matter is she set it up so everybody, her subordinates, had to send classified information through an unsecured server."
Nonetheless, Scarborough then admitted he did not believe the FBI was actually going to indict the presumed Democratic nominee.  He did say, however, that the FBI owes it to the Democratic Party and the country to put the matter to bed, one way or the other, so that the election can go forward without this issue hanging over it.
After all of that, the panel seemed to get lost and never actually answered the original question of 'why this investigation was taking so long?'
[image via screengrab]
Have a tip we should know? [email protected]