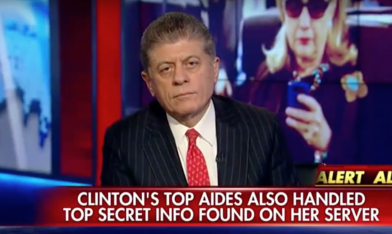 A new report alleges that at least a dozen e-mail accounts, including some used by Hillary Clinton's top aides, handled the "top secret" intelligence found on Clinton's server.
According to the report, some of the e-mail accounts in question belonged to top Clinton aides, including Cheryl Mills, Huma Abedin, Jake Sullivan and Philippe Reines.  Additionally, an e-mail account belonging to State Department Under Secretary for Management Patrick F. Kennedy, a central figure in the Benghazi investigation, was also said to be included in the e-mail chain that exchanged this information.
Asked to analyze the implications of this latest report on Fox News, Judge Andrew Napolitano highlighted three key issues:
"One, Mrs. Clinton was so reckless in the manner in which she sent out top secret emails, knowingly sending them to people who weren't authorized to receive them; … two, that [her aides'] acceptance, discussion and transfer of this is a felony; and three, … that the FBI now has leverage… [in that] the Justice Department can indict her top aides and trade with them… [to get]…testimony against Mrs. Clinton in return for a deal with them."
Also on Thursday, a federal judge ordered the State Department to release all remaining undisclosed Clinton e-mails by February 29. I wrote a recent article about why there is enough evidence for  Hillary Clinton to be indicted.  LawNewz.com's founder Dan Abrams disagrees with both me, and Judge Napolitano. Abrams said in a recent piece  that based on what we know right now, there is not enough evidence to charge Clinton.
WATCH:
[h/t Fox News; image via shutterstock]
Have a tip we should know? [email protected]