A man who helped drag a police officer down the U.S. Capitol steps tried to flee to Switzerland after the day of the siege and then, in what authorities called a different type of flight effort, attempted suicide, prosecutors told a judge on Friday.
Describing the case as "very disturbing," a federal magistrate denied bail to Jeffrey Patrick Sabol, a 51-year-old divorced geophysicist with three children. Patrick has not been charged with assault but rather under a civil disorder statute barring any effort to "obstruct, impede, or interfere" law enforcement.
U.S. Magistrate Judge Andrew E. Krause called the allegations against Sabol "deeply troubling," ultimately denying him bail following an hourlong hearing. Sabol's defense counsel requested his home confinement secured by hundreds of thousands of dollars, but the judge was unpersuaded that the money or other set of conditions could hold him.
"The government has met its burden," Krause determined. "Mr. Sabol will be detained because he is a danger to the community and because the government has shown by a preponderance of the evidence that he is a risk of flight."
Assistant U.S. Attorney Benjamin Gianforti claimed that Sabol was caught on tape by the Washington Post helping a mob drag an officer down the Capitol steps and bought a ticket to Zurich, Switzerland, a country that rarely extradites people to the United States.
"I think that his suicide attempt can be taken as consciousness of guilt," Gianforti said.
The government also shot back hard at the defense's argument that Sabol posed no risk of flight because he wanted to stay with his family.
"If he was so serious about staying with his family, why he did attempt to go to Zurich?" Gianforti asked rhetorically. "Why did he try to take his life? Why was he at the Capitol, for that matter?"
Sabol was arrested inside the Westchester Medical Center, where he was allegedly recovering from that attempt, at 8 a.m. on Friday.
The Department of Justice did not make Sabol's court papers available by press time, and his docket does not appear to be open. The FBI announced a statement with little information about the man or the charges that he is facing.
"Earlier this morning, we took Jeffrey Sabol into custody for his role in the riot and assault on the Capitol building," Assistant FBI Director in Charge William F. Sweeney, Jr. wrote in a statement.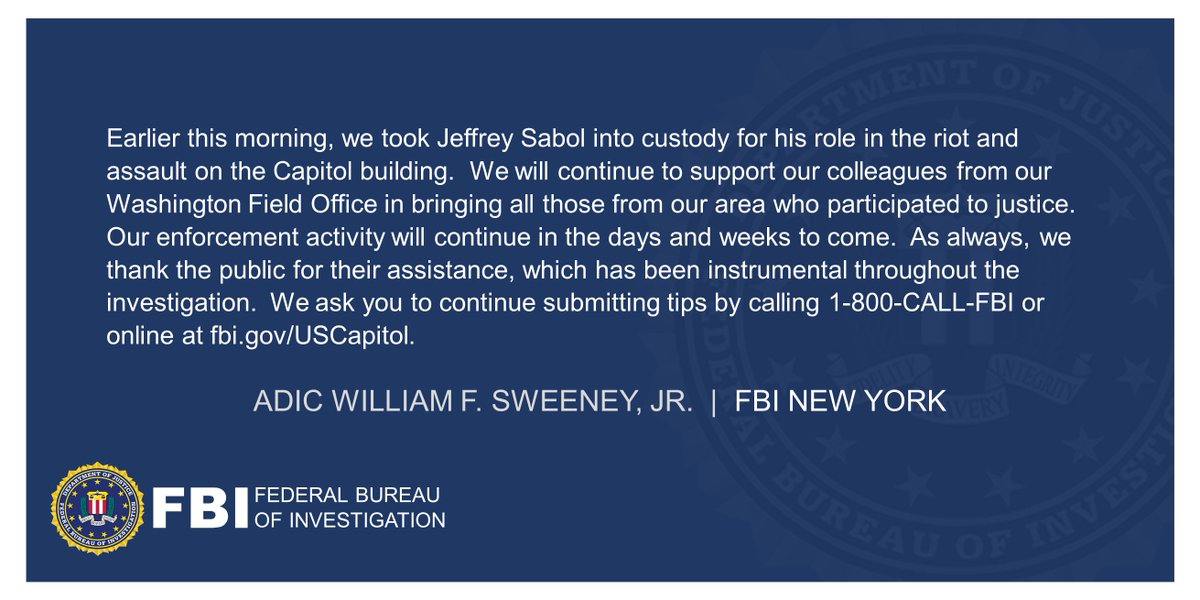 More details came to light during a detention and bail hearing in the Southern District of New York (SDNY).
Sabol's federal defender Jason Ser argued that his client's wealth, extensive family connections, and prominent, well-paid and celebrated geophysicist were sufficient to grant the bail request. The defense offered a $200,000 bail package, secured by several sureties, to ensure the defendant's continued presence in the country and at future court appearances.
The judge, however, said those facts weighed against any form of leniency in Sabol's case.
Remarking on the defendant's highly-pedigreed, upper-crust background—and specifically citing his employment as a renowned geophysicist, his extensive family ties and his elite financial means—Krause said "this cuts against him" because "despite all that he did go and engage in that conduct on January 6."
Describing publicly-available video footage and still of the failed Capitol Hill insurrection, the judge noted that Sabol can be seen dragging a police officer along with a group of others who then proceed to attack the officer.
"[He] goes back up the stairs after the first episode of bringing a law enforcement officer down the stairs into the teeth of that mob in Washington, D.C. that day," Krause explained. "Those actions have consequences and those consequences are that Mr. Sabol is going to be detained."
"The nature of the offense and the circumstances are extremely severe," the judge continued–adding that the potential for violence is still hanging in the air and that releasing Sabol would be irresponsible. "Those conditions still exist in the world today, in our country and in Mr. Sabol's mind."
The judge also cited some of Sabol's own words back at him and saying that, as opposed to another line of the defense's argument, those words don't inure to the defendant's benefit whatsoever: "He was in a 'fit of rage' during the events in question. That conduct is beyond the pale. It is troubling to a degree, that, I really find it shocking."
Krause also leaned into the government's flight risk risk argument. The court noted that it was wholly inexplicable why Sabol was picked up in the New York area instead of being found back at home in Colorado.
"The willingness to flee undercuts his strong family ties," the judge said, "he appears to have been willing to cast those aside."
"On balance, I believe the government has demonstrated by a preponderance of the evidence that Mr. Sabol is a risk of flight and that is an alternative basis for detention here."
Sabol is currently on a regime of antibiotics for reasons that were not disclosed during the hearing.
The defendant was ordered removed from the Southern District of New York and will be extradited to the District of Columbia for continued prosecution. This transfer will not be immediate because the U.S. Marshals Service is currently unaware of when safe transfer will be possible due to the ongoing public health crisis surrounding the still-raging coronavirus (COVID-19) pandemic.
Sobol's initial appearance in front of the D.C. District Court will occur digitally on February 5.
[image via Tasos Katopodis/Getty Images]
Editor's note: This story has been amended post-publication to account for additional news and for clarity.
Have a tip we should know? [email protected]