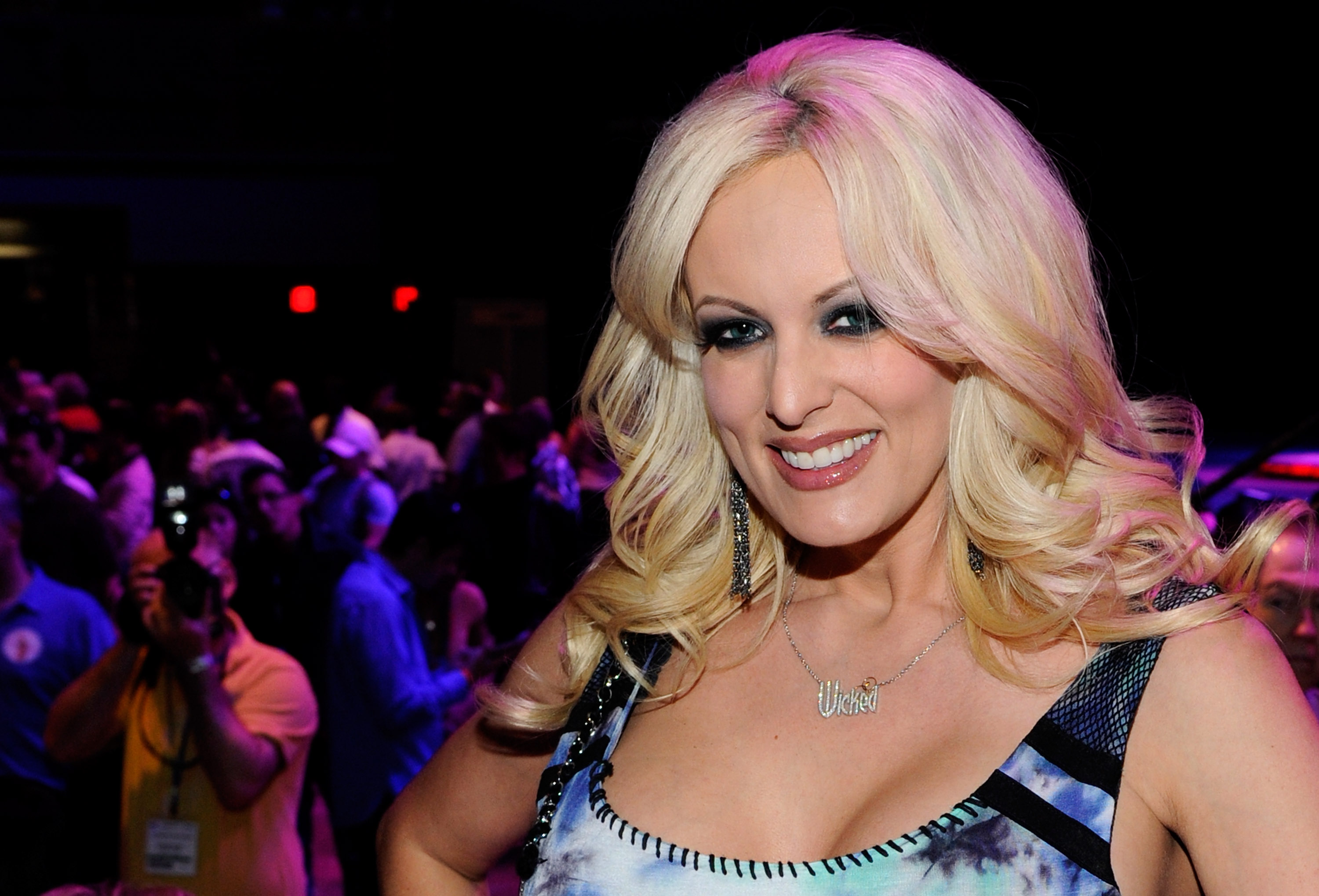 Predictably, a Fort Lauderdale, Florida strip club is heavily promoting a scheduled appearance by alleged Trump conjugant Stormy Daniels. The promotions, which are available on the club's Facebook page, feature several images of Daniels, references to "Mr. President," and the phrase, "it's going to be huuuuuge!" superimposed over an unflattering golden orange caricature of President Trump. The Facebook page states, with vulgar reference to the now-infamous Billy Bush tape:
This is Stormy Daniels first public appearance since filing a lawsuit against the President regarding the alleged affair. Stormy no longer wishes to remain silent , and SOLID GOLD proudly supports her right to speak . Join us for this very special night and launch of her PU$$Y GRABBED BACK WORLD TOUR 2018.
It's unclear whether the club or Daniels came up with the language, or whether she truly is embarking on such a "world tour." What's interesting is that this sort of endeavor wades precipitously close to a legal danger area in the purported secret agreement between Trump and Daniels which became public this week.
As we previously discussed, the purported secret agreement between Trump and Daniels is more than just a so-called "hush agreement." It also contains lengthy copyright assignment clauses. Depending on how broadly those clauses are interpreted, it's possible that Trump or one of his companies now owns the rights to just about anything Daniels does with relation to Trump. Certainly, that seems to be the intent of the agreement, though it does contain a few gaps.
The clauses in the agreement clearly assign to Trump the copyright to any photos or text messages between or involving Trump and Daniels around the time of their supposed encounter. However, the agreement also appears in several places to go further, and it might be interpreted broadly to assign to Trump things Daniels does in the future which pertain to Trump, such as books, movies, television shows, or the like. Since choreographic works are clearly copyrightable under this federal law, it's possible Trump owns the rights to some kinky moves right now. If Daniels recorded a video of a particular Trumpesque move, or wrote a description of a move she plans to make in his, uh, 'memory,' he could very likely own the rights to the video, the description, and furthermore prevent her from replicating the move in the future. The key question is whether anything has been recorded or written. If it has, he probably owns it. If it hasn't, she can probably continue to perform the move all she wants.
The purported Trump/Daniels contract does state the following things do belong to Trump, from a copyright perspective:
All tangible materials of any kind containing information pertaining to [Trump] learned, obtained, participated or acquired by [Daniels], including without limitation letters, agreements, documents, audio or Images [sic] recordings, electronic data, and photographs, canvas art, paper art, or art in any other form on any media.
Interestingly, though the possibility of a choreographic copyright transfer is not spelled out specifically in the agreement, it might fall under the "without limitation" language referenced above.
The full list of copyright assignments is in the agreement, which you can read here.
[Photo by Ethan Miller/Getty Images.]
Have a tip we should know? [email protected]
Aaron Keller - Deputy Editor-in-Chief