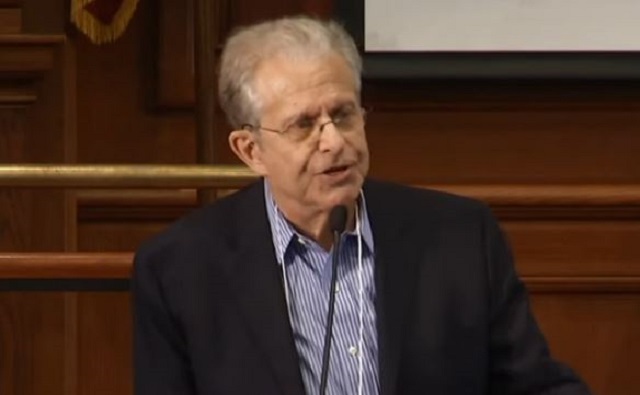 Harvard Law Professor Laurence Tribe has a long, long history of calling for President Donald Trump's impeachment, with various claims of how it could be done. But even Prof. Tribe thinks that some of the ideas being tossed around regarding the Trump campaign's alleged connection to Russia and how it could affect November's election are a bit out there.
A recent Washington Post column featured writer Jonathan Capehart giving Tribe's answers to "a series of 'how can we get rid of this guy?' questions." The answers were surprising, in that they essentially said we probably can't. "The prospects are slim to none," Capehart said, describing Tribe's response.
Tribe explained that the only ways to remove a President from office are from either an impeachment leading to a conviction, or Congress deciding that, pursuant to the 25th Amendment, the President "is unable to discharge the powers and duties of his office." Neither of these options are available as measures, no matter how bad Trump's Russia ties may be.
Addressing the notion that the Supreme Court could somehow rule that the election was invalid due to some sort of foreign influence, Tribe basically said it's a pipe dream. He said:
There is no mechanism in the Constitution and laws as they stand today for redoing a presidential election, however many people believe it was rendered illegitimate by treasonous or otherwise unlawful manipulation; and no institutional mechanism exists even for reaching an authoritative determination that a presidential election was illegitimate. Those who have imagined the Supreme Court might entertain a claim of that sort and order a new election are deluding themselves.
One alternative that Tribe said might technically be possible, is for Congress to enact a law allowing them to call for a new election, but that too is beyond the realm of reality, he says, because Trump would have to sign off on such a law, unless there were enough members of Congress in favor of it to override him. "[T]he odds that any such law could be passed over Trump's inevitable veto seem much too remote to warrant taking that option seriously," he said.
So there you have it. Even the man who has been calling for Trump's ouster from the beginning says that it's pretty far-fetched for it to happen because of Russia.
[Image via screengrab]
Have a tip we should know? [email protected]