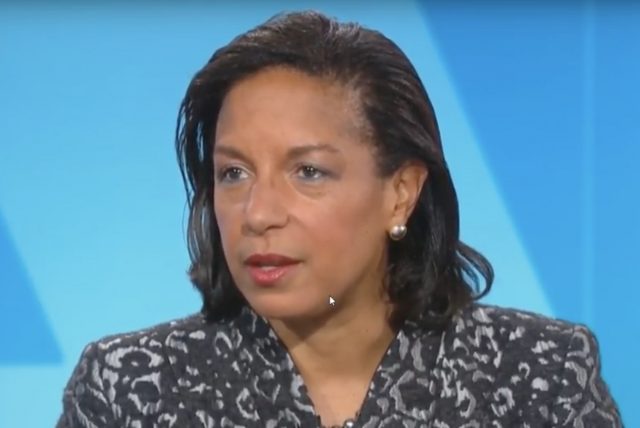 One of the lingering matters that never seemed to be answered in all the hoopla surrounding Michael Flynn's resignation was the fact that he was publicly named as being captured by U.S. surveillance of Russians officials.  Americans captured in incidental contact with foreign intelligence operations are usually "masked," and so it seemed odd that his identity as the American on the call with a Russian diplomat became such a well known fact.  Well, we may finally have an answer as to who gave permission to "unmask" Flynn and other members of the Trump administration during the transition:  Obama National Security Advisor Susan Rice.
According to Eli Lake at Bloomberg, Rice was the member of the Obama administration who "requested the identities of U.S. persons in raw intelligence reports on dozens of occasions that connect to the Donald Trump transition and campaign, according to U.S. officials familiar with the matter."
Rice's role was reportedly discovered during a review by the National Security Council policy on "unmasking"  the identities of individuals who are not targets of intelligence operations, but are incidentally scooped up by the intelligence dragnet.  This was reportedly discovered in February and the White House Counsel's Office took over the investigation.
According to Lake, "[o]ne U.S. official familiar with the reports said they contained valuable political information on the Trump transition such as whom the Trump team was meeting, the views of Trump associates on foreign policy matters and plans for the incoming administration."
Rice has reportedly not responded to requests for comment on her reported role in the "unmasking" policy.
[inage via screengrab]
Have a tip we should know? [email protected]