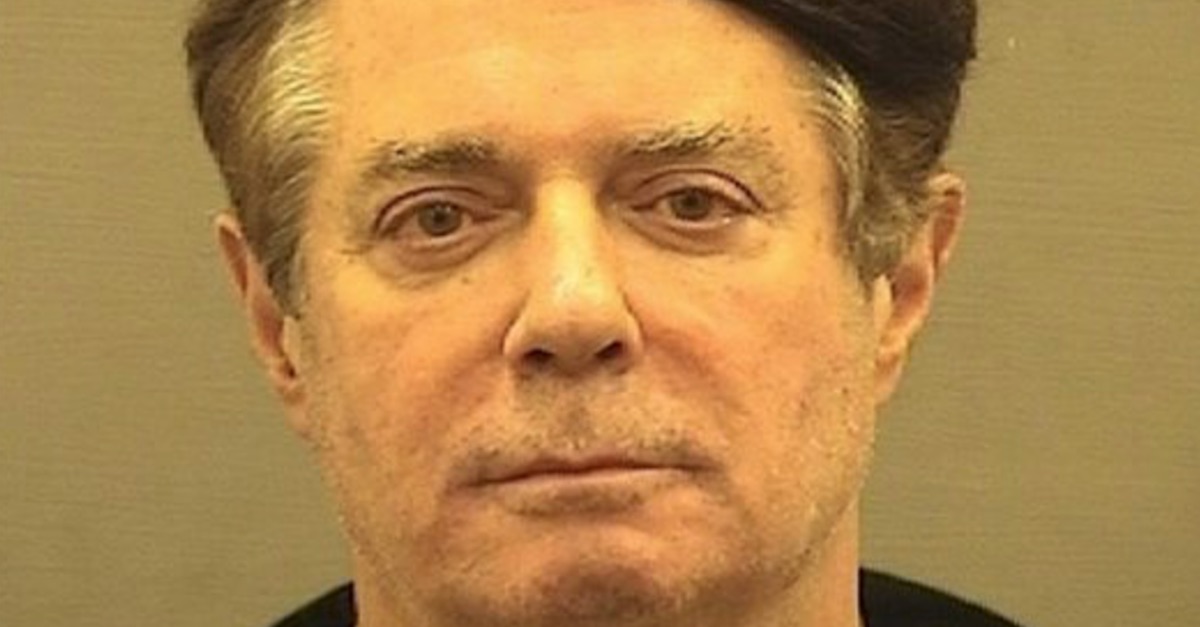 It's staring at us all right in the face: former Trump campaign chairman Paul Manafort is considering entering a guilty plea in advance of a trial because the sooner he does, the sooner he gets a pardon from President Donald Trump.
The latest reporting from ABC News on Manafort's thinking is that he wants to avoid cooperating with Special Counsel Robert Mueller's investigation — that is, he wants to avoid "flipping." The only way to do that and avoid a messy, second high-profile trial would be to plead guilty to all criminal counts brought against him.
Manafort knows that he's in a tough spot, to say the least, heading into trial number two in Washington, D.C. He sat in a courtroom in the Eastern District of Virginia in August and watched as a jury of his peers found him guilty on eight of 18 bank and tax fraud counts against him. Then he remembered that this was likely what was going to happen all over again. He knows that legal costs are going to be exorbitant, that media attention will be relentless, and that enduring all of this may be for nothing. He also knows prison time is guaranteed regardless of what happens in trial two.
He's examined his options and well knows that President Trump has on more than one occasion expressed sympathy for him publicly — "I feel badly for Paul Manafort." He knows what President Trump has said about those who "flip" — "It's called flipping and it almost ought to be illegal," the president has said. Maybe he even knows that the words Trump has used about his predicament are the same he's used before pardoning other people.
When considering all of these things, and the fact that Manafort and his legal team have balked at the idea of cooperating with Mueller, it stands to reason that Manafort's best bet heading forward is to go all-in on a Trump pardon by refusing to flip.
A lot of the discussion about Manafort news right now centers on the idea that a "plea deal" is in the works.
National security lawyer Bradley P. Moss explained that the terminology of "plea deal" misconstrues what is actually happening, if Manafort really doesn't want to cooperate with the Special Counsel at all. What Manafort is really doing is negotiating a guilty plea.
"Manafort appears to see the writing on the wall and is trying to negotiate a guilty plea that will spare his family the time, anguish and expense of a second trial that he will almost certainly lose at least in part," Moss said. "That will almost certainly involve him pleading guilty to all of the crimes in the indictment."
"Conversely, if he is trying to negotiate a 'plea deal,' that would involve Mueller permitting him to plead to a more narrow group of the charges in exchange for cooperation relevant to the overarching Mueller probe," he continued. "Mueller has no incentive to agree to let Manafort enter into a 'plea deal' unless Manafort is cooperating with the investigation."
"If Manafort is balking on that front in its entirety, the only option the prosecutors will present is that Manafort can just plead guilty to everything and pray for leniency at sentencing," he added.
Make no mistake, a pardon isn't the only reason Manafort would consider entering a guilty plea. As Moss alluded to, legal bills, stress, and the likelihood of a guilty verdict, at least in part, figure heavily into the equation. The most important thing of all is that Manafort's former boss has the power to set him free and doing as little as possible to jeopardize that makes a great deal of sense.
As Bloomberg reported last Friday, a "person familiar with the matter" said that Manafort's defense team has been engaged in discussions with Mueller and his team of prosecutors on a plea "deal." As we reported at the time, this was an important development since it seemed such talks had broken down and had little hope of being revived. The plea negotiations reportedly hinged on "which charges Manafort might admit and the length of the sentence to be recommended by prosecutors." This is still true, regardless of Manafort cooperation.
What isn't true is that Manafort must cooperate in order to avoid a trial.
Manafort, who is 69 years old, already faces 10 years behind bars in advance of a second conviction. Let's assume that he faces a similar sentence at the end of trial two and combine the sentences. Manafort, therefore, is faced with the reality that he could die in prison.
If that's the case, banking on a pardon doesn't seem like such a crazy idea, does it?
Opening statements for the Washington, D.C. trial are currently scheduled for September 24.
[Image via Alexandria Detention Center]
This is an opinion piece. The views expressed in this article are those of just the author.