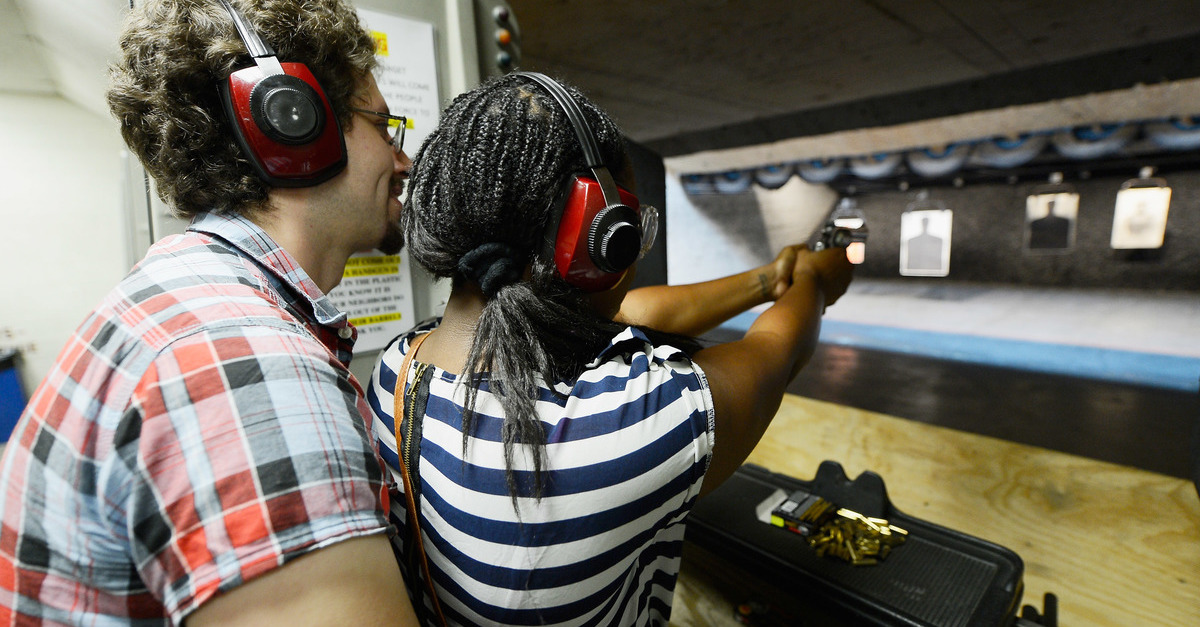 A federal judge in California just struck down a 95-year-old state law that previously banned firearms dealers from using images of handguns on their storefronts or in other outside advertisements.
The law in question did not prohibit firearms dealers from using images of shotguns or rifles in their advertising. Located at California Penal Code §26820, the statute reads, in full:
No handgun or imitation handgun, or placard advertising the sale or other transfer thereof, shall be displayed in any part of the premises where it can readily be seen from the outside.
State lawyers who argued to preserve the ancient law said this distinction was put in place–and should remain in place–in order to deter the impulsive purchase of a handgun for use in a crime or suicide.
U.S. District Judge Troy L. Nunley was not convinced. In an order granting summary judgment, Nunley described the law as "unconstitutional on its face." Specifically, Nunley determined that the handgun image ban was a violation of the First Amendment to the U.S. Constitution. In a 15-page order issued on Tuesday, Nunley wrote:
The Government has an array of policies at its disposal to combat handgun suicide and crime. "But the enshrinement of constitutional rights necessarily takes certain policy choices off the table." California may not accomplish its goals by violating the First Amendment.
Judge Nunley's order continued, offering California some advice for how to promote their policy interests going forward. He noted, "If the Government considers its existing safeguards inadequate to combat handgun suicide and crime, it may pass additional direct regulations within constitutionally permissible boundaries. The Government may also counteract what it views as dangerous messages with 'more speech, not enforced silence.'"
The case made its way to California's Northern District by way of a lawsuit originally filed by Tracy Rifle and Pistol, Sacramento Black Rifle Inc. and other licensed firearms dealers who claimed they had been unable to use "truthful, non-misleading material advertising the sale of handguns at their places of business," according to the lawsuit.
In 2014, Tracy Rifle was dealt a citation by the California Department of Justice Bureau of Firearms over four vinyl decals depicting three handguns and a rifle. In turn, they sued, spurred on by The Calguns Foundation, a Second Amendment litigation and advocacy organization.
The original lawsuit noted, "As of the date of the inspection, each of these firearms could be lawfully purchased in California, and Tracy Rifle regularly carries each of the four guns depicted in the window."
Tracy's Rifle is now permanently closed, but another plaintiff, Sacramento Black Rifle, was elated by the news and welcomed the ruling as good for business.
In comments to the Sacramento Bee, store manager Nate Woodward said, "It's all good news for us. We actually had a handgun in our logo. That was one thing that's really big for us. It's not a Second Amendment issue. It's a First Amendment issue."
The Golden State's Attorney General Xavier Becerra said his office was reviewing the ruling and is expected to appeal.
[image via Kevork Djansezian/Getty Images]
Follow Colin Kalmbacher on Twitter: @colinkalmbacher
Have a tip we should know? [email protected]