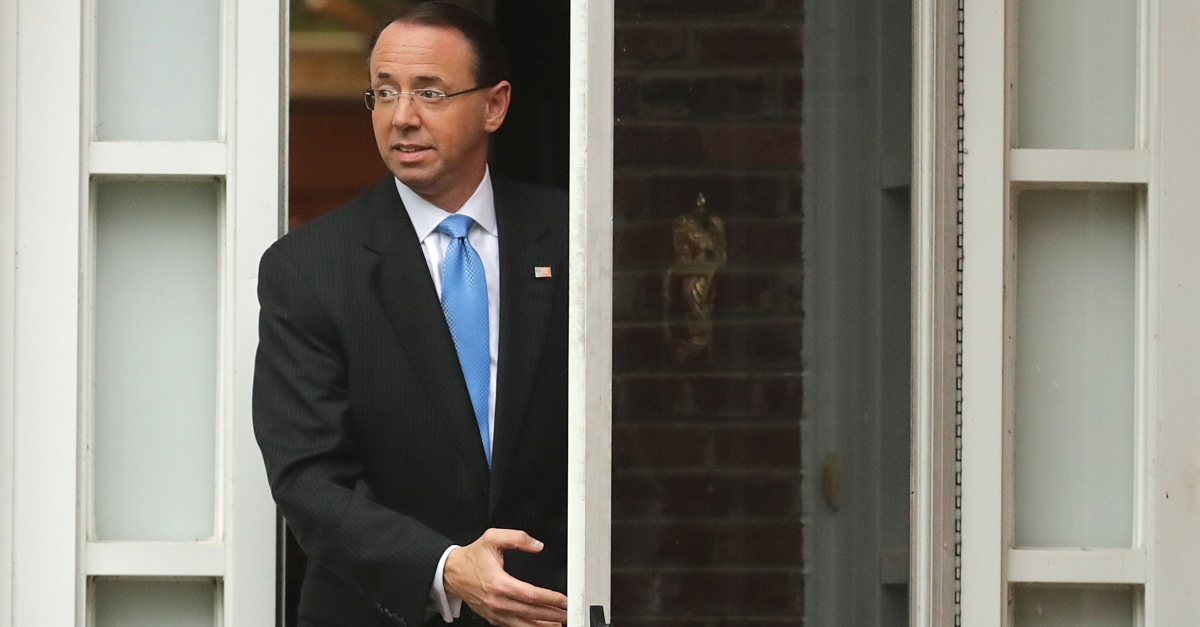 Another day, another exit from the Trump Department of Justice. News has broken that Deputy Attorney General Rod Rosenstein plans to vacate his position just as soon as Trump AG pick William Barr gets confirmed.
In presidential administrations past, most of the general public would be hard-pressed to even name the top dog at the DOJ, much less the deputy attorney general; because of the Russia probe, though, the AG's office has maintained a high profile since 2016. Trump's first Attorney General, Jeff Sessions, recused himself from oversight of the Mueller investigation, which led to Deputy Rosenstein's taking over that particular responsibility. Sessions went on to become a favorite punching bag of Trump's during his tenure as AG, before resigning after the midterm elections.
Enter Acting AG Matthew Whitaker, a Trump loyalist and former U.S. Attorney for the Southern District of Iowa, who arrived on the scene with more than a little baggage.  If you believe Trump, though, Whitaker's time was always meant to be short-lived. According to the president, it was former Attorney General William Barr who was Trump's "first choice from day one." Barr, who served three years as AG under President  George H.W. Bush, advised Bush to grant a series of pardons to officials charged in the Iran-Contra affair. He also reportedly penned an unsolicited memo slamming Mueller's investigation into any potential obstruction of justice by Trump.
So yeah, Barr sure would be an attractive choice for Trump's next AG.
With Barr at the helm of the DOJ, Rod Rosenstein's exit won't have nearly the impact it would have had if he left while Jeff Sessions was still there. While Sessions recused himself from overseeing Mueller's investigation due to his own involvement with the Trump campaign, there's no immediate reason for Barr to do the same. Therefore, once confirmed, the new Attorney General will supervise all things Trump-Russia while Rosenstein's successor would fail to inherit any direct authority over the investigation.
Solicitor General Noel Francisco is the heir-apparent to the role of Deputy Attorney General, but Trump could appoint someone else to fill Rosenstein's vacated position, either temporarily or permanently. Francisco is a problematic figure for proponents of the Mueller investigation in that he has publicly expressed disdain for special counsel investigations generally, and he's a big fan of broad executive power. Still, whatever Francisco's philosophies, his role vis –à-vis Russia is a distant second to that of William Barr.
It's worth noting, though, that those who are second-in-command are sometimes called upon in important ways. During the Watergate scandal, the DOJ line of succession became a matter of national importance as then-president Richard Nixon followed it until finding someone willing to sack the special prosecutor. Rachel Brand, who'd been #3 to Rosenstein's #2 had certainly known that when she made a quick and lucrative exit from the DOJ last February.
A Barr-Francisco lineup would certainly be far more favorable to President Trump than a Sessions-Rosenstein one ever was, but let's keep clear on the big picture. Firing Mueller, regardless of how such a firing would come about, will not cause his investigation to dissolve. First, it's a pretty well-established concept in the American legal system that investigations and prosecutions are not personal to the investigators and prosecutors who handle them. For example, if a local detective were to die during a homicide investigation, the file would land on someone else's desk – but the investigation wouldn't shut down.
More importantly, however, Mueller himself would likely have his own legal recourse in the event he's fired. Mueller could theoretically sue in federal court if he is terminated and believes the dismissal runs afoul of the special counsel regulations.
The letter appointing Mueller authorizes him to investigate "any links and/or coordination between the Russian government and individuals associated with the campaign of President Donald Trump," as well as other matters that "may arise directly from the investigation." It is entirely possible that a federal court would rule that firing Mueller before his work is completed and without Congress' approval is utterly illegal, and that the court would direct Mueller to continue his investigation and potential prosecution. If there's one thing courts never like, it's the thwarting of statutory intent.
Former Acting Solicitor General and drafter of theispecial counsel regs Neal Katyal wrote for The Washington Post about the ideals underlying the drafting of the DOJ regulations.
"We particularly feared the 'death by a thousand cuts' strategy, whereby a president or his attorney general would take the subtle approach of starving a prosecutor of resources or permissions. Those denials would fly under the radar, and no one denial would necessarily be significant, but collectively they would amount to massive interference. We therefore forced the attorney general's hand: The regulations say that if he is going to interfere with a special counsel, it must be reported to Congress."
Katyal's take on the new situation over at DOJ? He's not impressed.
The Special Counsel regulations, which Mueller is appointed under, put Rosenstein in charge of supervising/controlling the investig. (I drafted those regs as a young pup at DOJ).

By all accounts Rosenstein has done a great job. I fear Barr won't, given his ridic memo. Danger https://t.co/2WjZ426GD1

— Neal Katyal (@neal_katyal) January 9, 2019
The timing of Rosenstein's departure may be motivated by his confidence that Mueller's momentum is strong enough to withstand the change:
Rod Rosenstein stepping down means one thing to me; that he is confident that Mueller's investigation is far enough along that no one can shield Trump or his family from whatever crimes took place. I believe there are sealed indictments & Mueller is just building a better case.

— Ed Krassenstein (@EdKrassen) January 9, 2019
Or perhaps, as some opine, by a simple desire to jump ship before things get any worse:
It is alarming how many people are leaving. Yes the reasons are varying, but there is a common tie of working for an erratic, dangerous authoritarian. https://t.co/wemrmHTBlV

— Amy Siskind 🏳️‍🌈 (@Amy_Siskind) January 9, 2019
We'll be watching what's next for Rod Rosenstein.
[Image via Getty Images/Chip-Somodevilla]
This is an opinion piece. The views expressed in this article are those of just the author.
Elura Nanos - Columnist & Trial Analyst, Law & Crime; CEO Lawyer Up